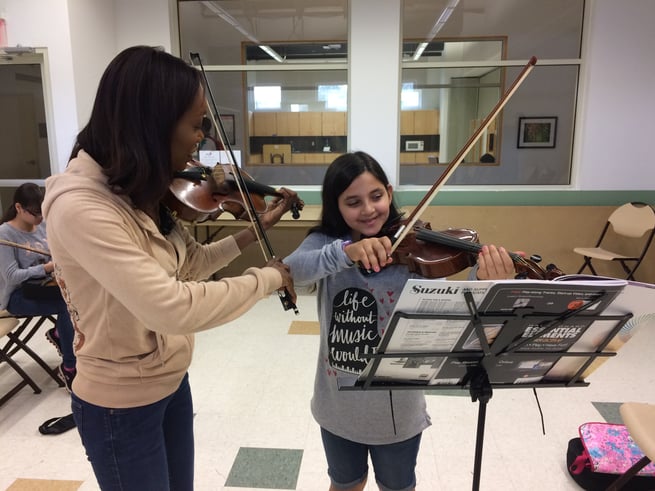 It's time for a new school year, an opportunity for a fresh start in your studio. A new crop of students is arriving, and many of your students are returning. And each student is different, with different strengths and weaknesses, different commitment levels, and different motivations. You've got lots of students to teach, and they need to cover a lot of ground quickly. Fortunately, you have your method books, your supplements, and especially your own experience and good sense, and that has always served you well. For most of your students.
But for those students that need some special attention or have some challenges to overcome, where do you find the time to investigate the solution, find the right book or product, and apply it to their unique issue? And yet, you know that you can't ignore it, so that your student doesn't quit playing. The issue could be physical, requiring something that could help develop better positioning. Sometimes a new point of view can help a student who has become bored and lost motivation. Or perhaps they are at a threshold, ready to advance to the next level but frustratingly stalled, requiring a "mind pivot" to really take off. At SHAR, we've discovered the answers from an obvious source: From other teachers! After all, teachers know best, and because they are teachers they love sharing what they know! SHAR has reached out to teachers for over 55 years, and teachers have reached out to SHAR. The answers to your teaching challenges come right out of the teaching community.
This is Part 1 in a blog series that will feature some of our favorite products from some of our favorite teachers, organized by the kind of problem you may be trying to solve! Be sure to subscribe to receive the full series in your email!
Jump to another part of this series:
Part 1: Solutions to Common Left-Hand Problems
Part 2: Solutions to Common Right-Hand Problems
Part 3: Books that help with Practice and Motivation
Part 4: Books for Breaking Through Physical and Mental Barriers
Part 5: Books that Help Focus Any Teaching Method for Parents and Teachers
Part 6: Good Habits Begin Early: Caring for the Instrument
2 ACCESSORIES FOR COMMON LEFT HAND PROBLEMS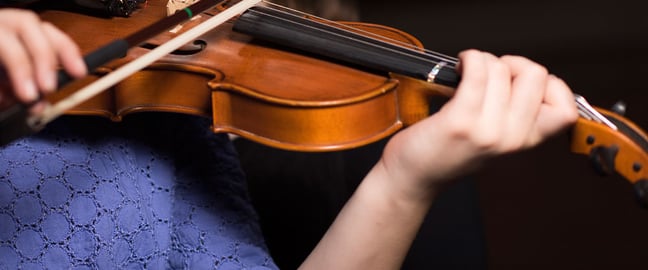 Learning left hand technique is a problem in itself, but is mainly a matter of proper practice and troubleshooting. The dreaded "Pancake Wrist", however, is a common and frustrating bugaboo. In fact, many players are never able to master proper left hand wrist positioning, which greatly limits progress. As with all tools, if used improperly they can be overridden; but if taught correctly, they work great. These two products, created by teachers through years of studio work, approach the problem from two completely different perspectives, helping smoothly overcome the problem, with the teacher's help.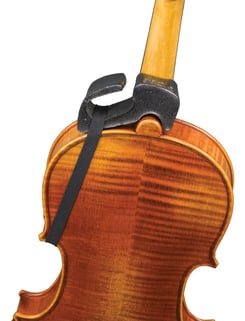 The Wrist Rascal
This simple device easily attaches onto the violin or viola, similarly to a shoulder pad, and acts to block the wrist from collapsing. The key to success is to train proper use of the Wrist Rascal NOT as a crutch or something on which to rest or lean the wrist, but to tell the student to not touch it with their wrist. This very quickly develops muscle memory, and a proper wrist position. The Wrist Rascal also doubles as an outstanding vibrato trainer.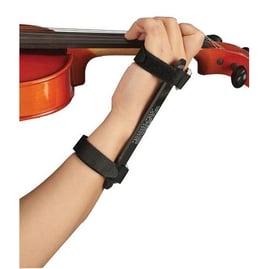 Placed on the wrist with included Velcro straps, the Virtuoso Wrist Practice Aid provides students a physical reminder if they begin to collapse their wrist. The proper instruction for using the Virtuoso Wrist is to point out to the violin, viola, cello, or bass student that it is not a splint, but a reminder: When you feel it, straighten your wrist!
Thank you for Reading! To receive notification of the next five blogs in this series as well as other useful product reviews, guest blogs, company announcements, and entertaining articles, be sure to subscribe with your email address above! Also, find SHAR on Facebook, Instagram, and Twitter. For more teaching aids click the link: