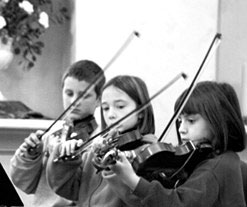 As a SHAR Apprentice I have the great pleasure of being able to perform at local schools as part of the Apprentice Ensemble's outreach program. This past week, two colleagues and I were privileged to perform back-to-back mini-concerts for six classes of some of Detroit's fifth- and sixth-graders. The three of us from SHAR certainly had fun playing together, but our high string trio arrangements of the Star Wars theme or parts of Carmen were not what made this snowy day so delightful. Rather, we found ourselves choking back laughter as these kids responded to our performances with the spontaneity and unpredictability that has ceased to color most adult interactions. And, as restless and noisy as these classes were, not a single bright eye seemed any less interested in the music for all of the chaos.
Besides, we learned a few things ourselves. Like the fact that these kids have a greater exposure to classical music than any of us had realized. "Habanera" from Carmen, for example, is apparently featured in Tom and Jerry. It's also in the movie Up. But who knew that nearly ALL of these kids were so intimately acquainted with Scott Joplin's Entertainer?
After each piece we stopped playing long enough to ask the classes some questions about classical music. Through these questions we were able to talk to them about hand forms, Baroque dances, and castanets. We weren't able to say much about The Entertainer, though, because the kids were so enthused about the piece. The sea of upraised arms and strains of "OOOH OOOHH I KNOW THAT ONE!!!" prevented any of us from getting a word in edgewise. The reason for all of this enthusiasm is due to the fact that we were not the first to provide these kids with a live rendition of this piece; apparently the local ice cream truck had already been performing The Entertainer for years.
Fittingly, one kid's voice rose above the chaos. "I'll take a cone!" he shouted.
At the end of one performance we all stood and bowed simultaneously, as is standard in the world of chamber music. But this synchronized gesture was beyond compelling for one fifth-grader; he simply could not restrain his enthusiasm. "You guys are like NINJAS!" he shouted. Flatteringly, the emotion behind his heartfelt compliment did not fade. As his colleagues streamed out the door for their next class, this little man lingered just long enough to bid us farewell. "Bye, ninjas!" he cried, crowning us with unanticipated and undeserved adulation.
Yes, it is a delight to bring classical music and live string playing into a young orchestra classroom. As a fifth-grade boy held open the door for me as we made our final exit at the close of the day, I was reminded of the brightness and joy of the violin which first compelled me to pursue it at his age. I was overwhelmed with gratitude for the enthusiasm and excitement of these kids and I resolved, as a ninja, not to let this brightness fade. My renewed verve and optimism only increased as the three of us concluded our day with ice cream, á la Scott Joplin.