We've always loved the Children's Music Series here at SHAR, but we recently realized that very few people outside of SHAR know much about the author of this excellent series. We came across this thread on Violinist.com about the author, Evelyn Bedient Avsharian. In the thread, the person posted the question: "Does anyone know exactly who Evelyn Avsharian is? I have used many of her books but I can't find any information about her!". We thought it was time that the violin community knew more about this remarkable person who was a violinist, teacher, wife and mother. We sat down with Evelyn Bedient Avsharian's widower, Michael Avsharian, to ask him more about his late wife. The following blog in her memory is based on an interview we had with him.
This post originally appeared on our blog in 2015. It is being revisited in tandem with Shar Music's 60th Anniversary and Women's History Month 2022.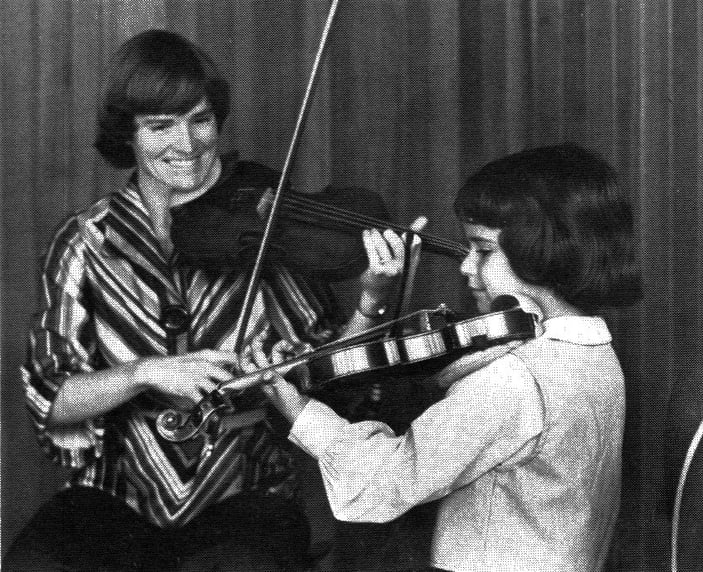 You've probably had a teacher who deeply touched your life and impacted your future, especially if you're a musician. It's a very intimate thing, the one-on-one private lessons, the teacher-student relationship—sort of like the guru and student relationship. Evelyn Avsharian was one of these teachers; she made a difference for her own students, and countless other students and teachers. Her strong dedication to early music education was the reason she developed the unique Children's Music Series, which has become popular amongst Suzuki and elementary string teachers for their beginning violin classes. Described by loved ones as a very special person and a remarkable teacher, she was passionate about gathering knowledge and sharing it in an accessible, clear manner. In fact, in many small ways, one can see Evelyn's personality and teaching style reflected through the books in the Children's Music Series.
Evelyn's Early Life
Although Evelyn lived a large part of her adult, married life in Ann Arbor, she actually hailed from a much warmer climate. Evelyn grew up in Sarasota, Florida, coming from a humble background without much privilege. She enrolled in a public school music program, where she began learning the violin. Evelyn was fortunate enough, however, to have a mentor, Mrs. Mundy, a wealthy widow who recognized Evelyn's special personality and talents and took her under her wing. Over the years, Mrs. Mundy gave her considerable emotional, practical and financial support in her violin studies. Mrs. Mundy made it possible for Evelyn to attend summer music festival at Meadowmount, where Evelyn privately studied violin and received chamber music coaching with prestigious faculty, including the famed pedagogue Ivan Galamian. Mrs. Mundy even supported her when she went to Rollins College to further her violin studies. In many ways, Evelyn was shaped into the musician and teacher that she became because of the support and encouragement from Mrs. Mundy.
Meadowmount and Studying with Ivan Galamian
Thanks to her mentor's support, the Meadowmount experience proved to be an important one for Evelyn. The Meadowmount School of Music, founded by Ivan Galamian himself, is a summer program located in the Adirondack Mountains of upstate New York. The Meadowmount program's prestige grew over the years because several alumni of this summer festival went on to establish international careers. This was a remarkable opportunity for Evelyn's musical training, because under the careful guidance of Galamian and other teachers, most students were able to accomplish in a summer what would ordinarily take a year to accomplish at home.
Evelyn had a relationship of mutual respect and admiration with Mr. Galamian. She studied with him and his assistant teachers for two consecutive summers, and she learned not only how to improve her own playing but furthered her knowledge of teaching violin. She would sit in and audit lessons that Mr. Galamian was teaching to other students, taking copious notes about these lessons. This was her main "teacher training" or "pedagogy class," so to speak. Evelyn received a top notch violin education at Meadowmount, and her experience there only increased her dedication to the violin, both playing and teaching it.
Teaching, Performing, and The Children's Music Series
Evelyn had a long history of teaching, beginning with her younger brother who she helped with his studies as a child (he's now a professor in Houston, so she must have done a good job!). Her interest in teaching was likely related to her desire to learn about new subjects; over her lifetime, she gained expertise in everything from computer programming to mathematics.
Violin, though, was perhaps her main focus, and she began teaching it at the age of fourteen. While attending graduate school at Eastern Michigan University, she was also an assistant in music history and literature, and taught college string classes as well. All during this time, she maintained a private studio where she taught violin to young students, usually aged 6-13, who were mostly beginners. When she observed her young students having trouble reading the small print music, she decided to make books and music for them with notes and words in large print. This was part of a larger pattern of dedicated individualized teaching that Evelyn shared with her students. Because she knew what she wanted to teach each individual student, she'd search for the perfect book for each child; if she couldn't find the appropriate book, then she would make a book. Evelyn had her own concept of what to do and what would yield results with her students. This is how the Children's Music Series got started.
Evelyn wrote the Children's Music Series for her own students and not because she wanted to create a product to sell to make a profit. She cared deeply about her students; in fact, she wanted to teach anyone who was interested in learning to play the violin. In addition to the workbooks for her beginner violin students, she also published a book called Fun with Solos that had a cassette tape (and later on a CD) that was included. This was a relatively new concept: to compile violin repertoire and include a recording alongside it. (Amazing side note: Evelyn recorded this cassette/CD in just one take!) Barbara Barber and other method book authors took notice of the way Evelyn's Fun with Solos paired a book with a CD or cassette recording and began incorporating it into their series. Nowadays, it's common to see method books that, like Fun with Solos, include a series of violin repertoire with an included recording. We are fortunate that Evelyn was dedicated enough to publish all these books and share them with other teachers and students!
Evelyn was also a performer. Besides having her family and getting so involved in her community, Evelyn managed to make time to play her violin and perform for others. She played with several professional symphonies and was an active chamber musician. She played in an ensemble based in Ann Arbor that specialized in performances of Baroque & Rococo music (music of the 17th & 18th centuries), called the Barococo Ensemble. She enjoyed playing chamber music with her friends, particularly Rebecca Chudacoff, the former concertmaster of the Ann Arbor Symphony. She also worked with Carol Bundra, a cellist, and Ginger Rogers, a harpsichordist. Like many respected teachers, Evelyn was an accomplished professional violinist.
Marriage and Children
If you've ever been to a summer festival, you know the story: love is in the air. Evelyn found herself in a developing romance with Michael Avsharian at the end of the second summer she spent at Meadowmount. They were promptly married, even though Evelyn was only 19 at the time. Evelyn had ambitions of continuing her studies at a conservatory such as Juilliard, but remained dedicated to her family and chose to relocate with them to Oklahoma, where she later completed her bachelor's in music at the University of Oklahoma.
Evelyn and Michael had two children, a daughter and a son. She taught both of her children their earliest violin lessons. Her daughter took an interest in the violin and went on to continue lessons with Michael, later becoming a proficient violinist. Although she didn't continue on to become a professional player like her parents, she was able to share her skill with others; Evelyn's daughter is now a stay-at-home mother with two kids, and is an active Suzuki mom. Evelyn's daughter is also very accomplished and highly educated. Having decided not to pursue music as a career, she went on to earn a Ph.D. in biology from the University of Idaho. Evelyn's son also took violin lessons, but soon lost interest in the violin. Instead, he took a liking to the drum set that belonged to the neighbor. He is now a successful freelance drummer with a degree in percussion.
Other Interests and Legacy
Beyond making music, Evelyn loved to dabble in many other art forms, including visual art, poetry and creative writing. She would write about everything she saw, from a flower to her musings about nature or teaching. She enjoyed painting and sketching; she was particularly skilled at sketching facial expressions and bringing out the most interesting aspects of a person in her art. In fact, the Children's Music Series are largely hand-drawn; even though it's time-consuming, she liked to do things by hand! She also became interested in computer programming and videography at a time when these things were in their infancy. She taught herself how to do some basic computer programming and then proceeded to teach others to program. Always the teacher, she even wrote a guide for children on how to program computers. Ever restless and inquisitive, she also earned a master's degree in mathematics from Eastern Michigan University.
Evelyn passed away at the age of 39, after a brave battle with Leukemia. As her family and friends would attest, she was a remarkable person who accomplished more in those too-short years than most of us will in a full lifetime. We here at SHAR certainly admire her contributions to her family, community, and early childhood music education. After all, her Children's Music Series books were first published in the late 1960s and they are still relevant and being used by students today. They are fun to use, easy to read, and are wholly pertinent to a student's musical development. Evelyn's accomplishments as a musician and teacher live on in her popular Children's Music Series, and we hope you'll consider using them to supplement your own teaching.