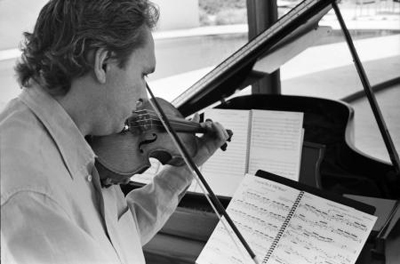 We'd like to welcome our newest SHAR Apprentice James Engman to the SHAR Music Blog! James studied violin performance, physics, and math at the University of Wisconsin in Madison, and he hopes to use his degrees to excel in instrument repair. What we love about James's first blog is that his enthusiasm is so catching: his experience at the Mark O'Connor Teacher Training Workshop clearly affected him a great deal, and you can sense the transfer of enthusiasm from Mark to James and then to yourself as a reader. And isn't that how most of us got into the arts anyways? We heard or saw or read something amazing by another artist, and we thought: "I want to do that too."

If you know just a little about Mark O'Connor, you might describe him as "the world's greatest fiddle player." And while that title is apt, I would go even further. As someone who has followed Mark O'Connor's career closely, I would describe him as "America's virtuoso musician." And I'm not be using the term "virtuoso" in the modern sense of a highly technically skilled performer (even though that would also be accurate). Rather, I'm excavating an older use of the term. In J.S. Bach's time, a virtuoso was a musician who explored all the realms of musicianship and was accomplished in performing, composing, arranging, teaching, and who also studied theory, history, and philosophy.

I'm getting ahead of myself, though. When I heard Mark O'Connor speak this weekend at a teacher training workshop in Ann Arbor, I realized how genuine and deep an artist's dedication can be. He recalled being eight years old and, having seen Cajun fiddler Doug Kershaw play "Diggy Liggy Lo" on The Johnny Cash Show, he begged his parents for three years to buy him a violin. It is that young, unbridled enthusiasm – a child's determination to play like Doug Kershaw – that drives Mark O'Connor and his followers. Likewise, his method nurtures this enthusiasm, and it produces well-rounded, creative string players who, above all, love making music. Being a virtuoso is all well and good, but this passion – and a drive to unlock this passion in others – is also an important part of Mark's method.
It's true that this weekend I was certified in the Mark O'Connor Violin Method, which is a relatively new method for learning to play the violin (there are other, similar methods for viola, cello, or bass). But it's also true that I had low expectations when I arrived. I had been classically trained and had little fiddling experience and I knew Mark was primarily known as a fiddler. What I discovered, though, is that Mark's method has a vast range of styles and is steeped with every aspect of American music. By the end of the weekend, I had been fully convinced by the passion behind the method and by the method itself. I'm unable to put my finger on any one reason that sold me on Mark's vision: there are just too many. I can say that I see this method as a revolution in early string development, one that could produce fantastic violinists who can adapt to many styles and who possess the artistic creativity needed in today's musical world.