SHAR Music is proud to announce the winners of its third annual Quartet Competition!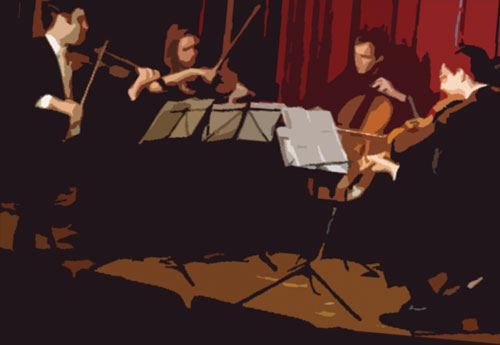 The past two days have been filled with excitement and chamber music here at SHAR. Thanks to the hard work and organizational prowess of Apprentice Megan Fedor, SHAR has had the honor of hosting its third annual Quartet Competition. String quartets from area high schools have spent months preparing to perform for our panel of judges and the past two days have seen the inspiring fruition of their labors.
During the first round of the competition eleven string quartets were invited to SHAR to perform for the panel of judges. Kathleen Grimes, Michael Avsharian, and Robert Reed had some difficult decisions to make on Sunday as they selected six groups from the eleven to continue on to the second round of the competition. But, after hours spent listening to powerful performances of Beethoven, Schubert, and Dvorak, the six finalists were selected and were invited to perform again – this time for a full audience in a professional venue.
The Finals and Showcase Concert took place last night at 8pm in the lovely and charming Kerrytown Concert House. The six finalist quartets each performed a portion of their pieces. The judges deliberated and finally all were welcomed back on to the stage for the announcement of the winners.
The final decision of the judges was as follows:
Division I:
Calliope Quartet (Dana Johnson, Giancarlo Latta, Nathan Carrillo, and Daniel Rothchild) from Pioneer HS
Fortuna Quartet (Natalie Lee, Jody Chou, Caitlin Urban, and Isabel Kwon) from Okemos HS
Phoenix Quartet (Andy Hsiao, Chihiro Kakashima, Irene Wei, and Lydia Jang) from MYSO
Division II:
"A" Quartet (Sho Harvey, Trevor Herman Hilker, Jacob Caldwell, and Angelina Cicchella) from Dexter HS
Gold Quartet (Allie Lahnala, Mellissa Unhkuldee, Karl Winsor, and Sarah Chu) from Saline HS
Chelsea Quartet (Daniel Bertoni, Laura Lodewyk, James Alexander, and Sarah Coyl) from Saline HS
The third place winners received $25 gift certificates to SHAR; second place won $50 gift certificates, and the grand prize winners received a quartet of Presto bows.
After the awards announcement the grand prize winners performed for their rapt audience. The Calliope Quartet treated us to a lyrical performance of the Schubert "Rosamunde" Quartet; this was then followed by the "A" Quartet's character-filled performance of Dvorak's "American" Quartet. Both winners delivered compelling performances which absolutely delighted the captive audience.
It truly was a joy to hear all of these talented young men and women share music with each other and with us last evening. All of the groups gave powerful and polished performances that were simply a delight and inspiration to hear. The evening was filled with hope not just for the future of classical music but for the future of humanity, as Kathleen Grimes commented last night.
We offer our special congratulations to the "Calliope" and "A" Quartets! Thank you to everyone who helped to make this event so special. Check back soon to view the videos of the winning performances!