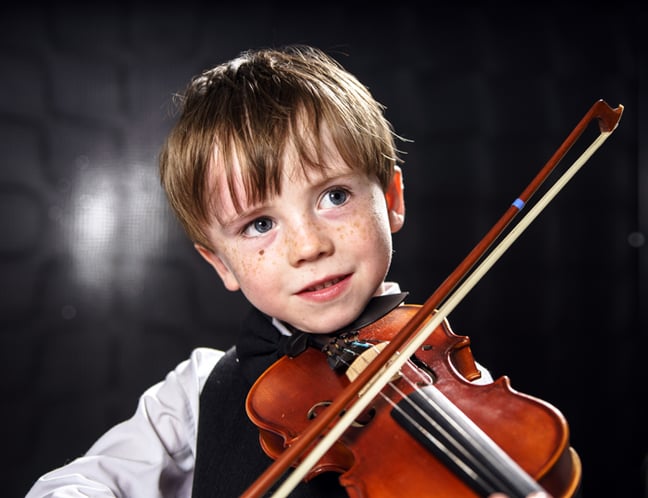 Shopping for Beginning violin, viola, cello, or bass players doesn't have be as daunting as it may seem. If you are a parent, aunt or uncle, or just a friend of a beginner or someone who wants to start playing a stringed instrument, you may have noticed that there's a lot of stuff you need to get started, and infinite variations of each! Yes, SHAR carries over 13,000 different items for string players, but this guide should help you narrow down the whole catalog to a few really great gift options, and at varying price ranges. Whether you want to buy a big gift or a stocking stuffer, there's something here that will help you check a name off your list!

Find a gift for any string player on your list with this three-part blog series:
Part One - Easy Gift Ideas for Beginning String Players
Part Two - Easy Gift Ideas for Advancing String Players
Part Three - Easy Gift Ideas for String Teachers and Professionals
1. Buying someone's first instrument. ($150 - $3000)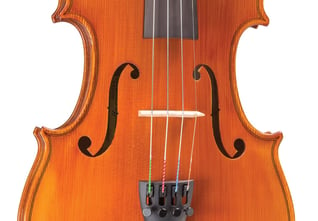 Giving someone their first instrument is a big deal! I received my first violin on Christmas when I was 7 years old, and I can still remember the excitement. Fortunately, while the instrument was in the lower end of instrument prices, it was sufficient to get me started. That is not the case for all weary buyers looking to save money. Today there are lots of places you can go to find a "violin" or other instrument at a good price, but the risk greatly outweighs the chance of getting a deal.
A few years back, a very excited mother proudly entered our store, presented me with an instrument she had bought through an online marketplace, and asked if I could tune it for her and set up the bridge. I happily opened the case and got started, but within seconds, I realized that what she had bought was nothing but a "violin shaped object" - untunable, unplayable, and unreturnable... She was understandably very disappointed, but was grateful once I was able to set her up with a great violin to put under the tree, and for very low monthly payments!
The lesson to be learned is that you'd better get the approval of a respected teacher or player before clicking submit on an online order!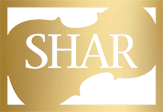 Luckily, thanks to our intense requirements and local setup process, all of our beginner instruments at SHAR have the approval of thousands of teachers nationwide, and are always suitable as a first instrument. This makes it easy for first time buyers to take the leap. A satisfactory beginning violin will usually cost between $150 and $500. Beginning violas will only cost a little more from $175 to $700. Beginning cellos ($600 to $2000) and beginning basses ($1000 to $3000) tend to range higher due to the large size.
Lastly, if you are buying a first instrument, you will obviously need a case and bow. If you see the word "outfit" it means that a case, bow, and rosin is included! This is essentially everything you need to start playing. Though a shoulder rest and method book are often recommended, those probably won't be chosen without a teacher's recommendation.
2. Upgraded strings for a beginner. ($30 - $200)

Buying strings as a gift for advanced or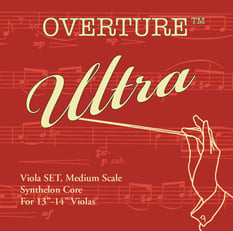 professional players is not something I recommend, unless you know exactly what strings they prefer - down to the type of metal used in the winding on each string! However, most beginners playing a rental or beginner-level instrument are going to be playing on standard economy-priced steel-core strings. This means almost any set of strings will be an upgrade. Something like a Dominant or Zyex Set for violin or viola, Kaplan or Prim strings for cello, or Helicore strings for bass, can make playing much easier, and more fun. Higher quality strings will offer easier response, and better tone. If you're not sure whether new strings are a good idea or not, call their teacher, and they will probably say, "Yes, please!" They may even have their own recommendation.
3. Fun Rosin. (under $25)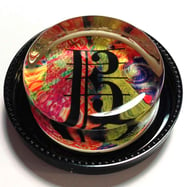 Smaller gifts under $25 are what I consider "stocking stuffers, which are almost always safe, and won't break the bank. First of all - rosin is a great gift. There's not much bad rosin out there (we certainly don't carry any), and even the really really good stuff isn't that expensive. Novelty rosins, like Magic Rosin and Rockin' Rosin, might seem like you are buying a toy, but they are actually very high quality rosins! Rosining your bow is a daily task for string players, and sometimes it helps to add a little fun to the routine. Are you buying for someone with fancier tastes? Check out these rosins that come in fancy wooden cases, or even the new Leatherwood Rosin - arguably the fanciest rosin of all time!
4. Case flair! (under $25)
Young students might get bored by their standard black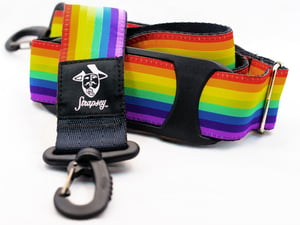 case that probably came with their beginner outfit or rental. Unfortunately, buying a whole new case is often impractical or too expensive for young students. Also, while there are lots of trendy looking cases like the colorful SL Super Light case for violin, most finer cases only come in full size. Solution? A student whose case looks like everyone else's can make theirs stand out with a fun Strapsey Case Strap and a music-themed case tag. This will also keep them from accidentally swapping instruments with one of their orchestra classmates!
5. Other stocking stuffers! (under $25)
There are more options for inexpensive and easy gifts than I can put in one blog, so I'll sum up a few. If you are looking for sheetmusic for a beginner, you can sort all of our sheetmusic by difficulty - just click here for beginner level sheetmusic and then sort by genre, instrument, or instrumentation, and just browse! Audio Play-Alongs are great for beginners!
Colorful shoulder rests for violinist or violists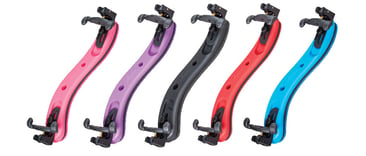 are just a few simple ways to give students more pride in their instrument and playing! Music-themed pencil pouches, stickers, clothes, cups, pins, and jewelry are also fun to bring to school and show off their love for music! To browse a large selection of gifts, follow the link below!