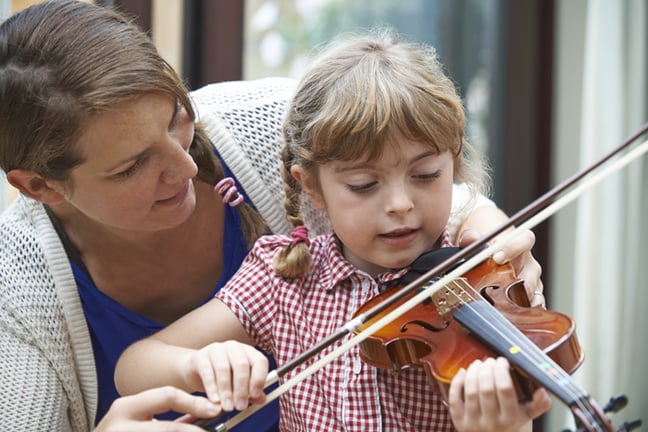 Do you want to have a gift ready for your string teacher at your first lesson after or before Christmas? Maybe you know a string player who gigs and teaches, and you want to get them something practical that they will truly enjoy, but aren't sure exactly what? These suggestions are my top picks for string players and teachers who need some finer things in their life. Tell your teacher or colleague that you appreciate their hard work and talent!
Find a gift for any string player on your list with this three-part blog series:
Part One - Easy Gift Ideas for Beginning String Players
Part Two - Easy Gift Ideas for Advancing String Players
Part Three - Easy Gift Ideas for String Teachers and Professionals
1. A Fancy Wooden Music Stand. ($150 - $700)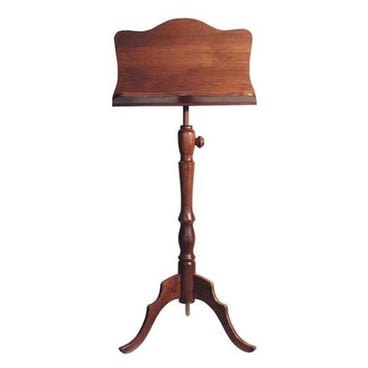 A professional string player's studio is their office, and their stand is their desk. It's convenient for teachers or professionals to have a music stand always at the ready for practice or lessons. However, many music stands simply don't fit the welcoming aesthetic of a room. If you know someone who has an ulgy metal or plastic music stand permanently in their family room or studio, or who is constantly collapsing their practice stand to bring to gigs or out-of-home lessons, a nice wooden music stand might be the answer. SHAR has an assorment of fine wooden music stands that add charm and permanence to the function of the stand.
2. Leatherwood Rosin. ($67)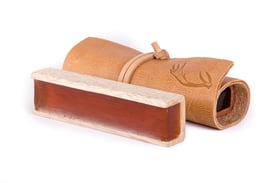 Leatherwood Rosin is newly available in the United States, and SHAR is the first to carry it! Made in Australia, the hand-poured rosin in a handcarved woodblock with natural leather sheath is unparalleled in beauty and quality. Available for violin, viola, and cello, it comes in "supple" or "crisp" grades that offer slightly different responses. If you're not sure which to get, there is certainly no wrong choice, but I feel that the crisp will often be better for soloists and section leaders, while the supple might lend itself better to orchestra and chamber players. Since high-end rosin can often feel like too much of a luxury for the average spender, it makes a great gift that will be greatly appreciated - especially when they try it and see what all the fuss is about!
3. A Drink Tumbler and Music Stand Cup Holder. ($25)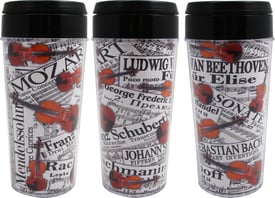 Whether the preferred drink is coffee, tea, ice water, or something else, its always best to have refreshment close at hand. A music-themed covered drink tumbler in combination with the Peak Music Stand Cup Holder will prevent spills, and always keep your drink hot or cold and in reach.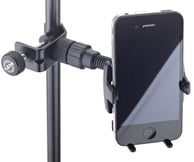 While the Peak Cup Holder is designed for Peak Music Stands, the easy quick-release clamp with various inserts will accomodate most tubular stands. Also, if they use a smartphone during practice, a Peak two-way converter and music stand cellphone holder will keep everything in front of you without competing with sheetmusic for stand space. For larger smartphones or tablets, the K&M music stand device holders are quite effective!
4. A Luxitune Fine Tuner. ($99)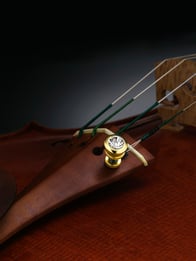 If they play violin or viola and are fancy, you should get them a Luxitune Fine Tuner. These are beautifully decorated Hill-style fine string adjusters (good for loop-end strings) that come in various styles and colors. They are easy to install and will let your teacher or colleague know that you think the world of them!
Have any other ideas I may have missed? Comment below. Also click the button below to see all of our stocking-stuffers and other great gifts for musical people! Cups, hats, decorations, ornaments, pencils, stickers, and more! Subscribe, and stay tuned for the final part of this Easy-Gift-Ideas blog series.