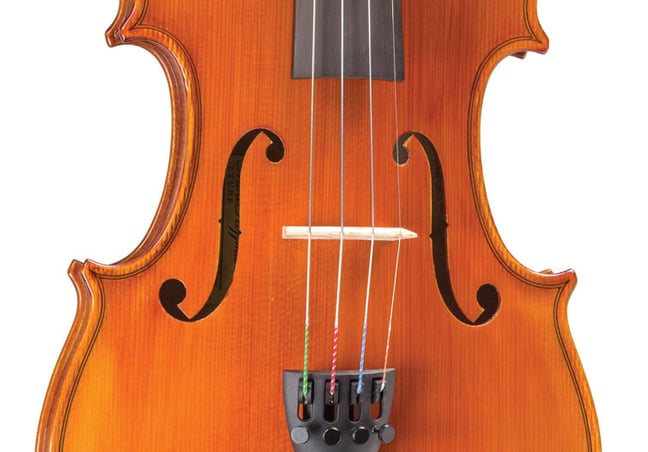 Beginnings are critical, right? If you've ever grown a vegetable garden before, you know what I mean by this: starting right mean your garden will yield better results later on. You have to sow your seeds at the perfect time, with the right amount of sunlight and heat. You'll want to prepare your soil ahead of time, enriching it with whichever nutrients it needs. You'll care for the plants as they grow, making sure to train them up a trellis if necessary, or taking care to pull any pesky weeds. With enough care and patience, you're sure to have a good harvest.
As it turns out, getting off to a great start isn't just important for gardeners. It's also crucial for a beginning violin student as well. At SHAR we're committed to providing beginning violinists with the best beginner instrument options so that your child starts out on the right foot. Our Franz Hoffmann instruments are the ideal choice for a student who's trying out the violin, or for any student who's looking for an instrument with great playability and inviting sound at the right price. It's everything a beginner needs to get off to a great start! Well, almost—with nurturing parents, a teacher's guidance, and the awareness to pull any "bad habits" out of their metaphorical garden, your child will be on their way to playing well.
Franz Hoffmann Instruments vs. VSOs
So, why are Franz Hoffmann instruments the best choice for a beginner? Why not just purchase the cheapest string instrument you can find off of the internet? Or maybe a cheaper one from your big-box store? We believe every beginning student deserves to have an instrument that will allow for them to learn with ease. If they start out with a VSO, or a "violin shaped object," (includes violas, cellos, and basses!) it could hinder their progress and discourage them from continuing. Many low-price options are of such poor quality that the instrument won't tune, won't play, and will only guarantee that the student learns to dislike playing. Fortunately, all of the Franz Hoffmann instruments are carefully crafted with quality in materials resulting in playability and tone beyond adequate, and at the level of many instruments costing 2-3 times as much. They are test-played and inspected to our specifications so that you receive a high quality instrument at an unbeatable price. Franz Hoffmann instruments consistently deliver a sweet, resonant sound. And VSOs or that cheap violin from your big-box store? Not so much.
Benefits of Buying from a Reputable Family-Owned Business
But why should you take our word for it? Because as a parent, if you haven't ever played or shopped for an instrument before, you can rest assured that you're relying on a family-owned business with over 50 years of experience in the industry. Just like beginning your first vegetable garden, it can be overwhelming if you're looking to buy supplies, and you don't necessarily know too much about it, or which one you should pick. You're in the position to have to trust the expertise of others. You could go to a big box store, but isn't it better to head to your local garden shop and ask the shop owners some of your questions? Think about it: the garden shop owners only specialize in gardening and they concentrate on knowing everything related to gardens. So, the shop owners are likely to be able to help you find the right seeds and supplies you need to ensure a successful harvest. They're also likely to be able to help you if anything goes wrong along the way. What's more, they'll help encourage you and ensure satisfaction in a way that a larger corporate store wouldn't be able to.
At stores or vendors not specializing in bowed strings, the employees are unlikely to be experts in violin, viola, cello, or bass products. That's another difference: you're receiving personalized customer service, peace of mind, and the expertise you get from a shop that specializes in one product. Here at SHAR, we're experts in all things strings: the majority of the employees who work here at SHAR in Ann Arbor, Michigan are musicians and string players. We concentrate on violins, violas, cellos, and basses, and we're personally invested in all of the instruments you'll find here. We even go beyond the previous limits of the industry by perfecting the complete instrument-making process from raw materials to the instrument you receive at your door, not simply ordering from a supplier hoping the instruments are quality. It's pretty apparent if you ever email us, call us, or visit us in Ann Arbor, you'll find out that we're basically a bunch of string players and musicians who want to share our craft and expertise.
You've Convinced Me… Which Franz Hoffmann Instrument Is Right for My Child?
Because we care about your child's musical experience, we're committed to helping them find the best instrument to fit your budget. With beginners, parents are sometimes hesitant to make a commitment to a pricey instrument until they see that their student will stick with it. We get that! We think that the Franz Hoffmann series of instruments, while all reasonably priced, will meet your child's needs very well. Your child and your child's teacher will be thrilled with the variety of sizes, superior sound, and quality varnish and appearance of the Franz Hoffmann line.
Here are the different Franz Hoffmann options for your beginning student:

Amadeus – Violin, Viola, Cello, and Bass! Plays with ease, produces a pleasant sound, passes a 3-step inspection, made from quality maple, spruce and ebony (sturdy spruce and maple laminates for cello and bass, but also carved option for cello). Fantastic, affordable price makes this instrument an easy alternative to a VSO.
Prelude – Violin, Cello, and Bass! Handmade from aged maple and spruce tonewoods, provides a warmer and more powerful sound, easier playability, better quality ebony pegs
Danube - Violin, Viola, and Cello! Our NEW, European-made "step-up" Hoffmann, for beginning and intermediate players. Made in Romania, exemplifying the well-earned reputation of European workmanship. Hand finished and expertly set-up. (This instrument and all below are made of increasingly high quality tonewood spruce and maple!)
Etude – Violin and Viola! Our recommended "Step-Up" instrument for Beginners & Intermediate players; noticeably warmer, sweet sound, handmade and finished with a spirit varnish, setup with the higher quality strings, fantastic value for a student instrument.
Concert – Violin, Viola, Cello, and Bass! Our most popular Franz Hoffman instrument; hand carved with a quality spirit varnish; aged tonewoods produce robust sound; consistent quality and playbility make this an obvious choice for a serious beginner or intermediate student.
Vienna - Violin! Traditional European quality and tone, made in Romania for the advancing student. A remarkable instrument that will enable the serious student to easily progress to the next level.
Koe – Violin! Fantastic choice for any student; produces more volume, making it a great choice for small children who need the very small fractional sized instruments; sounds sweet, bright, and clear without being tinny or too harsh.
Maestro – Violin! Features a rich, warm and powerful sound; top-notch in craftsmanship and sound; great choice for the advancing beginner and serious intermediate student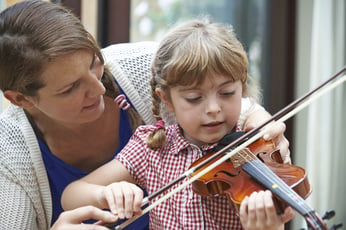 As you can see, the Franz Hoffmann line offers a rich variety of instruments to fit your child's needs and your family's budget. The entry-level Amadeus and Prelude instruments are ideal for players just starting out who are looking for a good bargain. The Etude is a great middle-of-the-road choice, while the Koe, Concert and Maestro offer more refinement in sound and playability. Our personal recommendation is the Concert because it combines great sound and affordability. However, if you have a small child who needs a violin, there is nothing on the market like the Koe. Lastly, if you insist on having a European-made instrument, you can do so without breaking the bank with the the Danube or Vienna!

As you embark on this musical journey with your child, consider our Franz Hoffmann line. These instruments are exactly what a beginner needs: a good sounding instrument at a great price. Their price point is ideal, because you're giving your child a great beginning while not plunking down too much cash (that is, until you see how serious your child is about practicing!). We believe you won't find a better quality instrument at these prices. They also come with a 1-year limited warranty and 30-day no hassle return policy, so there's no harm in trying it. As string players, we hope your child thrives in their musical learning experience with a Hoffmann instrument. We know their musical garden will be off to a fantastic start!