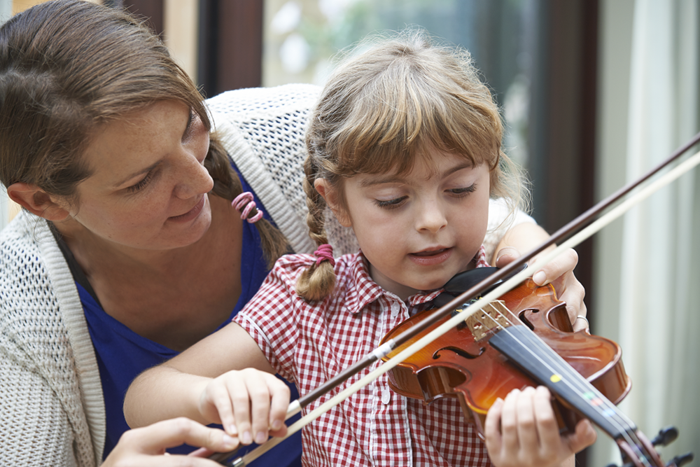 Sometimes, a name is just a name. But with our new Franz Hoffman Koe violin, we wanted a name that would capture the feeling of first learning to play—really play—the violin. "Koe" means "voice" in Japanese. Its Japanese character can also be interpreted as a cry, or a note. Along with its craftsmanship, this violin's name was carefully and thoughtfully considered—we at SHAR definitely took a long time to decide on it! We decided on Koe with this question in mind: What does it mean to have a voice in music?
Obviously, you can literally have a voice through music: you can sing in a choir or even in an opera. But what does it mean to have a voice, in a more figurative sense, if you play a string instrument? For those of us who don't use our voices as our instrument, what does it mean for us? If you're like me, you began playing an instrument because as a young child you had a difficult time with other activities in school. You were the cello nerd or violin boy, because it was difficult to catch a ball or run fast or lift something heavy. You were the viola girl, because the other girls weren't always inclusive and didn't invite you to join the cheerleading team. And that's okay, because the older we get and the more music-making we do with others, the more we discover that there are so many other likeminded musicians out there who are just as different, nerdy or misunderstood as we are. (We rejoice when we find these kindred spirits in youth orchestra or at summer music camp!)

This is why it has become more important than ever to find your voice—in your life and in your music. It gives us a chance to be heard for who we are and to express how we feel. The perfect example of this is the Adagietto movement of Mahler's 5th Symphony. It wasn't originally intended to fit into the symphony; Mahler first wrote this piece of music as a "love letter" of sorts to Alma, the woman he was in love with, because he couldn't find the words to tell her his feelings. He used this composition as his voice, and she realized that she needed to be with him shortly after. We make music is because it shares the human condition; it gives us the voice and ability to express ourselves in contexts where we might otherwise be too awkward or scared. It's the reason why music is used in wedding ceremonies, at funerals, and in movies. We are giving a voice to timeless emotions such as joy, grief and heartache, for the circumstances where there are no words.
If a composition allowed Mahler to voice his love for Alma, what about those who don't yet have the tools to speak? Even more so than adults, children often don't have the vocabulary to express their feelings or intentions. They may not have the creative outlets adults have with which we process our experiences—outlets such as fiction, poetry or visual art. A lot of us take for granted that we even have a voice at all, but for young children it's important that we encourage them to develop a voice and learn to speak, whether that's literally (with words) or figuratively (with music or other art form). We want them to have the tools to carry themselves and tell their story.
The Franz Hoffmann Koe Violin can become your child's voice; this finely crafted instrument will make it easier for your son or daughter to learn a new vocabulary. If you believe your child may benefit from expanding their creative options and having more tools to express themselves, you should consider violin lessons so that they can learn a new vocabulary and have a "second voice" beyond their verbal options. But why—or how—will the Koe help your child express themselves?
The Koe is part of the Franz Hoffmann line of instruments, but it stands out in a few ways. It was designed with small children in mind who need smaller sized instruments. While the Koe is available in most sizes, its fractional sizes of 1/16, 1/10, and 1/8 are especially resonant and audible. Oftentimes, small violins (especially those smaller than a ½ size) just don't produce enough volume, so the Koe was designed to have 15% more internal volume. This helps kids produce a bigger sound more easily (the sound doesn't crunch as easily when the bow has firmer pressure), amplifying their musical voice. If you compare the Koe to the other instruments in the Franz Hoffmann line, you might also notice that the tonal quality is a bit more clear, sweet, and bright without being harsh. And, of course, you'll get none of the metallic, tinny qualities of a VSO (violin-shaped object) because the Koe sounds like a violin should. The other feature of the Koe is the way the neck and fingerboard are shaped. The neck and fingerboard were designed to allow children with small hands an easier time holding the violin and handling the instrument. Little considerations like these can make learning to play violin just a bit easier for your child (after all, it's hard enough!).
We designed the Koe because we want your child to have the best experience possible when it comes to learning their instrument. All of us here at SHAR love stringed instruments and have spent a lot of time honing our craft so that we would have our own musical voices; we want your child to experience the same thing. The Koe will give your small child the best chance of developing their own unique musical voice.