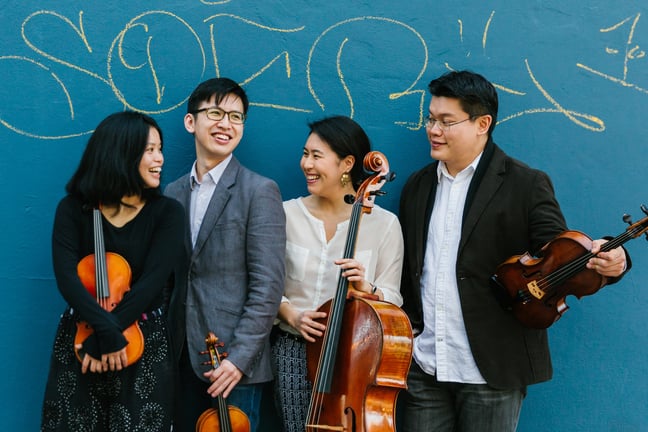 About a decade ago, perhaps in a masterclass during my undergrad as a violin performance major, I recall the discussion of what was required to be a violinist in the 21st Century. Something about the very wide range of technique needed to perform today's expansive repertoire and how being able to "do it all" these days, from baroque to contemporary, is nearly impossible... This vague recollection came back to me upon hearing the title of a discussion led by the Formosa Quartet entitled "What Does It Take To Be A 21st Century Musician?" Only ten years later, there was a lot less talk of technique and repertoire, and much more about social media, local and global communities, and crowd funding!
Formosa Quartet, who recently shared residency at Eastern Michigan University, offered a handful of performances, masterclasses, and discussions, joining colleague and Formosa member, Deborah Pae, who is Professor of Cello at EMU. They began the discussion with a brief performance of a "Bagpipe Dance" which is the first movement of Hungarian Folk Songs, a suite they commissioned of a friend, composer Dana Wilson, which will be featured on their upcoming album release, From Hungary to Taiwan.
After this work by a 21st Century composer, they launched right into discussion, asking for the attending students to share their perspective on the presented question, for as Formosa violist Che-Yen Chen put it,
"When I first saw this topic I was thinking 'hmm, maybe you guys should tell us how to be a 21st Century musician' since I was sitting at the entrance auditions at my school and I was looking at all the birthdays of all of the freshmen. I was stunned. There are going to be year 2000 birthdays! So you can tell us what it means to be a 21st Century musician!"
In truth, there is a point to be made that even with only the very slight generational divide between Formosa and the student audience, todays young musicians inhabit a very different world than musicians a decade ago. I think to a recent discussion I had with my student, encouraging him to use Youtube as a tool to familiarize himself with all of the music he plays, as when I was his age, less than 20 years ago, I did not have that resource and would only be lucky if a piece I was playing was available on CD at the local library!
Formosa violinist, Wayne Lee, decided to help narrow the topic first to what it means to be of the "21st Century" specifically, and shared his own perspective of how he saw the world as a violinist in the 20th Century: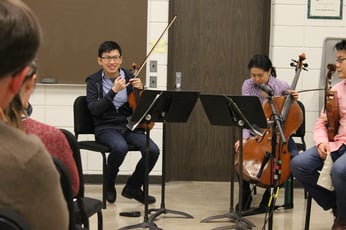 "We wanted to start talking about the 21st Century part. Well maybe we can tell you a little bit about the 20th Century … At least when I was growing up, there were a lot of myths or common understandings about being a musician. I grew up a little bit in a bubble … I grew up in the Bay Area in California and I wasn't that involved in a music school program or anything like that. But I sort of had the impression that there were these giants – I'm a violinist so I think in terms of the great 20th Century violinists like Heifetz and Itzhak Perlman, and I think [there was] this conception that if you played really well that you were going to make it, and you follow a certain pre-ordained path. So if you start really young, and you play all the violin concertos, and then you go to conservatory and then you win some competitions, and then you make a CD and get management, and that's it! That's your career; that's the path to emulate! Um… it turns out it's a little bit different! Maybe it was a little bit like that at one point, maybe not…"
With a prompt from Deborah Pae, the cellist and Cello professor that the students were most familiar with, we began to hear the voices of the students as they described their evolving perspective on the world of professional musicians they are seeking to enter.
Deborah: "I'm actually curious. You're all fulfilling degrees to be musicians, whether you're studying pedagogy, or to be a performer, or a music therapist. I mean you have your designated major, let's say. But I'm curious from you – do you also feel that in whatever it is you're focusing on that there is also a preordained path or is it a little looser now?"

Student A:"For music education, initially going into the program I thought it was very regimented. Which, in a way it is, but I am in an intro music education class right now and we started exploring more with like early childhood music and I realized that there are so many more avenues to explore than I had initially thought, rather than just like pushing myself all the way through to becoming a high school music director."

Student B:"For performance too, it seems less now than a linear path, but more of a branching path with different options…"

Deborah:"Could you be more specific?"

Student B:"Well one that I'd like to go into would be to record soundtracks for video games or movies…"

Deborah:"So it's almost through technology or another medium that you get to reach people?"

Student B: "Exactly!"

Wayne:"I think that's great. That's definitely one of the things that's very clearly different now than to when we were growing up. Can we identify a few more things that are different? … It seems like the pace of change is so fast now, maybe we should be talking about this decade or this year. What's different about the past ten years?"

Student C: "I feel like the presence of social media and its growing popularity is big, especially for performing musicians to get your name out there and build your own fan base."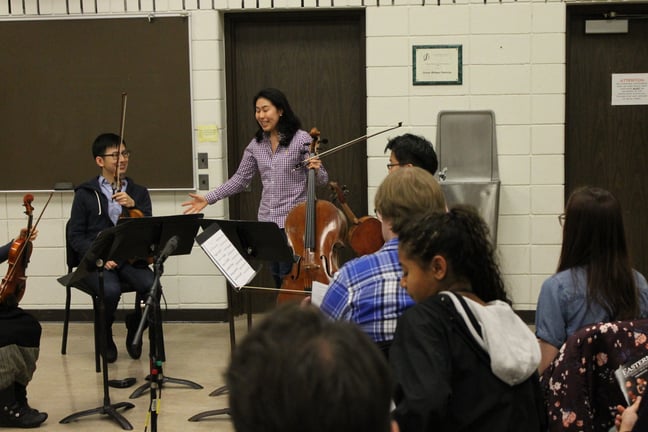 With the mention of social media, there was certainly a feeling of understanding and acknowlegement circulating around the room. Deborah opened up the idea of social media like Facebook and Youtube are a "double-edged sword", noting:
"There's a fantastic live performance livestreaming in Australia, and you want to be there but you can't. There is something incredible that you can almost "be there" and whoever's performing can reach you. On the other hand there's an oversaturation. Do you agree? There's so much information and content, so the question is: how do you carve out something that's genuine to you and what you really enjoy, what you feel should be heard and presented to your audience."
The discussion continued to explore the topic of globalization and social media as a double-edged sword. On the one hand, there was much talk of competing for jobs and attention with musicains across the globe, and on the other hand, how the internet has become a great resource for musicians.
Wayne: "It's also resource. It means that we have a lot more educational tools at our disposal. I think learning now is a lot more effective that it was years ago. I think due to social media, BS in teaching is less tolerated than it was."

Che-Yen: "We're talking about competition, but there are also much more accessible resources. For instance there are quite a few different crowd-funding services. Very recently, for our album From Hungary to Taiwan, we started a Kickstarter campaign. We do have some funding from different presenting organizations who helped us commission some of the pieces, but to be able to produce a CD takes quite much more than what we had, so we looked for the resources and tried to appeal for a greater … audience through social media, and we were lucky that we got our support within about two weeks."

Deborah: "When we launched the campaign… Jasmine said, 'What if we launch it and no one gives?! What if we don't make it?!' because it was an all-or-nothing campaign. And what we learned out of it was that we actually met our goal in a week - or less than a week. We were just stunned… First of all, we didn't know if anyone really listens to classical music anymore! I mean we do – we love it; we live breath and die for this music and we were very passionate about it; this is a life path that we've chosen. But you don't always know! We're always surrounded by musicians and our colleagues and in a way it becomes a vacuum. So when we launched the campaign we got this overwhelming response and we thought, wait how is this possible? It wasn't just friends of ours, but there were people we had never even heard of that decided to give. And of course we're sort of equating a monetary value to support, which it is, but it also showed that there was a community of people out there that was really interested in this project, which is juxtaposing Hungarian folk music with Taiwanese folk music. And that was actually quite heartwarming: that there's actually a community out there beyond this screen and the social media and the technology, that there are actual human beings that really want to connect with what we're doing."
As the discussion focused more on the "musician" and "what it takes" part of the question, there were mentions of talent vs. grit. The words passion, entrepreneur, discipline, and contribution were brought up in context of not just musical performance, but education and therapy as well. Deborah mentioned that Formosa Quartet used this current residency as an example of how they had to apply their skills beyond just the performance of music, and that those skills are developed by all musicians - especially the students in the room.
The idea of community kept returning, with Wayne bringing up music as a social interaction. With that idea, of impacting and being impacted by members of your community, Jasmine decided to share out that interaction has played a role in her choosing to become and remain a musician, first with her experience attending a riveting performance of Wagner's "Das Rheingold" at age ten, and a more touching personal experience:
"When I performed a Schubert Trio maybe ten years ago and this old lady came back stage and said 'you make me want to go on living'. And like I still start crying when i think about that. Just that makes the whole thing worth it. I'd like to hear from you guys - what makes you guys have the relationship that you have to music? Do we need music in the world and why? What are some things that reaffirm this?"
Students shared experiences of sharing their talents with loved ones in the hospital, experiencing miraculous reactions to music, teaching younger students, playing at a prison, and enjoying successful performances. It wasn't until the word "success" surfaced that I began to hear talk of technique as I remembered the "21st Century Violinist" lecture I had received almost ten years prior. Immediately, it was recognized as a sort of trap in which music students and serious performers can find themselves. As Wayne described:
"For performers, I feel like it's really easy to lose context. We get so focused on making each shift or playing each note in tune that it's very easy to forget why we're doing that at all. So, for us I think it's valuable to think about some of those other things that you mentioned. For some of you, it might be different; it might be that you need to make more of those shifts!"
Speaking to what the "lost context" could be, Formosa shared that exploring new music is a major drive for them as well as writing their own music. They also dove into the importance of not only engaging with the worldwide community on youtube and social media, but to also being fully invested in their local community, and in the case of Formosa quartet, their national community of Taiwan. They concluded that even though the 21st Century is different in terms of media and global interaction, the underlying principles that it takes to be a musician are the same: pursuing your passion and sharing it in your communities in a way that is unique to you. Tying it all together with the piece that started the discussion, they reveal the meaning and underlying passion they find in their own work:
Perhaps in 10 years, there will be another discussion on what it takes to be a 21st Century musician, and perhaps there will be very different themes. Please feel free to share your unique point of view, passion, or answer to the question in the comments below.
Thank you for reading! SHAR is a proud sponsor of Formosa's residency at Eastern Michigan University. To receive the SHAR Blog directly to your email, put your email address in the "subscribe" box on this page! You can also find SHAR on Facebook, Instagram, YouTube, and Twitter!