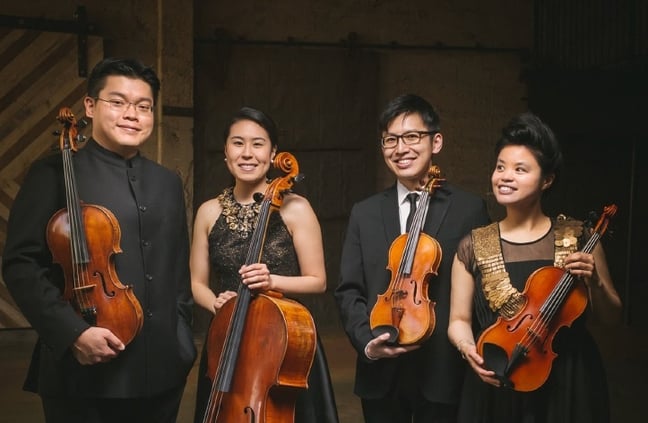 Last month, in the inaugural article for SHAR's blog series, "The Lives of Artists . . . In Their Own Words", New York City concert violinist Kelly Hall-Tompkins explained how her career blossomed when she decided to "follow her bliss". Once Kelly experienced this epiphany, doors started to open for her. Kelly's natural openness to new experiences and opportunities enabled her to have this realization.
That openness is a hallmark of artists. In this same spirit, Formosa Quartet violinist Jasmine Lin explains how her ensemble emerged 15 years ago. Without any goal except to enjoy their upcoming concert series, a group of friends was able to create and nurture something special and sustaining. 15 years later, Formosa Quartet is widely acknowledged as one of the world's finest ensembles. Trusting their intuition is what started them on this path. Today, they generously share the lessons they've learned, focusing not just on offering a great performance, but also on stewarding great music for the next generation.
From Rat Meat to Crystal Springs: 15 Years of Formosa
by Jasmine Lin
A question often asked of people in a relationship is "How did you meet"?
Formosa Quartet's "first date" was a one-time concert tour which we organized for fun. There was no thought of the future, no talk of "next time", no questions about commitment or exclusivity. There were only keenly enjoyable rehearsals, firecrackers we lit on New Year's, skewered chicken butts, and rat meat at an indigenous feast which one of us ate and others of us only stared at. In short, it was a date with no strings (but the 16) attached. That was 15 years ago. Today — many concert tours, some attached strings, and no rat meat later — we are still a foursome. And yes, we still like each other.
On February 12th, two days before Valentine's Day, Formosa Quartet will kick off an eagerly anticipated week-long residency at Eastern Michigan University, where our cellist Deborah Pae is Professor of Cello. There, in the spirit of Valentine's, we will have the privilege of celebrating our 15th anniversary by doing what we love most: rehearsing and performing (coincidentally, our program will include Dvorak's "American", a piece we played on that first date 15 years ago), collaborating with EMU faculty, and working with next generation's young musicians.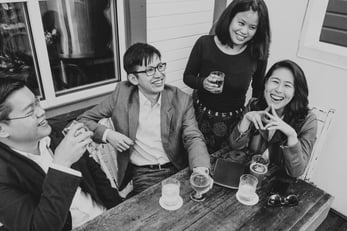 The pleasure of being in a string quartet, or any sound relationship, is the pleasure of teamwork. Likewise, our dedication to mentoring young musicians is, ultimately, teamwork — involving not just a team of four players, but the collective team of musicians in whose hands the future of music lies. The days in which much of society was so familiar with performance styles as to be offended by clumsy articulation in Mozart — those days may be behind us; the question is not how to get them back, but how to keep music relevant in tomorrow's world. Angling musical approaches by recognizing the newness in "old" music, finding one's voice in an age of carbon copies, strengthening live music in the face of mass media, honing aesthetic and disciplinary values towards such ends — these are some challenges confronting the caretakers of music, and it is always a thrill to meet young musicians ready to take them on.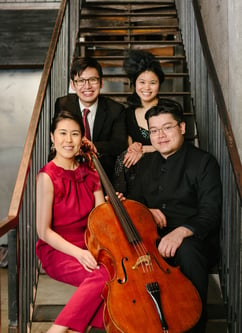 So if you are near Ypsilanti February 12-17, come visit us as we join forces with our musical fellows at EMU. If you see musicians kneeling down and putting a cheek to the floor to demonstrate a musical marking, comparing a phrase to silken tofu, or speaking so animatedly you see spots of flying spittle, you'll know you're in the right place. Then you can judge for yourself whether those musicians behave like a quadruple of 15 years. As it will be our crystal anniversary, gifts of Crystal Springs bottled water will be accepted.
First prize winners of the London International String Quartet Competition, Formosa Quartet has been hailed for its "breathtaking vitality and true joie de vivre" (the Strad). The Quartet is deeply committed to commissioning new works, many of which illuminate the music of indigenous cultures, as well as to stretching the inventive capacities of the string quartet. Resident faculty quartet at the Formosa Chamber Music Festival and National Youth Orchestra of Canada, Formosa counts educational outreach among its foremost priorities. Formosa's new CD, "From Hungary to Taiwan", is due for release this year.
Formosa Quartet extends its heartfelt thanks to every one of the many sponsors, donors, and volunteers who have made this residency possible.
Thank you for reading! SHAR is a proud sponsor of Formosa's upcoming residency at Eastern Michigan University. For opportunity to hear more from members of the Formosa Quartet as we follow their performances and presentations during their residency at EMU, to receive the "The Lives of Artists . . . In Their Own Words" blogs direct to your email, as well as informational blogs, product reviews, string instrument news, fun contests, and more, put your email in the "subscribe" box on this page! You can also find SHAR on Facebook, Instagram, YouTube, and Twitter!