Fresh off her visit to SHAR, where she conducted a master class with student musicians from the Community Music School of Ann Arbor, Rachel shares her insights behind her exciting new book series, Music by Black Composers.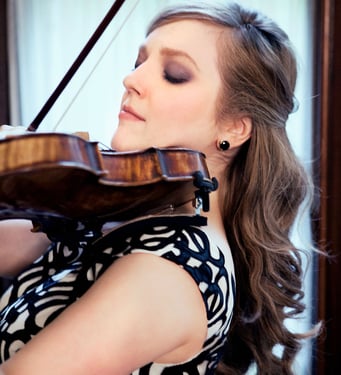 Music by Black Composers, an Exciting New Book Series From Rachel Barton Pine
Can you name three Black classical composers? How about 350?
Composers from Africa and the African Diaspora have created masterful classical music for centuries, yet they continue to be underrepresented in concert programming and in classical music education, silencing a rich vein of works from global consciousness and obscuring the true face of classical music.
As young musicians seldom have the opportunity to study and perform classical music by Black composers, aspiring Black music students struggle to participate in an art form in which they do not appear to belong, perpetuating a lack of diversity on stage and among audiences.
This year, my Rachel Barton Pine (RBP) Foundation Music by Black Composers (MBC) project celebrates how #BlackisClassical through the release of three landmark projects: MBC Violin Volume I, the first in a series of pedagogical books of music exclusively by Black classical composers; The Rachel Barton Pine Foundation Coloring Book of Black Composers; and a timeline poster of 300+ Black classical composers.
Over the last 15 years, I have led my incredible team at the RBP Foundation in collecting more than 900 works by 350+ Black composers from the 18th-21st centuries, representing Africa, North and South America, Asia, the Caribbean, Europe, and Oceania. Now we want to share it with the world.
MBC Violin Volume I is the first in a series of pedagogical books of sheet music exclusively by Black classical composers featuring 22 works by men and women for violin spanning from 1767 to 2014. Our violin series will be eight volumes, graded by difficulty from beginner to advanced concerto-level playing. Future plans include volumes for additional string instruments, school orchestra, other orchestral instruments, youth orchestra, and chamber music.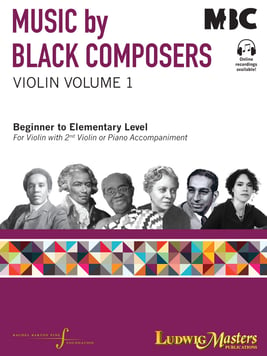 Violin Volume I includes both piano and violin 2 accompaniments, biographies of each composer; feature articles about Black orchestras past and present and about famous African Americans who played violin, and profiles of three Black role models in classical music. Online resources include reference recordings played by me, videos of each piece played by young Sphinx artists, and further information about the composers and history topics.
The Rachel Barton Pine Foundation Coloring Book of Black Composers features 40 prominent Black composers throughout history, 30 men and 10 women, drawn by Dallas Symphony violinist Sho-mei Pelletier. A biography of each composer is included.
The idea for MBC started with a recording I made for Cedille Records in 1997 titled Violin Concertos by Black Composers of the 18th and 19th Centuries. The album features historic compositions by Afro-Caribbean and Afro-European composers from the Classical and Romantic eras that had been previously overlooked. Soon after its release, I found myself sitting on diversity panels and fielding questions from students, parents, teachers, and colleagues about where to find more works by Black composers.
The researcher in me was intrigued and I quickly discovered that most repertoire by Black composers is out of print or only exists in manuscript. So, in 2001, my not-for-profit RBP Foundation committed to the Music by Black Composers project.
All these years, our main focus has been on curricular materials, but parenthood recently inspired the idea of the coloring book and timeline poster. Attendance at the wonderful Sphinx Conference earlier this year inspired the idea of having more resources for professionals, leading to the creation of the Living Composers Directory which is now on our website and the creation of a repertoire database (coming soon).
It's been intriguing to discover that the languages of the 900+ works by 350 Black composers are as varied as the centuries and countries from which they hail, representing a diverse range of compositional styles and voices — from the Baroque, Classical, and Romantic eras to contemporary styles such as serialism and minimalism, and incorporating a variety of non-classical influences such as folk music, Negro spirituals, jazz, blues, and even hip hop. Working on the MBC project has introduced me to many incredible pieces that have become a part of my repertoire and that I've had the opportunity to share with audiences throughout the world.
My hope is that through exposure to this repertoire and the incredible people who created it, this music will be considered every bit as mainstream as works by White composers who are currently more well-known. I believe that through exposure to these great Black composers and their music, current and future generations of performers, presenters and audience members will expect and demand that the music on our concert stages be a full representation of the human experience.
Learn more about Rachel here.