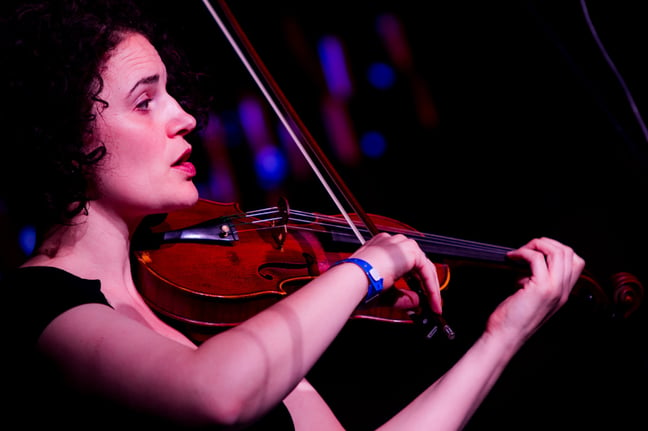 Last month, writing for SHAR's blog series, "The Lives of Artists . . . In Their Own Words", Formosa Quartet violinist Jasmine Lin explained that being open to an unclear future is what enabled four individuals to coalesce into one ensemble fifteen years ago. Trusting their own intuitions, and each other's, has allowed them to continually renew themselves artistically, engaging deeply with their audience in the process.
But sometimes a change is needed. Artists are explorers at heart, and since they trust their own intuitions, they develop the courage to venture out. This is not the same as fearlessness. It's quite the opposite: It's venturing into the unknown despite their fear. For violinist Rebecca Fischer, that meant giving up something that she still loves and that still brings her joy, as her beloved Chiara Quartet lovingly disbands after 25 years together. As Rebecca passionately puts it in her blog article, "What I want to do in this next stage of my life is both clear and completely open to me." And that's how "The Afield" was born . . .
COURAGE: STARTING FRESH, AGAIN AND AGAIN
by Rebecca Fischer
I have always loved the fact that being a musician requires the ability to constantly respond to change. Musicians are trained to be truly elastic. After years of playing with others, we learn how to read the slightest musical cues from our colleagues. We see innumerable ways to interpret a piece of music and the composers' instructions; we seek to play a piece differently every night; and we find infinite possibilities through musical improvisation and composition. Music offers a lifetime of new things to discover.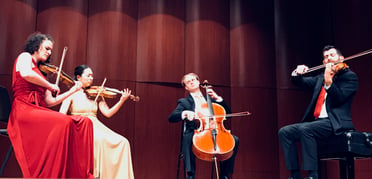 The same flexibility is necessary in shaping a musical (artistic) career as well. In the 18 years I have played in the Chiara Quartet we have gone through so many shifts in ways of rehearsing, repertoire focus, performance goals, and how we do business. Sometimes this has been for practical reasons—i.e. we have a newborn in the group so we need to change our rehearsal schedule to match the needs of the parents and child—and sometimes this has been for artistic reasons—i.e. after realizing we want more spontaneity and freedom in our playing we start memorizing almost all of our music. No matter what the impetus has been, when we've been insistent about seeing another way of looking at something we have grown.
Watch Chiara Quartet perform Mozart by Heart:
At the moment I am writing from an unusual perspective. I have been playing first violin in the Chiara Quartet for my entire adult life thus far (25 years if you include student days), and this is my group's final season. Our decision to disband the ensemble was a mutual one made with love and care for one another and our shared history, and it has been a joyful year performing for audiences around the country. I am currently in the position that I find many of my graduating students: fresh out of an intense experience and ready to take on the world.
What I want to do in this next stage of my life is both clear and completely open to me. I love performing and making music with others.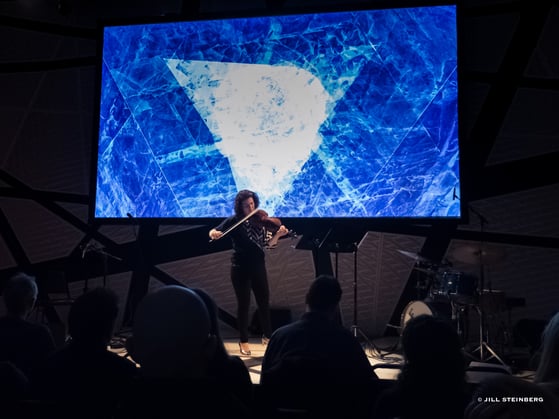 Over the past few years I have been expanding my performance activities to include more solo and chamber music recitals, guest concertmaster appearances, and collaborations with other artistic disciplines. My husband, a visual artist and writer, and I have been working together as The Afield, a multidisciplinary duo combining new and original compositions for violin, voice, and electronics with video and other media. We have presented events in galleries, concert halls, inside a car, and this year we are returning to perform at the Harare International Festival of the Arts in Zimbabwe. Working with The Afield feels liberating, as I am able to express myself in multiple ways through instrumental performance, singing, dancing, writing, and acting.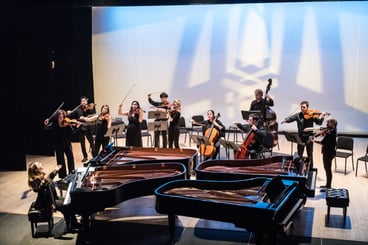 In addition, we are pioneering interdisciplinary arts education in the wider community through The Afield School, an artist-led, mobile, pop-up collaborative arts experience.
As a teacher I am particularly interested in empowering individuals and groups to challenge their assumptions and find ways to make practicing, rehearsing, and performing more effortless and creative. Through a series of creative prompts, students are able to hone their artistic voices through working on their instrumental craft and interpersonal dynamics, as well as organizing their goals and dreams. I am also committed to giving performances in community venues ranging from schools to prisons to hospitals, and I enjoy helping students to create their own programs for these audiences.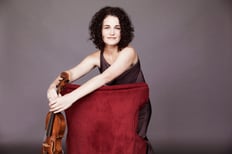 Yet, as much as I know what I lights me up inside, I also know that the future will look different from what I plan. I welcome the change that will inevitably challenge me in this next phase, and I am grateful for the opportunities that will come. Please follow my activities and blog at: rebeccafischerviolin.com.
Thank you for reading! To receive the rest of the "The Lives of Artists . . . In Their Own Words" blogs with our other SHAR Blogs direct to your inbox, put your email in the "subscribe" box on this page! You can also find SHAR on facebook, instagram, and twitter!
Photo credits/descriptions:
1. Performing "One Atom of Faith" for singing violinist by Lisa Bielawa with The Afield at the Harare International Festival for the Arts in Zimbabwe. Photo credit: Tinashe Njagu
2. Chiara Quartet at El Paso's Pro Musica series. Photo credit: Michelle Feuille.
3. The Afield at National Sawdust. Photo credit: Jill Steinberg
4. Leading Ensemble Baroklyn in Bach Piano concertos at Columbia University with pianist Simone Dinnerstein. Photo credit: Rob Davidson
5. (headshot) Photo credit: Lisa Marie Mazucco