We have a wonderful guest blog today from Kim Wren, the upright bassist for the indie-folk band Doug Mains & the City Folk. Ms. Wren has been a member of Doug Mains & the City Folk since 2010 and is currently a senior music education major at Michigan State University. Ms. Wren talks about how "choosing the bass as a lifelong musical partner" introduced her to a rich variety of genres like classical, jazz, rock, and folk and to her current bandmates. It's a great story for our blog, where musicians like Christian Howes and Mark O'Connor have stressed the importance of playing in genres other classical.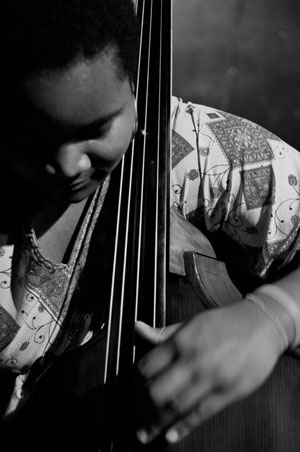 When I first saw the upright bass in the back of my brother's 6th grade orchestra class, my ten-year-old self would have never imagined the places that instrument would take me over the next decade. From a performing arts high school in Georgia to traveling on the road with an indie-folk band in Michigan, choosing the bass as a lifelong musical partner has lead me down many unexpected and exciting paths.

I switched to bass in 6th grade after playing the violin for a year in 5th grade. For various reasons (mostly because of the screeching sound of the E string), I didn't enjoy my 5th grade year of violin playing at all and I was ready to drop out of music completely by the time 6th grade came around. But my mom and the middle school orchestra teacher convinced me to stay and try the bass out for a few weeks before I made a final decision. So I started staying after school for beginning bass lessons with the orchestra teacher and two other 6th graders who were also switching to bass. It was just about instant love when I first played that beast of an instrument. The low E string, instead of screeching like my violin, rumbled the floor. I was hooked on orchestra for good. My teacher let me take a school bass home and, especially in those early stages, I remember my parents having to stop me from practicing so much because it was driving them crazy.

Since those beginning years, being a bassist has lead me to many places I very likely would have never gone had I not stuck with music as a middle-schooler. From All-State Orchestras across the states of Virginia (where I spent my middle school years) and Georgia (where I spent my high school years), to a performing arts high school where I met many friends and colleagues in the arts, to summers at Interlochen Arts Camp, to Michigan State University for my undergraduate education. Being such a versatile instrument, the bass has also lead me to expand and explore many genres of music including (but never limited to) classical, jazz, rock, singer-songwriter, and folk. Most importantly to me, through music and bass playing I've met a countless number of people from all different walks of life. Some of them have become lifelong friends, like my four band-mates in Doug Mains & the City Folk, Doug, Josh, Rob, and Kelly. I'm so grateful to be a part of this team of musicians. We've traveled many miles together throughout the country and have shared so many meaningful experiences, some high, some low, but always together as a little indie-folk music family.

I owe much to my mom and to my middle school orchestra teacher for putting a double bass in my hands all those years ago. Where would life have taken me without that defining moment? I don't even want to consider.