We're very pleased at SHAR to share our first guest blog from the talented violinist and educator Christian Howes. Although a classically-trained musician, Mr. Howes made a name for himself in the New York jazz scene in the '90s, playing with renowned musicians such as trumpeter Randy Brecker, pianist D.D. Jackson, Bill Evans' Soulgrass, crossover pioneers Spyro Gyra and the legendary guitarist-inventor Les Paul. In addition, Mr. Howes is a former associate professor at the Berklee College of Music and was the founder of the Creative Strings Workshop in 2003. It's fair to say that all these passions – classical music, jazz and rock, and teaching – show up in Mr. Howes's fascinating blog article. The article asks an essential and important question for music today: Is it possible to bridge the cultures of rock and jazz with the culture of classical music education? And if so, how can classical musicians harness the creative energies of rock and jazz?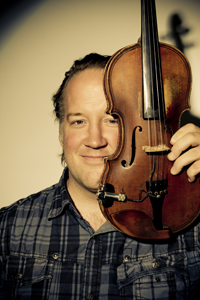 We tend to ascribe values to ourselves which don't necessarily coincide with how we spend our time. For example, even if I really wanted to, I couldn't call myself "athletic" if I only exercised once every other week. It wouldn't matter how much I think, deep down inside, that I'm athletic.
Simply put, our values can be most easily measured by our behavior. (This was the lesson of Psychology 101, a class I loved.)
A lot of musicians fancy themselves to be creative even if they have never composed or improvised a note. While I would never dispute that classical musicians exercise a type of creativity in performing, teaching, or conducting music, we certainly can agree that there is a different sort of creativity at work for composers, arrangers, and improvisers. To call yourself a "creative musician" would, by my definition, mean that you spend time creating music, whether through improvisation, composition, or arrangement.
I've tried my hand at both types of creativity, and my journey from "classical musician" to "creative musician" may surprise you.
When I was sixteen I joined a rock band with three of my friends, most of whom had only bought their first instruments (bass, guitar, drums) just a month or two prior to our first rehearsal in the garage. In spite of my previous eleven years of hardcore Suzuki and classical training, I was dumbfounded by my friends' abilities to 1) effortlessly jam and improvise alongside the radio or each other; 2) compose songs; and 3) analyze the various parts of the songs including the harmony, bass line, and groove.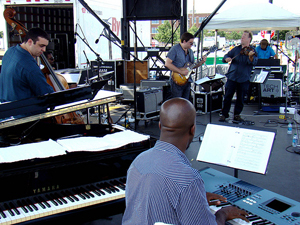 At first, I concluded that I inherently lacked creative ability (why else would these skills seemso difficult to me?), but then I decided that I would prove that I could write songs, jam, and rock with the best of them. After all, most of the girls in my school really dug the creative types, and my Paganini caprices didn't have the same clout as a Jimi Hendrix riff.
I embarked on my alter-ego life as a creative musician. Compared to my training as a classical violinist, what I was going off to pursue seemed like a different discipline: I couldn't believe that both were called music, as if what I had been studying since I was five was something different altogether. It took about ten years until these two musicians, who were both me, came together to understand, and to feel, both types of music in a unified way. This fusion happened only after I had explored my own creativity and music itself from a wide variety of stylistic, cultural, and theoretical viewpoints.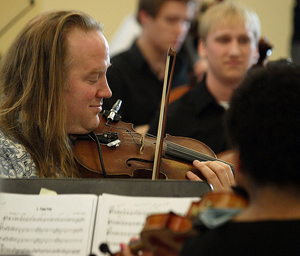 So how did the rock and jazz jamming of my bandmates end up so far from the training we go through to be classical musicians? I firmly believe that all people are creative - this is part of human nature - but that as a result of the differing "cultures of education," musicians trained in these different cultures have very different skill sets and understand music very differently.

One upshot of this insight was that I was uniquely placed to bridge these different cultures. Although I was sometimes an outsider in the classical world because of my work in other styles, and somewhat alien to the jazz and rock worlds due to my instrument, working in both cultures helped me to see that, in order to share my strategies for creativity with the community of classical music education, I would need to take a different approach to teaching than rock, fiddle, or jazz offered. Since classical musicians had already been trained within such a specific culture of education, they could only be reached in specific ways that fell within their comfort zones.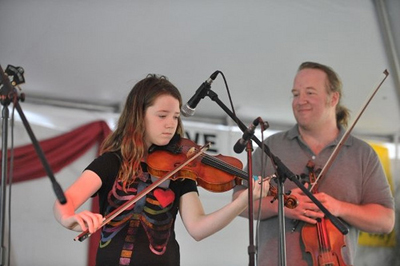 It's perhaps fair to say, here, that part of my motivation for bridging these two cultures came
from being a father. When my daughter started studying violin with my original Suzuki teacher Ginny Christopherson, I knew I wanted her to learn everything I had learned from Suzuki, but that I also wanted to encourage her to be creative from day one. (Purists sometime have argued "You can't learn jazz and all that other stuff until you develop a technical foundation," but I've never really found that claim to be warranted. Do you tell a toddler how to hold a crayon?)
And so my commitment to teach my daughter led to my desire to share these ideas with others, and, after many years of teaching classical string players while simultaneously living and working in the jazz, rock, and world music scenes, I developed a full-blown method dedicated to classical string players. I love classical music, and am eternally grateful to my classical teachers, but I look forward to the day when all of our musical "cultures of education" can come together and enrich each other in one, united community.

– Christian Howes


A Note from SHAR: Interested in learning more? At Christian Howes's Creative Strings Academy, you can find over 120 instructional videos, worksheets, ebooks, as well as an interactive forum and access to a whole community of string players around the world at various stages in their careers and development.
The online/distance learning format has made it possible to offer this curriculum, including lesson plans for teachers and classroom program, at very affordable manageable prices, and contains significant advantages over the old school private lessons routine.