Today's guest blog is from Val Jaskiewicz, the Vice President of Merchandising at SHAR Music. Val has been a tireless champion of alternative styles here at SHAR and was instrumental in bringing Mark O'Connor and Pam Wiley to Ann Arbor for a teacher training workshop in August. Below, Val expresses his heartfelt thanks to everyone who participated and invites the workshop participants to share questions, reactions, and ideas about the teacher training session in the comments section.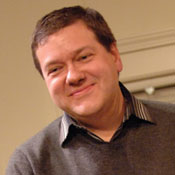 Just one week has gone by since we all met at the Mark O'Connor workshop, and I have heard from so many of you about how much you learned and your eagerness to apply it. Thank you, Pam Wiley, for your masterful and enthusiastic presentation of Mark O'Connor's rapidly growing method, and for showing us how to teach concepts that are not familiar to most of us. Thanks, also, to the Ann Arbor School for the Performing Arts, who partnered with SHAR to bring this worthwhile event to Ann Arbor. And of course, we'll never forget Mark O'Connor and Melissa Tong's brilliant performance at the Ark Saturday, alongside the great Saline Fiddlers! It was indeed a memorable weekend. I highly recommend you read James Engman's blog about the event. James was one of the teacher attendees, and is SHAR's newest apprentice. I believe he has brilliantly captured the essence of what Mark O'Connor is doing through his method.

The intent of this blog is to create an opportunity to connect with each other and share ideas about using the O'Connor Method in your studios and classrooms. Fifteen hours of classroom training in the method is a lot of training, but there are always things that come up that you wish you may have asked, usually right after leaving for home! There was definitely a lot of enthusiasm at the workshop and I want to be sure that we can keep the momentum going.

Please jump in with your comments and experiences! This blog is open for all to see, but we'd like to invite the attendees of the August 24-26 workshop at the Ann Arbor School for the Performing Arts O'Connor to participate in this particular conversation. If you did not attend the teacher training session but still want to contribute, SHAR welcomes you to propose a guest blog, which you can send to our blog editor Joe Chapman at this address: joec@sharmusic.com.