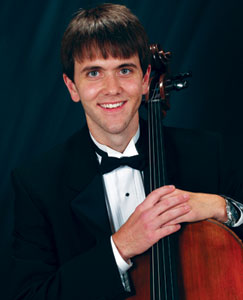 For the past three years, the Music Department at Wayne State University has been ensuring a healthy new generation of string players and teachers will be ready for the next 50 years. Since the program's conception in 2008, Shar has been a proud sponsor. Wayne State's project was organized around the same time as the DSO's Honda Power of Dreams programs. These groups provide a great string experience for kids in and around the Detroit area, marked by the opportunity to eventually perform in Detroit's beautiful Orchestra Hall! Many of these students do not have orchestra programs at school or would not have the chance to play string instruments, otherwise. These goals are directly in line with Shar's foundation of helping students, teachers, and amateurs alike with their string playing needs.
Some people still might not know that string players are the norm here at Shar; the few that do not play classical strings play flute, trombone, guitar, or piano among others. Three generations of string players have led Shar along its course of serving fellow string players, and we are more than eager to help teachers and programs across the nation – but especially here in Michigan. The two founders of String Project@Wayne will be joining Shar at the National ASTA conference in Kansas City next week to receive their recognition, and Shar could not be more excited for them, beating out more than 40 other projects!
I am the representative from Shar who works with Wayne State each week, making sure the 100 or so students and fifteen teachers have everything they need to succeed on their journey. Each Fall we have a busy day of fittings and then deliver instruments the following week. The program is able to keep class sizes small with so many dedicated teachers, and this is one of the best aspects of the program in my opinion. One week I scheduled my visit on a Friday; I was fortunate to arrive during the Ensemble@Wayne rehearsal time. The performance connection each teacher has is another valuable strength. This focus makes all of the difference in effective teaching. I have a friend who teaches band in Texas; he recently formed a community band for teachers to perform together. With an established teacher ensemble, each of the String Project@Wayne teachers is actively involved and fluent in what they are teaching each week.
We have all enjoyed seeing the String Project students develop their string playing skills, and the recognition comes at a time when the program is making huge advancements. They have hired an assistant who helps coordinate day-to-day activities and improves communication between Shar and parents alike. There are already three progressive levels, a new Summer program, and doors opening to other ensembles following Wayne State's offerings. Similarly, we are delighted to help teachers become the best they can be. Educating teachers naturally guarantees students will have better teachers and will become better musicians; it's a win-win situation at Wayne State. A lot of me wishes the central Missouri community where I grew up had a similar program! With such a great program in Shar's backyard, it is a privilege to help make sure the next generation of string players is prepared – player and playing teacher alike.