Last fall I wrote a blog on the importance of students (and experienced musicians for that matter) learning to write music, and not just learning to read notes. The act of putting pencil to paper in the musical arena is one of great importance - and in a quite simple and straightforward sense. Yes, one of the most powerful gestures a person can make is to create, and creating music is by and large one of the pinacles of human artistic acheivement. However, there is more to creating music than composing. If simply leaving your mark in this world through a written masterpiece of divine inspiration was the only need to ever pick up a pencil as a musician, most of us probably would never have done so. Yet, we are all familiar with the role of the pencil in string player's arsenal, because the traditional tools for composing masterpieces have also always had a much more practical role in making music - notes and markings.
"Put down your bows and pick up your pencils."

In college, my violin professor would occasionally address the time it took for me to produce instructed markings, fingerings, or bowings. This would of course take place during a masterclass in front of all of my peers, since during lessons he had a pencil attached to the music stand. "A true musican always carries a pencil," he would say as I jumped off stage to grab a pencil from my violin case or backpack. The truth was that a pencil in your case is not equal to a pencil on your person. And during a fast-paced orchestra rehearsal, the seconds it takes to fish the pencil from behind the sheetmusic or folder can be the difference between marking the bowings in real time, or spending a good chunk of your 15-minute break paging through your worn and faded copy of Don Giovanni next to the front desk copy. The secret to using a pencil effectively during rehearsal it seems, is to liken its use to that of a Hollywood cowboy and his holstered revolvers during the fastdraw era - speedy and accurate.
There is much that can be said on the proper marking of sheetmusic, especially on rented orchestra parts, but that will have to be left for a different blog. Today I turn to the instrument of the pencil itself, and in particular the reissue of the Blackwing pencils we carry at SHAR. There is no doubt that, like a bow needs rosin, a string player needs to have a pencil available at all times - especially during practice and rehearsal. Why shouldn't we have the best possible pencil to fulfill this important role in the preparation for performance? String players take great pride in meticulously selecting their ideal instrument, bow, strings, and even rosin. Should their pencil not also suit them equally well? I'm not suggesting that the Blackwing Pencils are necessarily anyone's ideal pencil, but their quality is indeed beyond anything I've experienced before. Plus, in reading of the original Blackwing Pencils and the new reissues, there is more history and more controversy than I have ever thought imaginable for such a simple thing.
Blackwing Pencils were an icon for the mid-20th Century American creative scene. They were used by world-famous authors, composers, and artists such as John Steinbeck, Stephen Sondheim, Leonard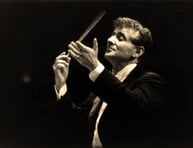 Bernstein and Chuck Jones. The Eberhard Faber Company were the creators of the original Blackwing pencils, which were produced from the 1930's right up to about 1998, when they were discontinued. While they sold for about $6 per dozen around the time they disappeared, individual pencils now go for as much as $40 on eBay. The reissue won't cost you nearly as much, yet fans of the original have separated into camps for or against the new version, which was picked up in 2010 by California Cedar Products Company. Their website describes the rebirth of the Blackwing under the Palomino division:
"In 2010, Blackwing found a home in the Palomino division of California Cedar Products Company, a leading supplier of wood for pencils. With pencil industry roots dating back to the mid 19th century, Cal Cedar has built a long tradition of excellence and unique supply relationships that now extend to the Palomino writing, arts and lifestyle products, the most famous of which are its Blackwing pencils.
When Cal Cedar introduced the Palomino graded range of premium pencils, many users began comparing their performance to that of the famous Eberhard Faber Blackwing 602 pencil, which had since been discontinued. Cal Cedar soon expanded its Palomino umbrella to revive the iconic Blackwing brand hoping to introduce it to a new generation of emerging artists."
I've been using the new Palomino Blackwing pencils now for a few months at violin lessons and in the studio, writing and arranging sheetmusic, for general writing, and also woodworking. I've never even seen an "original" Blackwing, so I will not make any comparisons, but I can say that using such a high quality pencil is a satisfying experience. There are some recommendations I will make if you decide to try Palomino Blackwings for yourself. For one, I can't stress enough that using the Blackwing sharpener really allows you to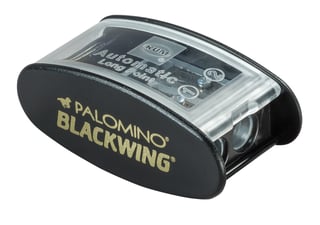 get the most our of your pencil. It shaves them much more cleanly and reduces waste. Plus, you get a much more uniform and properly angled tip. Secondly, up until I begain using the Blackwings, I had mostly written with ballpoint pens and No.2 Pencils. So, when I started using the Soft Blackwings, I realized that I push down much too hard when I write. If you push down hard on paper with a soft pencil, it becomes very difficult to erase. For those types of writers, I would highly suggest the 602 instead. I did find that the softer option makes a great woodworking pencil, however!
Lastly, there are many contrasts I can make between these pencils and your average wooden pencil. My favorite thing about them is the new trust I have in pencils. I haven't had a single pencil tip break, the graphite is always straight and perfectly centered, and the adjustable erasers that never run out are firmly attached, so they don't wobble. Now, those are just things you might expect from a quality pencil, but after that, the things that really make the Palomino blackwings a pleasure are the smooth finish, the perfectly uniform density, and the overall strength and appearance. I'm in no way a pencil snob, but these are definitely growing on me!

If it's time to restock your pencil supply, or if you're sick of the typical problems associated with mechanical pencils or cheap No. 2's, then you should really consider the Palomino Blackwings. Click the button below, and let me know what you think!