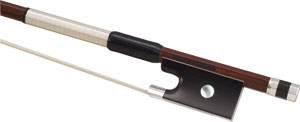 Today we have another fine blog from our apprentice James Engman. James shares six tips that will help you maintain and care for your bow whether you're just starting out or an established professional.

As a young player becomes more experienced, their technical ability may begin to require a higher quality bow. The balance, weight, flexibility, and setup of a decent bow will allow a student to accelerate their formation of technique and tone. Just as a sharpshooter can't perfect his or her aim with an old black-powder musket, a violinist can be held back by an inferior bow. However, the cost of a good bow can often seem unusually steep to first time buyers. It is easy to forget that the instrument in your right hand is just as much of an investment as the one in your left, and it requires just as much care, if not more. Therefore, a student should learn to care for their bow as it were a $90,000 Peccatte from the first time they pick one up. Here are six simple tips, for students and professionals alike, to get the most out of your bow.

1. Rosin the Bow!
Although a strand of horsehair appears smooth, it is actually covered in tiny scales and hairs. Not only does your rosin help the bow stick to the string, but it also protects its texture. Bowing without enough rosin or rosining a small area with too much pressure and frequency can smooth out the hair and ruin it. So, it is always important to keep the hair evenly rosined.