Attention Teachers: Enrich Your Studio With Martha Yasuda's
Gorgeous Arrangements of Classic Works and Favorites
When we first saw Martha Yasuda's music books, several years ago, we were really impressed with their quality. The arranging was top-notch; the visual quality of the notes was superb; the artwork and layout are beautiful and world class. Even more important, Martha selected each work to support and motivate students and their studio teachers, skillfully supplementing their etudes and repertoire. Many of these arrangements are written for various combinations of stringed instruments, enabling groups of students to perform together in harmony, not just in unison. The possibilities for motivating your students are endless. Over two dozen of these titles are licensed by the International Suzuki Institute, a tribute to their effectiveness.
All of these titles are digital downloads. They are as easy to order as any other product at SHAR, and are available instantaneously, without the hassle or cost of shipping! Perfectly formatted, you can also print them on your home printer without doing any reformatting. If you've steered clear of digital sheet music in the past because you were afraid of running into technical issues, Martha's titles will dispel your fears!
We are proud to welcome Martha Yasuda as a SHAR Exclusive Digital Artist! In her article, Martha shares the story of how and why she became a composer and arranger, and what makes her music so effective and motivating for students.
Writing with SIZZLE!
I never planned to arrange music. It just kinda happened and I certainly never planned on actually writing anything out! I liked messing around on my fiddle, especially at Christmas time, making up some double stop carols for my friends and family. Some of them were pretty hard to play, but that made it all the more fun for me, since I was (and still am) a double stop nerd!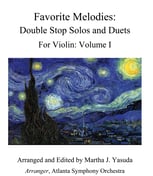 When a couple of my professional friends actually thought they might appeal to students, my "teaching hat" came on and I thought, "Hmm, I'll bet they might like playing these fun, familiar tunes more than Kreutzer or Josephine Trott!" So, I started writing them out – ultimately, they became part of Christmas Melodies: Double Stop Solos and Duets. I thought there should be two volumes, one with beginning level double stops and the other for the advanced kids…
That was back in 2002 and it's now 16 years later and I have amassed a library of 80 plus book titles for string players. Wait a minute, now…how in the world did that happen?? Well, I'll tell you - book by book, idea after idea, coupled with inspiration, prayer and hard work!
Always at the heart of my writing is something I like to describe as "pedagogical sizzle." Just adding a little extra "something" to keep things moving along. Whether it's in the rhythm department or an extra flourish of notes, the ears have to be happy!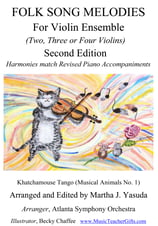 I really like listening to people and many of you out there have been the inspiration for how some of my books came about. I've listed many of your names in the acknowledgement sections of my books. I won't list names here at the risk of forgetting anyone – but, seriously, lots of faces and names are flashing across my memory bank right now as I type – I am seriously grateful to you!
I have to really be committed before I take on a project, as I know how involved the process can get (some books have taken over 10 years to complete!) Nevertheless, I will not publish anything until I am thrilled to put it in print and play it myself!
I hope to start blogging here, telling you more about the "behind the scenes" stuff and how our business got started. Thanks for reading and, "Bye, for now!"
About Martha J. Yasuda
Martha Yasuda's arrangements, transcriptions and compositions are a natural extension of her life in music, as an orchestral violinist and Suzuki-trained teacher, with a Bachelor of Music degree from the Eastman School of Music in Rochester, New York.
Martha began arranging in 2002 and since then has completed close to 80 volumes of arrangements for various string instrument combinations, including 26 books with duets for all pieces from Suzuki Books 1 through 8, licensed by the International Suzuki Association. She was also commissioned by the Atlanta Symphony Orchestra to write orchestral arrangements for the education concerts, called "Symphony Street: Adventures with the Orchestra." Her series of duets and double stop solos for violin, viola and cello — featuring popular hymns, folk songs, wedding selections and Christmas tunes — has earned praise from teachers, performers and pedagogues:
"Mrs. Yasuda's idea of relating double stops to duets is very cleverly done and is clearly a demonstration of Dr. Suzuki's idea of making learning enjoyable for the student." - Suzuki pioneer, William Starr
Her arrangements are "expertly written and carefully edited for the student, and they delight with originality and flair." - William Preucil, Sr., Professor of Music (Emeritus) at The University of Iowa
"The six-volume Yasuda violin and cello duo series includes well-crafted, carefully edited arrangements for all levels of players, from the novice to the advanced." - Christopher Rex, Principal Cellist with the Atlanta Symphony Orchestra since 1979
Martha's recent publications, Timeless Melodies, Volumes I and II, include duets for top favorite pieces from Barbara Barber's six-volume series. Barber writes: "Finally, someone has written violin duet parts for many of the pieces in Solos For Young Violinists! They are well-written and easy to read. Thank you, Martha!"
Martha (Lewis) Yasuda grew up in Lynchburg, VA and studied violin with Suzuki teacher-trainer, Rudy Hazucha. She studied violin with Zvi Zeitlin and Charlie Castleman at the Eastman School, and with William Starr at the University of Tennessee in Knoxville, TN. She has freelanced with many different orchestras, including the Rochester Philharmonic, the Savannah Symphony, and the Greenville Symphony, and she always has maintained a teaching studio. In recent years, her arranging has taken front seat, as she continues to create materials that aim to inspire students, teachers and young audience members.
Mrs. Yasuda lives in Atlanta with her husband, Ken, and is a grandmother of four. She feels fortunate to be able to express herself through arranging music and gives all glory to God for the creativity she has been given.