For many years now, SHAR has carried the much-loved method book series Adventures in Violinland by Shirley Givens. Because of the esteem we have for Shirley, it's a great honor to offer her a space on our blog to answer a question that those of you encountering her well-respected series for the first time might have: "Why should I try Adventures in Violinland?"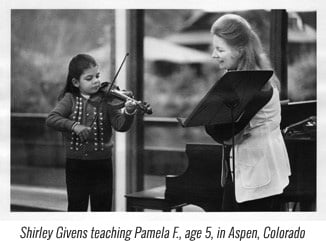 In my experience, young children love the violin! It is small and huggable—and it makes sounds! How can we nurture this initial enthusiasm for the instrument and transform it into a deeper love of music? My books aim to respond, successfully, to that question.
When I first began teaching young players, I tried hard but could not find any violin method books that were FUN, so I decided to write my own method that would be appealing to children. I drew my own illustrations, invented duets and games and, above all, introduced the fourteen Violinland characters who act as guides, helping the young student learn the basics while also leading them into the magic world of Violinland. I am delighted to say that there are now twenty-four sections of the Violinland books that offer four years of study and development to the young player. These books are used worldwide!

I've heard that teachers can be misled by the seeming simplicity of the material. Please don't be! The books are written from a child's point of view while incorporating the most exacting standards of modern violin technique. But there are other important features of the books that contribute to their uniqueness:
The young student is encouraged to participate actively in his own learning by developing his own imagination. There is discovery and improvisation. No imitation or copying from CDs.

Training the child's own pitch awareness from the start assures early in-tune playing.
Note reading and harmonic awareness from the beginning cultivate musical literacy for a lifetime.
A wonderful rhythmic foundation is established through body movement
The Adventures in Violinland books provide a firm foundation for advanced study. I invite you to visit my website to learn more about this successful and joyful method.
I also plan to give classes this summer on the Violinland approach from July 14 to July 26 in Arcidosso, Tuscany, Italy as part of the InterHarmony International Music Festival.