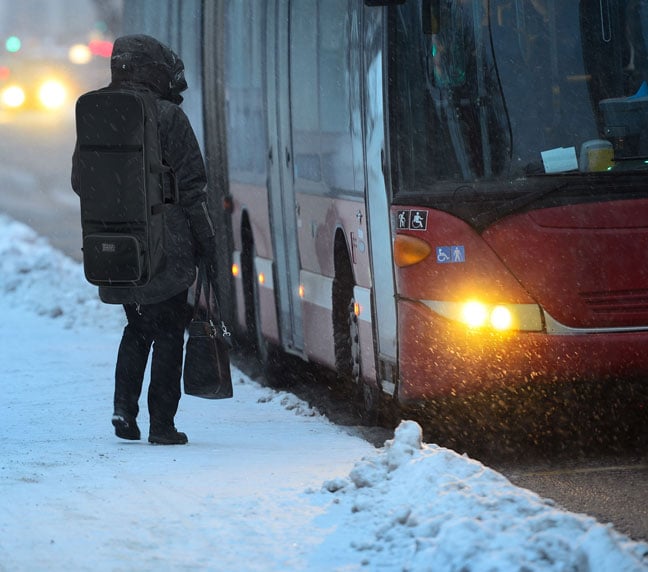 There are days when I look over my monthly budget and just shake my head at just how much I spend on various kinds of insurance: Instrument insurance, car insurance, health insurance, life insurance, homeowners insurance. It's a never ending list! As much as I groan and complain about having to pay those monthly premiums, I know that they exist for a good reason. Insurance coverage is important, especially insurance that covers you where you need it most. If you think this blog is starting to sound like an insurance commercial, you're right. I watched an ad on TV just the other day, and their slogan was "Know the gaps." Meaning if there are gaps in your coverage, you should investigate that and fix it. Being a musician, I obviously thought about my instrument: do I know the gaps?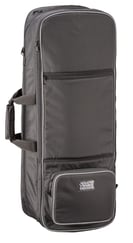 Of course, you can buy an actual insurance policy for your instrument if you own a fine stringed instrument. And just like insurance coverage, a good violin case can protect you against calamities such as fires, bumps, crashes, scrapes. That said, there are still so many things that can go wrong. That's where you need extra coverage—the best solution to minimizing risk, short of locking up your instrument in a bank vault!
The thing is, there are many excellent cases out there, but not many cases do absolutely everything well. Some cases have great protection but weigh a ton. Some have lots of storage space but are missing backpack straps. This is where the Cushy Case Cover comes in. It compensates for anything your instrument case might lack. It's your answer to the ad slogan "Know the gaps": not only do I know the gaps, insurance commercial, I've got a Cushy Case Cover to cover them.
Protection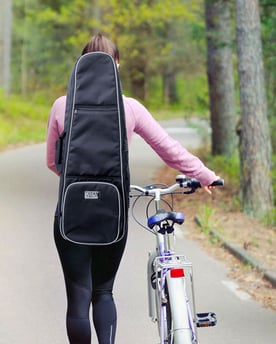 Sometimes I have this recurring nightmare that after walking from my car to the rehearsal hall in freezing temperatures, I get inside and open my case only to find a giant crack on the top plate of my violin. Immediately I would think, "Ahh!!! This is going to cost me a fortune to repair and my violin may never sound the same! My career will be ruined!!!" While this fear may tend toward the dramatic side, it's a legitimate fear. We need to make sure we do everything in our power to protect our instruments, which are our tools for music making.
This is why you need to consider using a Cushy case cover for your violin or your viola. The first and foremost thing the Cushy cover does is protect your instrument, and it does it in two major ways.
The Cushy protects your instrument because it's literally cushy, with lots of padding and cushioning, helping to ward off the everyday bumps and scrapes it may encounter.
The Cushy helps to regulate the temperature inside your case. This is hugely important in the wintertime when you are subjecting your instrument to freezing temperatures outside and then moments later, 72 degrees inside. The Cushy's thick, layered padding helps mitigate drastic changes in temperature. During wintertime cold temperatures are inevitable, but your instrument won't be damaged by the cold if you ease into warmer or colder temperatures. Stringed instruments often develop cracks and split seams due to drastic, sudden temperature changes. The Cushy can help protect your instrument from repairs that could be costly.
It's tough and waterresistant exterior will keep your favorite case free of scuffs or wear, and your instrument and sheetmusic from becoming damp or waterlogged!
Normally, a protective case may cost and weigh a lot more, but the Cushy is able to provide a lot of protection for a reasonable price and without adding too much extra weight. This extra cushioning can be particularly important if you have a case made out of foam or a less rigid material. As an added plus, the Cushy cover also gives you an extra layer of protection against precipitation. It's also a quick fix for a broken zipper that you've procrastinated too long to fix!
Convenience
If you're anything like me, you're a little scatterbrained, always running from one gig to the next. Last night I forgot to bring my dinner to my gig. Some days I'll forget a shoulder rest, which is never fun. Or I'll fail to include rosin or nail clippers into my case because I took them out to use them at home.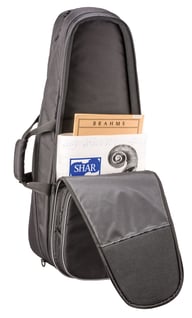 The obvious solution? Carry an extra set of everything (rosin, nail clippers, your favorite snacks) in your Cushy case cover. Because who really wants to have to carry (or better yet—even have to remember to carry) another bag? The Cushy case cover is so useful and convenient because it provides you with more storage space for your music as well as accessories. Some cases can barely fit a shoulder rest let alone a metronome, tuner, and all your other accessories. The Cushy provides extra compartments for your stuff. This can be particularly useful for the gigging musician going from one performance to another. Why carry multiple bags with music, gadgets and snacks inside, when you can fit it all into your case and still have an extra hand for opening doors or holding your coffee? In fact, if you just use the backpack straps you can carry your coffee in one hand, open doors—all while carrying of your gig stuff! This is super useful if your case doesn't already come with backpack straps. Now, if I could only remember to bring my dinner with me when I dash out the door…
Fit

The Cushy Case Cover fits over the violin or viola case that you already own. This isn't a product you would
use instead of a case; it's intended more as supplementary protection from the elements—to cover gaps in your instrument protection, one might say! If you play the violin, the Cushy Case Cover should fit most standard full-size dart-shape or oblong violin cases. However, if you play the viola, you'll certainly want to measure your viola case carefully to ensure proper fit since viola case measurements can vary. In the event that your viola case is very large, the Cushy cover might not fit your case. The dimensions of the Cushy for oblong viola cases can be found here, and for dart-shaped viola cases here. It's likely to fit most viola cases, but it's wise to be aware of the size of your viola and its case!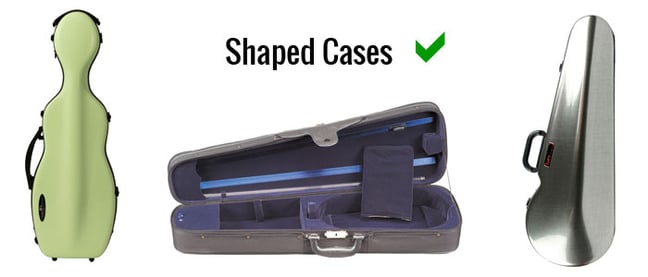 Learn more about Cushy Case Covers or order one online by clicking the link below! Subscribe to the SHAR blog to get more information on new products, tips and tricks, sheetmusic recommendations, and more! Feel free to comment below or ask questions on the product page. Thanks for reading!