When I travel, I enjoy people-watching.
I've clocked many hours in airports over the years: flying back and forth between college and my folks' home during school breaks; long distance relationships; heading to other cities for performances or competitions. Through all my time in airports, I've had ample opportunities to people watch, and I've noticed something.
You can tell a lot about a person by simply observing them for a few minutes. Like the guy anxiously checking his watch as if it'll make time speed up. Or the generous tipper, who just added a $20 to the barista's tip jar. The harried, last-minute passenger who can't find his boarding pass. But the most revealing detail, as far as personality traits, come from the luggage choices we make.
Since all luggage basically does the same job, one's preference in luggage suggests a particular style, a set of values or interests. You've got the bumper-sticker-covered suitcase that belongs to the rock musician. The flashy, leopard-print carry-on bag. The well-worn rucksack on the back of the Peace Corps member. The plastic grocery bag that may not qualify as luggage at all. Your luggage choice tells a story about you and where you've been, and maybe even where you're headed. When it comes down to it, your violin case is a very important piece of luggage too.
Why not choose a case that fits your needs and says something about your sense of style, values, or interests?
The Jet-Setter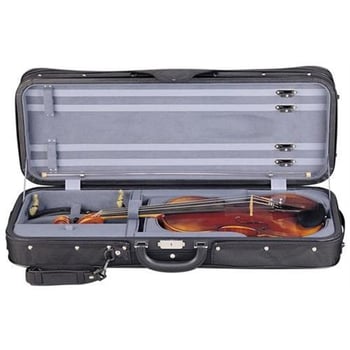 It's likely that most of us fit in to this category—musicians tend to travel a lot. Some of us travel so much we consume most of our meals in the car, at the airport, or during a flight. If you rack up more frequent flyer miles than the secretary of state, then chances are you'll appreciate simple, easy to carry, lightweight luggage. Your instrument's case is no exception—except that you need it to also function as a protective cover for your precious fiddle and also as your souvenir bin.
If you're the type who travels light and packs as efficiently as possible, you should consider purchasing the Super-Lite violin or viola case. It's very soft, stylish and has a decent-sized accessories compartment, helping you to pack the essentials while looking like the accomplished musician you are. The Super-Lite case will keep your instrument safe with its molded foam cushioning system and protective plywood shell. You can stow an extra bow in addition to a Baroque or carbon fiber bow since the Super-Lite includes four bow spinners. The viola version is adjustable, which is really nice because it's the closest thing to a custom fit for your viola. Its oblong shape and ample music pouch make it practical for your sheet music to fit inside (and your empty snack wrappers). It's only 3.75 pounds, making it one of the lightest cases out there.
As a bit of a tangent—did you know that the average violin case weighs over 6 lbs? While that might not seem like much, heavy cases can do more harm to your body than you might think. While there are some cases out there that are lighter, most of them are in dart form. Dart-shaped cases don't always fit sheet music (sometimes there isn't even a pouch for it!). Other light-weight cases are very bare bones, and look it, but the Super-Lite looks elegant. If you're looking for a professional-looking, high quality, lightweight case not in a dart shape so that it can hold music and four bows, this is the case for you! You'll love using the Super-Lite case as you zip through long airport lines with ease. You might have a jetlagged brain, but your shoulders and back will feel great!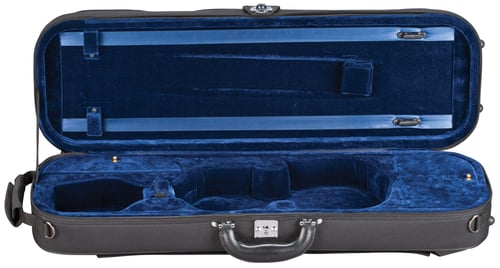 If you are a frequent traveler who might be walking longer distances, maybe several city blocks once you arrive at your destination, you might prefer to have backpack straps. But if you like to carry your case on your back, have you ever noticed how annoying the straps are when set down the case to open it up? Like how the straps poke out and get in the way and even make the case wobble a little bit? The SHAR Traveller case features straps that neatly tuck into a flap and don't get in your way when setting your case down to open it. This super attractively priced case has two compartments, whereas most cases have just one. The SHAR Traveller only has two bow spinners but the upside is that you have extra room for accessories, and maybe you tend to travel with one or two bows anyways.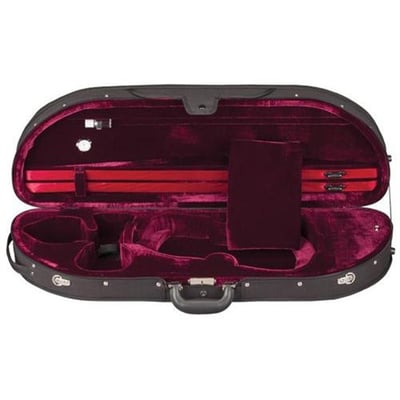 Finally, musicians who crisscross the globe might want to check out the Heritage Go! case. It's extremely lightweight at only 3.75 pounds (the same weight as the Super-Lite case), and extremely practical for those of us who might be headed to a variety of climates and weather situations. Perhaps you're going to a summer festival in the mountains? The Heritage Go! case has a hygrometer and humidifier, which can help you protect your instrument from dryness and potential damage. (For more advice on caring for your instrument and how to battle dry or humid conditions, check out SHAR's Instrument Care and Maintenance videos). Its foam shell can also help you guard against the temperature changes that your instrument is sure to experience as you go from airport to taxi stand, from rehearsal to traipsing down the mountain at your festival. The Heritage Go! has many of the same features as the SHAR Traveller case: tons of space for accessories (and necessities) inside its two compartments, two bow spinners, and all for a very reasonable price. What's more, the Heritage Go! case is available for both violin and viola. It's a smart choice for violists because it comes in two different sizes (15-5.5") and (16-16.5"). Which is good, because a snugger fit for your instrument means better protection.
The Sensible Dad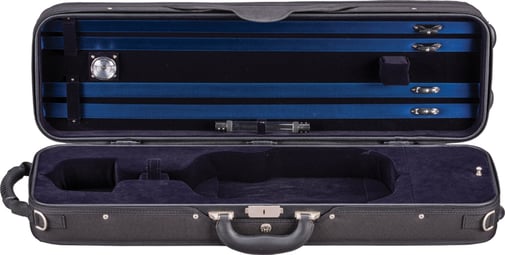 You know the type. Maybe you have one of these. Maybe you're married to one of these. Maybe you ARE one of these. The comfortable loafer-wearing, polo shirt and khaki-attired, corny-joke telling fatherly type. If you were to bump into him in the airport, he would be totally prepared. Is Johnny bored? Here are some crayons and a coloring book. Is Sue hungry? Here's a granola bar. Does Dad know where he parked his Toyota Camry in the airport garage? Heck yeah he does. He just recorded a voice memo with the space number.
If this is you, you'll love the American violin case because of its sensible, traditional clean-cut design is no-nonsense and very sturdy. The American line of cases was designed by professionals, and they're best known for their multi-layered wood shell, strength, durability and attractive, simple look. They're the kind of violin-carrying apparatus that a prudent dad would want you to have—just in case, because you never know.
There are several different cases in the American line, including the Eagle, Manhattan, Continental, and Mustang. We're pretty sure that good old Dad would choose a sturdy, middle-of-the-road option such as the Manhattan case. The Manhattan has a hygrometer and humidifier to protect your instrument from changes in humidity, and violin bag which offers extra protection and a bit of swag. The rain flaps cover up the zipper and ensure your valuable instrument remains dry. (Kind of like Dad's dorky poncho.) It also has tons of space—three compartments in the Manhattan version!—so it's sure to fit all of your trinkets and gadgets. The Manhattan is available for both violin and viola, and its viola version is adjustable to ensure a great fit. All of the cases in the American line will protect your instrument from more major bumps, and be that dependable, everyday equipment you can always count on.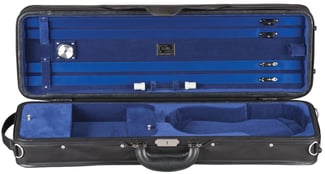 Every sensible father would probably do some comparison shopping, so here's another option for you to consider. The SHAR Professional H-Series case is a fantastic price, very protective due to its wood shell and easy to open with its one-touch latch. It's a reasonable weight coming in at 5 lbs, and it features four bow spinners, a built-in hygrometer, humidity control with vapor bottles, and backpack straps. The SHAR Professional H-Series makes sure that you've got plenty of space for all the essentials. This 4/4 size violin case is a solid, middle-of-the-road choice for any student or professional.
Naturally, every musician who's trekking the globe will love having options for their instrument's home away from home. The violinists and violists with a tendency towards choosing the most sensible, economical, practical equipment can satisfy their needs. No matter who you are, you can find the right case for your needs and your style. You'll certainly give the rest of us something to mull over while we're waiting for the next flight!