When I travel, I enjoy people-watching.
I've clocked many hours in airports over the years: flying back and forth between college and my folks' home during school breaks; long distance relationships; heading to other cities for performances or competitions. Through all my time in airports, I've had ample opportunities to people watch, and I've noticed something.
You can tell a lot about a person by simply observing them for a few minutes. Like the guy anxiously checking his watch as if it'll make time speed up. Or the generous tipper, who just added a $20 to the barista's tip jar. The harried, last-minute passenger who can't find his boarding pass. But the most revealing detail, as far as personality traits, come from the luggage choices we make.
Since all luggage basically does the same job, one's preference in luggage suggests a particular style, a set of values or interests. You've got the bumper-sticker-covered suitcase that belongs to the rock musician. The flashy, leopard-print carry-on bag. The well-worn rucksack on the back of the Peace Corps member. The plastic grocery bag that may not qualify as luggage at all. Your luggage choice tells a story about you and where you've been, and maybe even where you're headed. When it comes down to it, your violin case is a very important piece of luggage too.
Why not choose a case that fits your needs and says something about your sense of style, values, or interests?
The Environmentalist
Not only can you go green by taking reusable bags to the grocery store, you can buy a green case!
Made in Germany especially for SHAR, the Green Line violin case is one the most sustainable, environmentally friendly, eco-conscious instrument cases on the market. It's made of natural fiber composites—which means it's made of natural materials such as hemp and flax, combined with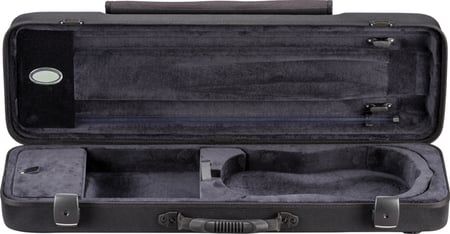 other materials such as plastic. It has biodegradable resins and no adhesives. With such sturdy materials going into the construction of this case, it's no surprise that it's very durable. What's more, with its water repellent cover, the Green Line case has high resistance to humidity, temperature fluctuations and other weather issues. With the Green Line, you're not only purchasing a sturdy, weather-resistant case, you're also contributing to environmental sustainability!
The interior of this case features a cotton velvet inside lining that feels fantastic to the touch. Its more attractive traits include a case handle with a rubber grip, and a music pouch that's both detachable and expandable. At just 4.5 pounds, it's lightweight so it makes a great case for those who travel often.
Going green has never been so practical and affordable! With the SHAR Green Line Case, musicians can do the right thing for both our instruments and our environment's future.
The Stylish Musician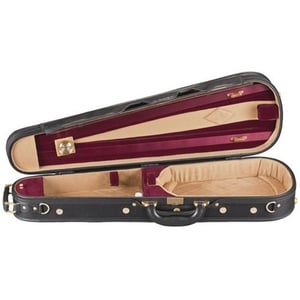 You've seen this musician before: her colleagues gently rib her at rehearsal for her matching shoes, earrings and handbag. Her violin students know that the best gifts for her are high-end purses or wallets, or a bottle of aged French wine. Her outfit is impeccable: newly ironed blouse, designer sunglasses, gorgeous heels and not a single strand of beautifully styled hair out of place. She obviously cares about her appearance. How does she pull it off? A lot of musicians can relate to her… a lot of us have a "champagne taste on a beer budget." If this is you, then consider purchasing an Embassy violin case.
The Embassy line of cases offers an old-world style without the premium cost. They're available in several vibrant hues with soft, luxuriant fabrics. The interior is finished with contrasting cream suede with your choice of colored paisley (purple, black, red, tan or brown). The classy exterior protects your instrument, yet also has a distinct style with gold-toned or silver-finished latches, screws, strap rings and zipper pull—all the special touches of a European case.
These fittings give the case a little flair while the soft leather subway strap and two padded carrying straps make sensible traveling easier. Your instrument will have its creature comforts, and you'll look assured, confident, and stylish. What more could you want? Well, maybe a cappuccino would be nice!
The Bargain Shopper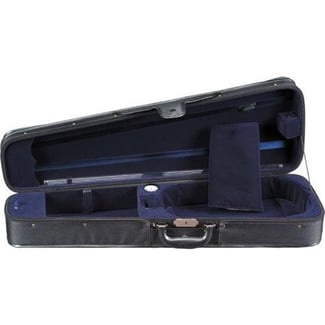 You're practical to a fault, you love snagging a bargain buy and you thrive on comparison shopping and scoring the best deal possible. You prefer to save money on material goods and then allocate your extra funds to experiences like a fantastic concert or more violin lessons. Your favorite apps on your phone are the money-saving and budgeting apps. You're a musician who's ready to get to your next gig and you need a case that will meet your needs while helping you stay within your budget.
So, if you're a bargain shopper and in need a violin case but would prefer a basic model because you don't need all the extra features, we recommend you check out the Toshira line of cases. All of the cases in the Toshira line are remarkably affordable yet still offer the basic features that matter most. For example, all Toshira cases have suspension padding, an essential protection that normally isn't typically included on an entry-level case and protects your instrument if you bump something with your case. They're also known for being extremely lightweight, making them easy travel companions. The Toshira Super-Valu Suspension Case is SHAR's "Best Selling Student Case." It is the lowest priced case of its kind, and at under 2.5 pounds it's the lightest case we carry! The Super-Valu is available in a variety of fractional sizes, so violin and viola players of all ages and sizes aren't left out.
The Coupon Clipper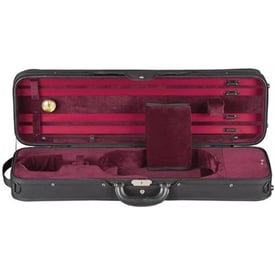 If you'd like to remain true to your penny-pinching ways, but would like to enjoy a few upgrades, we would recommend the Heritage line of cases. In particular, the Heritage Challenger Deluxe will serve your needs well if you're looking for a traditional oblong case with 4 bow spinners and a string tube. Its strong plywood shell sets it apart from other budget options because it offers more protection. With a pinch-style latch and two soft backpack straps, you're all set to leave for your next lesson! You're also able to fit an impressive amount of music in its outside pocket. It features suspension cushioning, a string tube, hygrometer, a blanket, and an accessories compartment—all the fundamental components.
As you can see, the practical, coupon-clipping musician can enjoy all the essential elements of a great case for a lower price. Those craving a new style can seek the perfect color and fit for their case, and the environmentally-conscious player can do their part for the planet. No matter who you are, you can make a statement with your case. And give the rest of us something to mull over while we're waiting for the next flight.