How far could you kayak down the river if you didn't have a paddle? When you're out on the water, you might notice the cicadas and the tug of the current, but you're probably not paying really close attention to what's in your hands. It's likely that you take your paddle for granted, how useful and powerful of a tool it is. It's also likely that you probably spent a lot of time choosing and purchasing your kayak, but not quite as much choosing your paddle. If you want to go far—or anywhere at all—you definitely need a good paddle for your kayak. And not all paddle blades are created equal: some of them are made from wood; others are made from aluminum; there are even fiberglass and carbon fiber paddles. Each has its advantages and disadvantages, but one thing is for certain: you need a good one if you're going to be able to kayak anywhere at all.
I bet you see where I'm going with this. Most of us love our instruments. We care a lot about how they sound, and we obsess over their details: the varnish, the soundpost, the bridge, and which strings we buy. But how much thought do you give to your bow? Your bow is like your kayak paddle. You definitely need a decent one to get around, but you can overlook its importance and prioritize—a little too much—your instrument. Take a hard look at your bow. Is it able to do everything you want it to do? Likewise, if you're looking to upgrade your sound, consider allocating some of your budget to a new bow instead of spending everything on a new instrument, a strategy which could potentially save you money.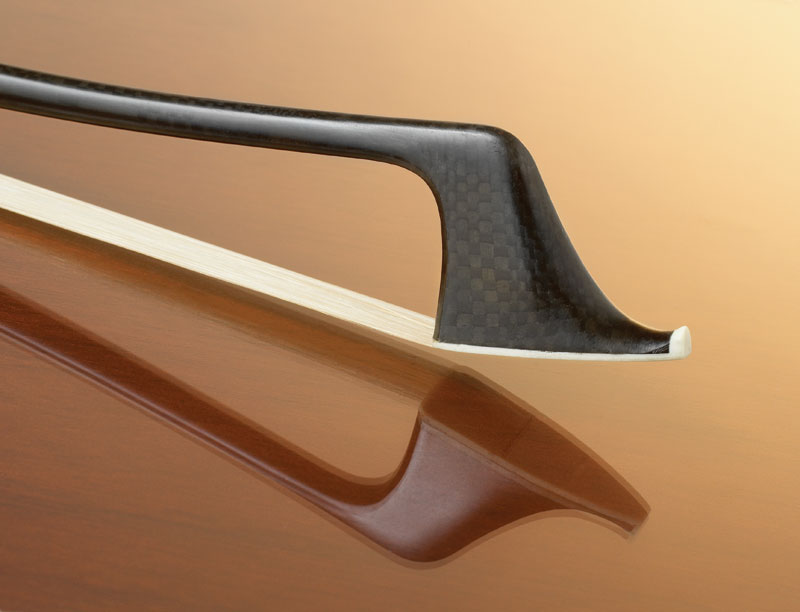 So, let's say you're considering a new bow. Without a doubt, the bows in the PRESTO Performance Series should definitely be on your list. All of the bows in the PRESTO Performance Series are made from carbon fiber. Why does this matter? Carbon fiber is a an extremely durable material, because it's made from very thin strands of carbon that are five times as strong as steel—as violin bows go, this means that it's practically unbreakable. Not only is it strong and durable, it's very lightweight and weather resistant, which makes it an ideal material for violin bows (and, as it happens, kayak paddles). You can use a carbon fiber bow outdoors and in extreme temperatures and climates (think outdoor performances or weddings!), whereas you wouldn't want to expose a wood bow to those conditions. PRESTO bows are also engineered to eliminate "creep," a flaw in carbon-fiber manufacture that can warp a bow or diminish camber over time. This means PRESTO bows won't warp and the stick will remain straight, making them a great long-term investment. All of this is to say that the PRESTO Performance bows are expertly designed with excellent control, power, and agility—not to mention extreme durability.
The Lineup
The PRESTO Performance series includes the Audition, Encore, Ovation and Impulse. The entry model in the Performance series is the Audition. It's a great step up from beginner models like the PRESTO Carbon Fiber and PRESTO Spark bows, with improved handling in off-the-string strokes like spiccato and sautille. The Encore and Ovation are very similar in feel and handling to one another. In fact, the main difference between the Encore and Ovation lies in the materials used. The Ovation fetches a higher price due to its silver fittings and snakewood frog, while the Encore is nickel plated with an ebony frog. Both the Encore and Ovation are a step up from the Audition, but not a significant one in terms of handling and feel. The Impulse, however, is a significant improvement over all of the other models and is the crown jewel of the PRESTO Performance Series. The Impulse simply feels smoother as you pull it across the strings, and it bounces clearly with minimal effort. If you're a professional player, you'll likely appreciate how similar the PRESTO Impulse's balance and response is to a pernambuco wood bow.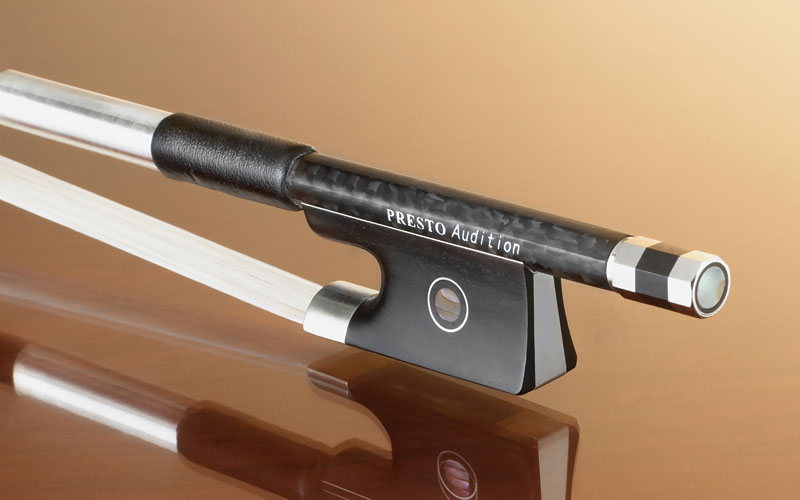 The biggest, noticeable difference between all of the bows is in how they bounce in spiccato and sautille bow strokes. The Audition would be a good choice for a beginner student who would like an upgrade from the PRESTO Carbon Fiber bow, but doesn't yet know the more advanced strokes. The Encore and Ovation would be a good choice for the more intermediate student who is beginning to learn how to do spiccato and sautille. The Impulse would be a great choice for the advanced student or professional seeking a versatile, reliable carbon fiber bow.
Our Recommendation
If you're an advanced student or professional, we would highly recommend the PRESTO Impulse bow. It has the easiest handling and, out of all the PRESTO bows, the most comfortable feeling. Its balance feels closer to a wood bow, and you don't have to work too hard to produce a variety of bow strokes. Several professional players agree with this assessment, including Andrés Cárdenes, the Former Concertmaster Pittsburgh Symphony:
The Presto Impulse bow is remarkable. I was amazed at the response, clarity and tone it produces. This is a serious endorsement from me, as I have always shunned carbon fiber bows due to their lack of an 'organic' feel. This bow feels and responds like a first rate bow in many ways. It doesn't produce a buttery tone like a great Pecatte or Simon, but it's the next best thing…
Even though the PRESTO Impulse bow has the highest sticker price of all of the bows in the PRESTO Performance Series, it's well worth the investment. Quite a few players may not realize that upgrading their bow can often mean a huge upgrade in sound; since the difference in cost from a beginner's carbon fiber bow to the PRESTO Impulse bow is probably less than the cost of upgrading your violin, it's often not a bad idea to think about a new bow first. Of course, in an ideal world you'd probably want upgrade both your violin and bow at the same time so that you can have complementary equipment. But if you're trying to improve your sound, and have to make careful choices to fit your budget, prioritizing a new bow is the way to go!