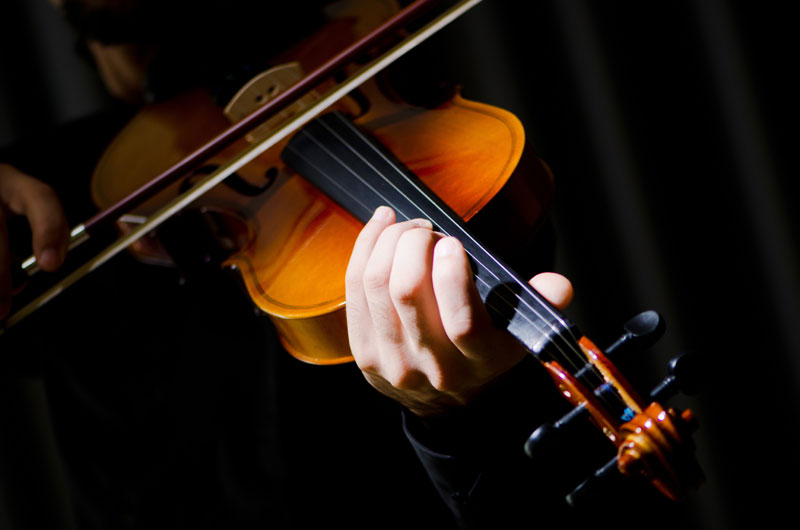 Have you ever lost track of time while on a hike? You're marveling at the beauty of trees, streams, and mountains, feeling downright absorbed by nature for what feels like at least 2 hours—only to discover that 4 hours have passed? Or have you ever noticed that time truly does fly when you're binge-watching all five seasons of Game of Thrones? Or playing Xbox for what seems like 30 minutes, only to discover that you've been at it for 5 hours, when you should have been practicing?
If you can relate to any of these scenarios, it's because you—just like me and every other musician out there—have a perception of time that is less than 100% accurate. This results in having less than completely perfect rhythm. It's a challenge for beginner violinists and professional string players alike, one that only becomes more painfully obvious the longer we work at honing our craft. What can we do about this? We can—you guessed it—use a metronome to improve our rhythm, or perception of time.
But it's no fun to practice with a metronome! Indeed, many of us shudder at the thought of having to turn on one of these annoyingly noisy devices. But, if you want to make friends with your fellow musicians, you better clock some time with the metronome. That's because in order for your fellow musicians to want to play with you, you need to have great rhythm.
One of the best ways to get to know another musician friend is through chamber music or a jam session. Some of the best friendships (and even marriages!) begin by playing chamber music together. Remember how we talked about our perception of time changing? Well, everyone's perception is a little bit different. This translates into some people having different senses of pulse and rhythm, yet almost no one is completely correct. When that happens in chamber music (or in life), things fall apart and go downhill quickly. The best way to remedy this is to bring in an objective third party—your metronome—to do the mediating. The best way to prevent this is to practice with your metronome AHEAD of time!
Which metronome, you may ask, will help you make and keep the most musician friends? We have the answer. SHAR manufactures and sells some great budget-conscious metronomes. Below, you'll find our three favorites made by SHAR.
STM-30
The STM-30 Chromatic Metronome/Tuner combo keeps your tempo in check from 30 to 250 beats per minute, helps you subdivide in 5 different ways, and has 9 beat patterns. It also has the ability to function as a tuner and a pitch generator. (This can be useful if you also want to impress your new friends with your ability to play in tune.) At a fantastic low price, this metronome/tuner combo is our favorite, because it's very easy to use and is arguably the loudest in comparison to other budget-conscious options.
STM-100

Not to be outdone by STM-30, the STM-100 SoundPod Metro Tuner is also a terrific choice; it has many of the same features as STM-30, but it also includes a wider range of pitches. You can choose from 410 Hz to 480 Hz, and the pitch generator goes from A0 to C8—which means it generates the tones of all 88 notes of the piano. This is an especially attractive feature if you play a baroque instrument that you'd like to tune to 415 Hz. It's also reasonably loud (and reasonably priced). With beats from 30 to 250, it's sure to keep your sense of time from wandering.
ST204
Another decent option is the ST204 Digital Metro-Tuner, which goes from 30 to 250 beats per minute. It has the same large range of pitches (all 88 notes) as the STM-100. However, its Hz range is not as wide as the STM-100—it goes from 430 to 449 Hz. It is considerably louder than the STM-100, though, and it's very attractively priced. This is a smart upgrade from the ST-30.
Any of these three metronomes/tuner combos are sure to prevent your sense of time from becoming too idiosyncratic. What's more, they'll help you be a better chamber musician and thus—always a plus—make more musician friends. How's that for a winning combo?