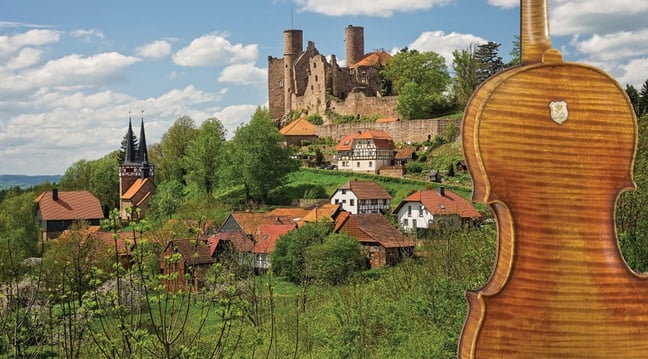 While Cremona, Italy, is generally accepted as the birthplace of the violin, instruments by the great Cremonese makers quickly found themselves in the hands of skilled German craftsmen, who happened to live in a geographic and economic sweet-spot for violin making. German instruments have always made up a good portion of instruments available in the market, and the tradition goes back much further than the post-industrial era that German manufacturing is commonly associated with. Knowing some of the history of German violin making and the important towns and makers is vital for anyone beginning the process of finding and purchasing a fine instrument. The names of German makers, workshops, and towns are standard vocabulary for dealers, luthiers, appraisers, and players alike.

With so many fine instruments available through SHAR, our collection is a good indication of the expansive history of violin making. The variety of professional-level violins ranges from very old to very new, from one end of the globe to the other, and from unmarked workshop productions to an individual maker's dated work. German instruments make up a large number of these, and knowing a bit about the various eras and places that contributed so many violins, violas, cellos, and basses may help you to better understand what you are playing on if you happen to find yourself owning, trying, or looking for a fine instrument. Names of makers like Jacob Stainer and Ernst Heinrich Roth, workshops like Heberlein and ERS, and places like Mittenwald and Markneukirchen, are standard vocabulary for dealers and connoisseurs of fine and rare violins.
The link below will bring you to our new page describing these important times, makers, workshops and places. You can also read about the French Violin Making Tradition which we introduced last week, and stay tuned for more updates as our experts continue to offer us all more insight into the incredible instruments SHAR is making available to players all over the world.