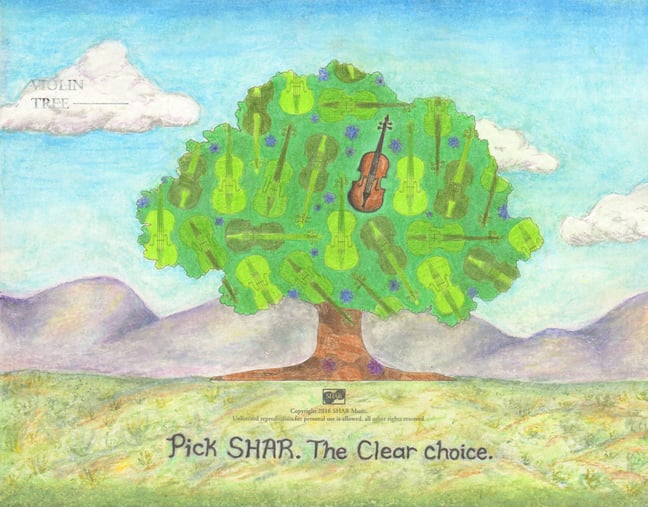 Toward the end of May this year, SHAR sent out information introducing our first ever SHAR Coloring Contest. We really had no idea what the response would be, but after discussing the recent coloring book craze that has become popular among kids and adults alike, we decided that it might be a fun opportunity to engage with the string community in a less typical way. As the first several submissions came in only a few days after opening the contest to the public, we were already elated by the positive response. As days went by, we were graciously overwhelmed as several entries became dozens, became hundreds, and finally we counted our total entries in the thousands! Over 900 people of all ages and from all over the world sent in their colorful pages – people from every state in the USA, some from Japan, New Zealand, Israel, and more! We began by hanging every one on our office walls, until there became so many we simply had to let our bewildered coworkers page through the stacks, marvelling at the diversity and quality of the entries.
It is clear that SHAR has the most talented and creative customers! From 4 year olds, who not only colored the shapes, but also added their own drawings and messages, to teenagers with the determination and artistic vision of a professional designer, to seniors who showed their finesse in both colored pencils as well as digital media! One of the most touching aspects of the contest was seeing all of the families, big and small, that all sat down together to do something that we often only think of as a school exercise for young children. You can clearly see in these artworks, sisters and brothers sharing ideas, mom or dad leading by example and influencing their young ones to be more detailed and commited. You could tell the millenials who, in a world of smartphones, college exams, and paying bills, found redeeming value in shutting themselves off from the world for a few hours to put pride and care into something simple, but real.
I think the takeaway message is that practicing art, just like music, isn't just about the end result, but is equally about the process. Putting time aside, either in solitude, or with friends, family, or classmates, to practice and perform music, is a timeless ritual with endless benefits to our character and well being. We turned it into a contest hoping it would generate interest and guarantee us a few submissions, but the overwhelming response shows us there's more to creating and collaborating than the hope of winning a gift certificate! While we chose the following winners by the vote of an impartial panel, we must stress that there were many more that might have been just as worthy, and it was especially difficult to make these choices. We will be publishing an online "honorable mentions" iPaper on our website to highlight the diversity of our submissions, and we will be featuring a few coloring submissions at the bottom of each of our regular emails over the next year, so be sure to subscribe and watch for yours!
Without further ado, the following are our 2016 Coloring Contest Winners, first the top three submissions for each age group, and finally the Grand Prize Winner, and the two entries that will be used as our catalog covers! Click the images to see them in full size!
12 Years Old and Under – Top Prize winners of $100 Gift Certificates: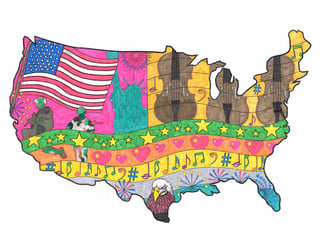 Selah, Age 8
Selah astounded us with several submissions exhibiting extreme care and meticulous focus! It appears that Selah used a fine-point marker or pen, yet filled each shape in the Memorial Day template exactly to the line, and left no area unfilled. Selah also added camouflage to the soldiers - a nice touch!
Larissa, Age 12
Larissa chose the Bass Owls template and decided to make each individual owl unique. It looks like both marker and colored pencil was used for a variety of saturation. The various browns that make up the background added texture and interest to the open space. Great Job!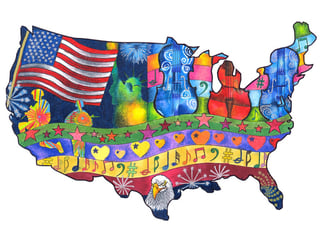 Wenxu, Age 12
Wenxu had one of the most colorful entries, and added form by shading and blending. Wenxu's Memorial Day entry features tie-dyed soldiers, a 3D flag and Statue of Liberty, and flourishing spirals on the violins - really making them stand out. Awesome job, Wenxu!
13 to 17 Years Old – Top Prize winners of $100 Gift Certificates: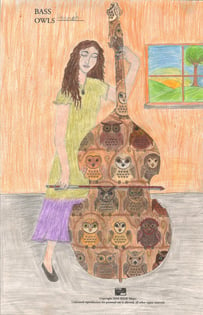 Hannah, Age 15
Hannah filled in the entire space of the page, drawing what might be a self-portrait, or just a wonderful depiction of a bassist. The subject is wearing an owl necklace and playing by the window, where you can see an owl in a tree. Perhaps the owl is listening, perhaps imagined. The bassist's eyes are closed, as if thinking of the owls that appear on the bass, like an incantation of the music being played. Great concept!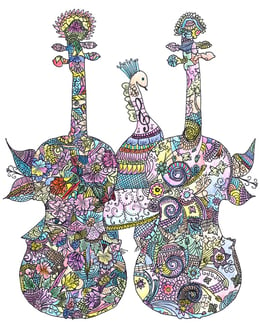 Mridini, Age 13
I could look at this submission for hours. Mridini traced over the Violin Flowers template (the most popular of the templates) and then continued to add shapes, lines, and hidden figures, even adding a creature ti the background, joining both sides. The effect is like a mosaic with some sort of mystical quality. Stunning!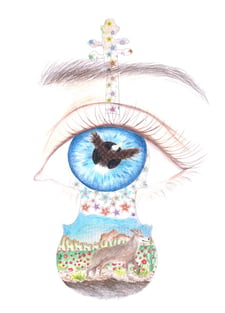 Elizabeth, Age 16
This entry sure caught our eye! Elizabeth made use of the space around the Desert Violin template to create a very realistic eye, with the sun being the iris, and turning the eagle into the focus. The overall composition gives a sort of introspective character to the piece, as if you are looking outward and inward at the same time. Congratulations, Elizabeth!
18 Years Old and Up - Top Prize winners of $100 Gift Certificates: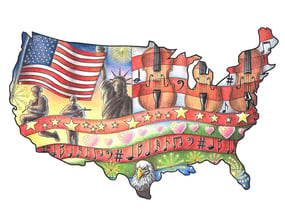 Jill, Age 32
Jill submitted a Memorial Day template that looks like it was colored by a professional illustrator! There are layers that pop out, textures of grass, wood, cloth, and metal! Everything seems to be given three dimensional form and was carefully considered!
Madelyn, Age 18
Madelyn really mastered the Violin Desert template, using what appears to be colored pencil to give a soft glow to the whole page. Putting a little sandscape inside the sun, Madelyn very subtly added to the template, but still filled every tiny shape with precision. The reaslistic fur on the coyote and the shadow below it were amog the details that made this submission extraordinary.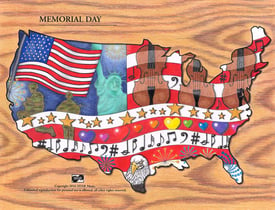 Diana, Age "18+"
Diana also chose the second most popular template, Memorial Day. Shadows around the edges of shapes make them pop out from their surroundings, and the statue of liberty's face really looks like the real deal! And no, she didn't glue it onto a block of wood, that is all hand-drawn wood grain in the background. Wow!
Grand Prize Winner of a $500 Gift Certificate:
Theresa, Age 15
Theresa clearly has exceptional artistry and talent. I really can't say how she created the effects she employed, but it appears there was marker, crayon, watercolor, paint pen, glitter, whiteout, and maybe other media used. The overall concept of day and night while incorporating the same colors created a unique balance to this two-part template. Sunsets, a wavy blue lagoon, detailed flowers and leaves, glowing butterflies, constellations and nebulas, everything in this entry is just beautiful and masterful! Congratulations on coloring the Grand Prize Winning Entry, Teresa!
Congratulations as well to these two individuals, who will also receive a Gift Certificate for having their work featured on our catalog covers: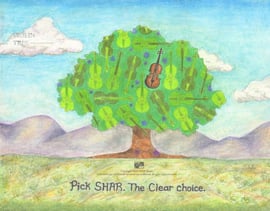 Savannah, Age 13
Savannah may have a future in design and marketing! Not only does the use of hues in the mountains, clouds, grass, and sky show a mature understanding of color, but that one violin pops out above the phrase "Pick SHAR. The Clear choice." We couldn't not use this for our SHAR Schools Catalog! Thank you for giving us the honor of featuring your art, Savannah!
Vanessa, Age 18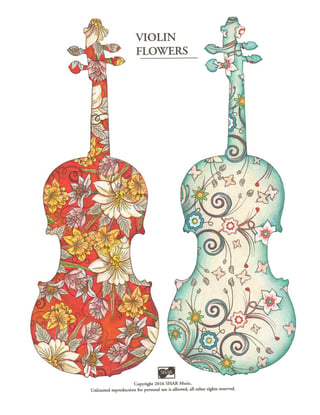 This was one of the first submissions we received, and we immediately realized that there's more to coloring than just filling in the spaces! Vanessa very tastefully added form, highlights, shadow, and depth to the Violin Flowers template in a way that made this entry a favorite to many! It will be featured in part on our SHAR Fall Catalog; we are honored to exhibit Vanessa's talent!
Each winner will be contacted by email to claim their prize, which will be mailed to them with a Certificate of Acheivement and a high-resolution print out of their submission! We would finally like to thank everyone for entering – we greatly appreciate the time taken and effort made! Remember to subscribe to our emails and blogs, like us on facebook, and follow us on twitter to stay tuned for future contests, promotions, and announcements! SHAR is proud of our customers and the whole string community!
See these winning entries and honorable mentions in this iPaper, which we will be adding to over the coming weeks: