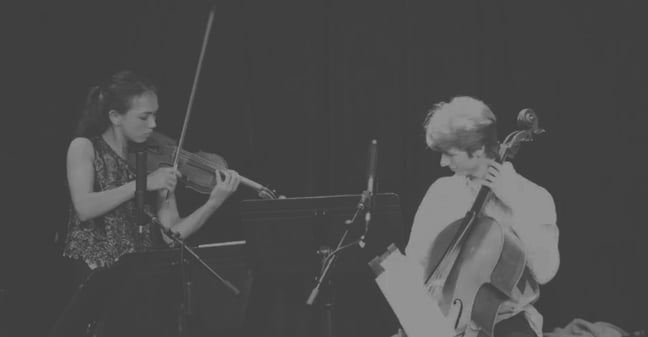 Violinist Teagan Faran's unique vision combines great music, virtuosic performance, artistic collaboration and community involvement. Red Shoe Company is the product of this vision. SHAR is proud to support this incredible ensemble of talented and dedicated musicians, in concert on Sunday, November 19. Don't miss it! Read more about Teagan Faran's Mission of Happiness, in her own words...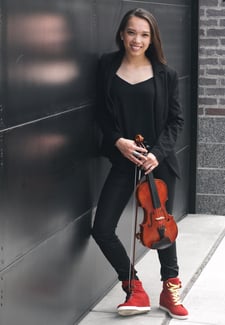 Hello, my name is Teagan Faran and I am currently finishing my degree at the University of Michigan.
I love seeing people smile. That's why I founded Red Shoe Company.
Red Shoe Company is a mission of happiness in the form of an all arts collective. In the spirit of perpetual collaboration and growth, we offer musical programs in partnership with dance, visual art, scientific discovery, and more. This year, RSC has begun to expand its reach in the community this season by implementing our Artist-in-Residence program as well as organizing tours through the Midwest. Our main goal in all of the events that we host is to create an environment where people can gather and commune together.
Our tagline "Be What You Love" speaks to this; we look to create the world that we wish to live in within our concerts and engage each person in attendance in a way that empowers them to do the same in their day-to-day life.
As my brothers and I were growing up, my mother taught us to look around the house and see what needed to be done to keep it clean. Instead of being assigned chores, it was our responsibility as a family to look holistically at our home, recognize what was out of place, and take action to fix it. We also quickly learned that it was much better to be proactive and clean than to wait for Mom to return home after work and point out all that we had missed. This was our way of showing gratitude to our mother.
And so, RSC wants to show gratitude to the community that supports us. This fall, our focus as a company is on environmental sustainability. We had a successful tour circuit through Ann Arbor, Detroit, Cleveland, and Buffalo sharing our message and holding a post card drive. We'll cap off our message of sustainability with a weekend of events directly before Thanksgiving. Partnering with the workers at the Mathais Botanical Gardens, we are hosting an Arboretum Walk on Saturday November 18 where anyone can come to learn more about the native flora of Michigan and get a tour of UM's beloved Arb. At the end of the walk, RSC will lead Sonic Meditations written by Pauline Oliveros. On Sunday November 19 at the University of Michigan Museum of Art, we will be joined by our Artist-in-Residence, Tanner Porter, for a program of music and dance. Also featured that night will be music of Arvo Pärt, Pauline Oliveros, Beethoven, and more. We hope to see you there!
Click here to visit the Facebook Event page for The Air in Our Ways, November 19th.
Watch a video of Red Shoe Company members performing Les Pauli by BartolomeyBittmann: