Melissa Lusk is co-author of The Violin Recital Album, a companion publication to the Sassmannshaus Early Start on the Violin series. She is a violinist and a violist. Her hobbies include gardening, composting, vermiculture, sewing and now weaving. She is married to Kurt Sassmannshaus.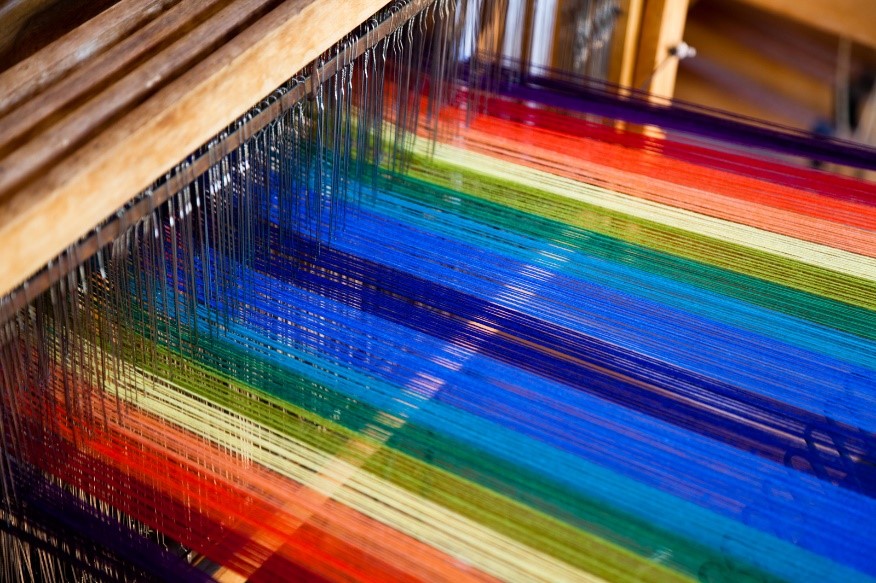 This week I accidently purchased an old table loom and began my journey with a very old world craft. I made a quick Internet search for information about this unexpected large guest on my dining room table and to find instructional videos to get me started. They exist! I learned the tedious process of threading hundreds of individual warp threads through the heddle and the reed to prepare the loom to weave my first simple pattern. I do realize that there is plenty of inexpensive machine made cloth, and I don't really need to spend time and money to have unique placemats. But making cloth with my own hands grounds me and connects me to weavers past and present. I also believe this new hobby will change my brain.
Today's violin students start their lessons at the crossroads where old world craft meets new technology. As violinists we still put round wooden pegs into round wooden holes and we use soap, chalk and friction to hold them in place. Conversely our globally connected tech-savvy students use the Internet to stream exciting interpretations of how violin playing can be made new with artists like Charles Yang. Todays' students have many opportunities to find musical entertainment, but it is important that they connect directly to the tradition of making music. It will ground them and change their brains.
Violin playing has always been a skill that was passed from teacher to student in a continuous chain of knowledge and tradition. Today this is still the case; we can all trace our individual violin heritage through a line that starts with a pedagogue and leads to our own present day teachers. Perhaps your violin lineage travels from Joseph Joachim to Leopold Auer, and on to Nathan Milstein and Jascha Heifetz, or perhaps from Lucien Capet to Ivan Galamian and on to Dorothy DeLay, or Carl Flesch to Max Rostal and Igor Ozim. But in addition to a teacher, todays' students are turning to the Internet to get information, inspiration and to connect to a community.
Kurt Sassmannshaus, a student of Igor Ozim and Dorthy DeLay, saw the potential of the Internet to teach in 2004 and started violinmasterclass.com. He cataloged 175 instructional videos on violin technique and made them available on the Internet. He created a world-wide permanent video library of the techniques that are essential to violin playing: martelé, collé, spiccato, detaché, etc.
This year Barenreiter and our family endeavored to increase the available repertoire for beginning violin students by editing and publishing two volumes of pieces for violin and piano in the first position. The Violin Recital Albums volumes 1 and 2 include duets so that you can enjoy these 33 recital pieces with your students in lessons and recitals when a pianist is not available. Student video recordings of the Violin Recital Albums are available on violinmasterclass.com under the Sassmannshaus Tradition tab. We hope that these videos will help teachers and students as they navigate the important early stages of violin playing. Our Sassmannshaus Tradition Facebook Page will reach out to students and teachers. We can't wait to see your students' videos from The Violin Recital Albums on our Facebook page.
In the mean-time, I will continue my weaving with help from the Internet. Progress is slow, but so worth it!