One of our favorite bloggers, James Engman, had the chance to sit down with the up-and-coming eclectic musical group The alt Default. While the members of the group – Nathaniel Wolkstein, David Connor, and Hannah Nicholas – are all classically trained fellows at the New World Symphony, each shared their wide-ranging and idiosyncratic musical interests and their "Never say no" approach to gigging. It makes us wonder: Is this the new model for young, classically trained musicians who face uncertain futures in the classical world – don't give up, just expand?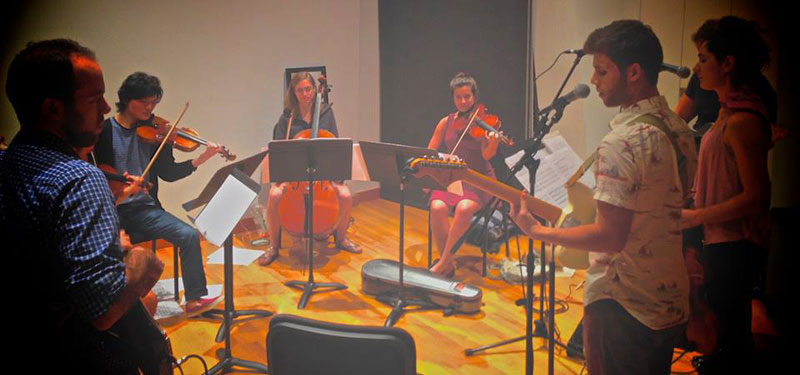 Dave: Basically, we started out a little over a year ago. Both Nathaniel and I started our New World Fellowship at the same time, at the beginning of last year. I actually met [Nathaniel] – I was moving my bass amp in from my car when I had just first moved here, and Nathaniel happened to be walking (he had just moved in too) and he was like, "Oh, you play guitar or bass?" And I was like, "Yeah!" And he was like, "Oh, I play guitar. We should jam some time." That was the beginning of it. And so we started playing together sort of casually, just guitar and bass. Then another guy in the orchestra, [Alex], who was a French horn player also played piano and melodica. So we started having him play with us, so it was a trio last year, with keyboards, guitar, and bass. It was very casual, but then we had an opportunity to play at Octoberfest, which is a big New World festival in October. We were asked to play just a short set, so we worked up a set. And Nathaniel, correct me if I'm wrong [chuckles], we played This Land is Our Land, Greensleeves in kind of like a folksy bluegrass kind of way, Czardas [by Monti], What Does The Fox Say?, and (what was the other one? Oh yeah!) Whiskey Do Your Stuff which is an old Louis Jordan kind-of blues thing. So right from the beginning it was super eclectic. But then Alex got a job with the Dallas Symphony Orchestra playing third horn. And then, Hannah, who's the new singer and violist started her Fellowship this year, and so we've had a really good time working on new projects, and working on a lot of Nathaniel's original compositions. And so that's really how it's evolved.
Nathaniel: And to where we really are now, this year, we started playing with Hannah… it was for a Civil War gig? [laughter]
Hannah: World War I!
Nathaniel: The first time Hannah and I started singing together, we sang I Wonder Who's Kissing Her Now, a beautiful song by… well I know Ray Charles performed it, but it actually dates back to World War I. Anyway, it was totally on a whim that we sang it as a duet – we just thought it would be fun. It actually sounded pretty nice – I hadn't done a lot of singing at that point, so I was a little raunchy. But Hannah's always been a beautiful singer! So, I guess we didn't think about it too much, but we really saw this vestige of both popular music making [and classical]. And so since then we've just had a few gigs thrown our way earlier this year, and so then the three of us just started playing together more often and started making recordings, and then here we are today. And we played this little music festival here in downtown Miami called "Buskerferst"-
James: Yeah, I did see a photo of you guys at that event.
Nathaniel: That was a really exciting opportunity. We put together a nine piece band. We had the string quartet, which you see in the NPR Tiny Desk Concert video, and then we really had a full rock band with two guitars, Hannah and I singing, Dave playing electric bass, a drummer, and an auxiliary percussionist come in for one tune. And so we've really been able to go all over the place with different performance venues, like from Buskerfest, which is a full rock venue to what you saw in the NPR [video].
Dave: We played in a hospital last week; we played as a trio doing a lot of classical stuff and then some of Nathaniel's compositions. And then Hannah and I did a duo set at an art gallery at Miami Beach last week, so Yeah, we're trying to just play in as many places as possible right now.
James: Right! It seems like the way you define yourselves is that you have no restrictions as to what you play or how. It seems like you're just willing to make music in whatever method you can. That's really cool.
Nathaniel: Yeah.
James: And so you've mentioned a couple times now a Fellowship that you're all involved in. Can you tell me a bit about that – what it is and how you all got involved?
Hannah: Yeah, so we're all fellows in the New World Symphony, which is a full time orchestra and a fellowship, so everyone who is in the orchestra is out of college or out of grad school. The Fellowship is three years long, and we all live together on Miami Beach and give two Orchestra concerts every single weekend, basically from September through the end of April. We're directed by Michael Tilson Thomas, who's also the conductor of the San Francisco Symphony Orchestra, and he's the artistic director of New World. So he comes down here a couple times per year to conduct us, but we also have all these different guest conductors. So it's really a great playing opportunity. So that's basically it. With the Fellowship you just play in the orchestra and you also have some occasional other kinds of activities like lessons, master classes, or chamber music obligations.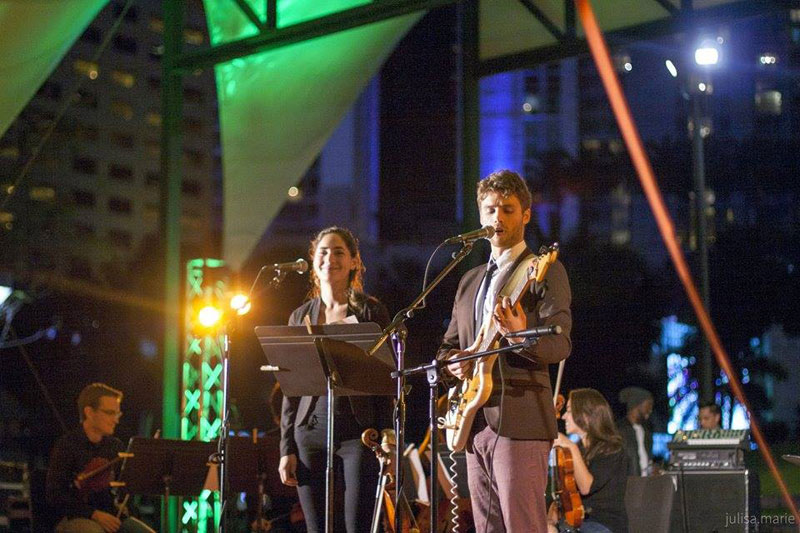 James: I knew that Nathaniel is classically trained, and it sounds like you both are as well. [With the Fellowship and The alt Default] it sounds like you're really doing all music all the time. What else do you guys do outside of The alt Default and the New World Fellowship?
Dave: Um, musically?
James: Or otherwise. You know it sounds like a very busy schedule between the two. Do you guys have other interests?
Dave: Yeah, well I can start. This has always been an awkward question, you know, "What else do you do besides music?" Well… uh. Hmm… [laughter] Well, I do so many different kinds of music, as you know. So I find I get so much fulfillment out of that and I really don't have time to do a lot of other stuff. But outside of The alt Default, we also play in the orchestra, I also do some Jazz gigs with pickup groups around Miami. I really enjoy playing with a lot of students at the University of Miami, which really has a great Jazz program. Outside of that, I like to play as much chamber music as possible, I have a concert coming up that I'm kind of curating at the New World Center, which is sort of a concert lecture on pieces with awesome bass lines. So [Nathaniel and Hannah] are both going to be involved, as well as some friends here and a few other friends from out of town. Just to give you kind of an idea of where my brain is musically, at this concert we're going to play music by Beatles, some Motown stuff, also Bach Orchestral Suite No. 2, Schubert's Trout [Quintet], Mingus – Hatian Fight Song, oh and Purcell… [laughter] So I'm trying to create a musical experience that's eclectic. That's what I'm kind of doing for fun these days. Trying to wrap all of my interests into one experience. So, Nathaniel? Nathaniel does yoga! [laughter]
Nathaniel: Yeah, I'm probably the crunchiest hippy of the group. I do a lot of yoga outside of music stuff. I recently bought a telescope, which I'm pretty geeked about. But I spend a majority of my time writing music. I recently, this past summer, invested in some really high quality microphones and preamps, you know some things I can plug my guitars and electric instruments into, and so I also have the ability to record vocals and strings, and you know anything through a microphone in a high quality way. So for the past eight years, I've just had little ideas and jingles running through my head, and so just this year I've finally had the chance to kind of put them all down in recording. So I've pretty much been spending night and day writing and recording, all the time, which I really love. It's one thing that I find I really lose myself in. It feels really special and I want to keep doing it for as long as I can.
James: Great!
Dave: No one really knows how hard Nathaniel is working except for the two of us. [laughter] Everyone in the orchestra is like, "What is Nathaniel doing?" [laughter]
James: So are all of the recordings you have on your Soundcloud and your Facebook page, are those all homemade then?
Nathaniel: Yeah, so those are all [recordings] that we've made earlier this year. I'd say we probably have three of four other completed tracks, and probably a dozen tracks that are about two-thirds done, but not ready to be posted. So those three tracks that are our Soundcloud, those are just a bit of what we do, and we've been moving quite a bit so we have lots of musical material that we'll be releasing very soon.
Dave: Yeah, and so as far as recordings go, if you watch the Tiny Desk video, that's exactly where we recorded the tracks on the Soundcloud as well – at Nathaniels desk with a microphone or plugged into the computer with my electric bass. Either there or in a studio at the New World Center. It's very low budget.
Nathaniel: It's very homemade.
James: Can we expect a vinyl to come out soon? A full album?
Nathaniel: Looking through my iTunes library right now, I definitely have enough music for two albums, but that would be a bit ridiculous. We'll definitely be tightening up which tracks we put out, because some of them are more or less just musical tangents… of my mind. [laughter] But Yeah, we'll definitely be releasing a lot more music very soon.