Sometimes buying strings for your violin, viola, cello, or bass, is just a matter of reordering the same strings that you've loved for ages. The reliable set that has always sounded great on your instrument might be all you need for the rest of your life. However, sometimes a new instrument, or just curiosity will lead you on a search for the new perfect set of strings. Or, perhaps a change in playing ability or budget will lead you to look for a new sound. There are a lot of different brands and types of strings to choose from, so find a good source to start from can be time-saving first step. With so many new brands on the market, it's hard to just stumble upon the right one by chance or by word of mouth.
SHAR newly presents the Interactive String Charts for Violin, Vi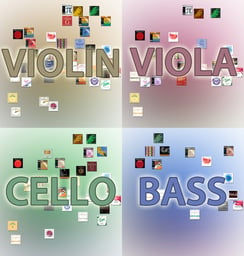 ola, Cello, and Bass! We've taken our highly popular string chart for Violin/Viola, and made it individually for each instrument. Plus, now we've added an easy price-key feature, and made each image clickable so that you can immediately see the details for a brand that interests you! We hope that this is a useful resource for teachers, parents, students, and professionals alike.
If you'd like a way to shop that shows more details for each string and brand, try our Strings Worksheet, which specifies the materials used, silk winding color, gauge, sizes available, and more! This allows you to shop by a specific trait, allowing faster selection of the best string to fit your need. Let us know what you think in the comments below!