SHAR is collaborating with black artists in the string instrument community for Black History Month! Every Monday in February, expect a new blog post featuring black artists' first-hand perspective of various aspects of the music industry. This week, we're excited to hear from Michelle May, an active violinist in the Detroit metro area. Read on as Michelle shares her unique important point of view on diversity in the classical music industry and reminds us of the work still to be done.
---
Living a Life of Musical Diversity
In the beginning . . .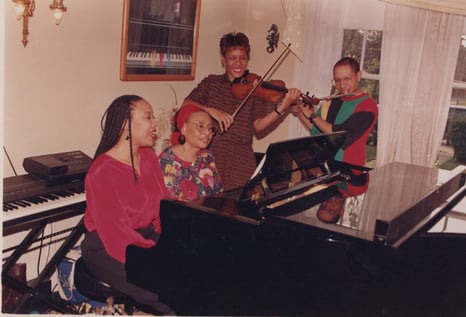 My story as a musician began in the womb, as my mother is a pianist, but my story as a violinist began in the early 1970's in the Detroit Public Schools. Ms. Nyberg came to our fifth grade classroom with a violin and talked about how fun it would be to learn a string instrument. I was studying piano with my mom (as were my younger sister and younger brother, Angela and Dale), but there was something about that violin that looked fascinating. Once I started learning it, I was hooked. After a year of studying in public school, my mother put me, my sister, and brother in private lessons and group study at the Detroit Community Music School (DCMS), which at the time, was Detroit's own music conservatory. After about two years of attending DCMS, I met Sylvia de la Cerna (then Sylvia Davis), who started playing violin when she was very young and was excellent and dedicated to the instrument. We became friends and even though I was not as advanced as she was, she introduced me to quite a few of my formative experiences.
Those experiences included, playing in the Highland Park Symphony Orchestra, led by Detroit Symphony Orchestra (DSO) violinist Joseph Striplin, performing (and sitting principal second violin) in the International Youth Symphony in Windsor, Canada (just a bridge or tunnel away from Detroit across the river), participating in the early years of the DSO's Civic Orchestra for students and meeting many Black string players! Besides Sylvia and Joe, the Black string players in my Detroit circle at the time (late 1970's, early 1980's) included Phyllis Fleming, Regina Carter, the Robinson siblings (Ami, Rick and David), Timothy Holley, Linda Trotter, Penny Drew, Marlene Rice, Gwen Laster, Velda Kelly and Lisa B Lee. In later years, I have come to know and befriend many Michigan black string players (living in Michigan now or from here and living elsewhere) in classical music and other genres, including: Monica Jackson, Marion Hayden, John Madison, Christipher Burton, Alexandria Way, Ashley Nelson, Leslie Deshazor, Leah Celebi, Cecelia Sharpe, Penny Wells, Shakara Tyler, Valerie Way, Nina White, Lauren Driscoll, Sydney Brown, Lisa Williams, Tanya Bennett, JoAnna Johnson, Ibrahim Jones, Aja Burrell Wood, Antione Hackney, Aaron Dworkin, Patricia Moore, Tia Imani Hanna, Jasmine James, Jannina Norpoth, John Littlejohn, Kyle Dickson, LaTonya Woods, Lauren Reed-Gibson, Candice Smith, Rodney Page, Romona Merritt, Noah Jackson and Hadiya Knight.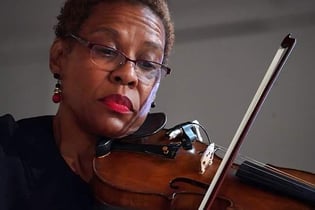 "I am invisible, understand, simply because people refuse to see me." -Ralph Ellison (Invisible Man)
Why is it important for me to mention these names even if you don't know them? Because REPRESENTATION MATTERS—and not just during Black History Month. In 2020, Black string players are STILL rarely found in major orchestras. Institutions such as the Sphinx Organization have been diligently working to change that, and have been making significant gains in awareness, funding, opportunity and accessibility. But even Sphinx, after over 20 years of making a difference, still have yet to move the needle much past the depressing statistic of black musicians making up only about 2% of American orchestras. It was so very powerful for me to grow up in Detroit seeing the representation. It was normal for me to be in this sphere. But when I became older, and especially traveling away from Michigan, I was hearing from Black string players how exhausted they were having to always be the "only one" or one of a few. They reported being seen as less than competent, unusual, not understood and having rare opportunities to perform or study music by black composers. Living, essentially, an invisible life in that world.
"Not everything that is faced can be changed; but nothing can be changed until it is faced." -James Baldwin (As Much Truth As One Can Bear, New York Times)
Which brings me to an encounter I had with SHAR late last year. In their most recent catalog, there were many pictures of string players. Not one of those pictures was of a black string player. I was shocked. SHAR is a company who has supported the Sphinx Organization and its mission for years and understands (or so I thought) the importance of embracing diversity; SHAR's previous catalogs did not look this way. I made my disappointment known publicly via my Facebook page and received a lot of support. I was happy to see, however, that SHAR publicly apologized (despite some people in the comments feeling it was "much ado about nothing") and that I received a personal email inviting me to Ann Arbor to express my concerns. I traveled there and had an excellent discussion about why this type of marketing is damaging and what must be done moving forward. Most importantly, I felt that I was seen and heard.
Today. . .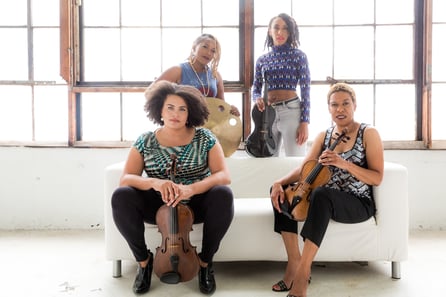 My life as a musician (on violin and flute) couldn't be more satisfying. In 2005, I founded Musique Noire, a strings and percussion ensemble performing jazz and world music. In 2019, I also created the Nina Strings, an ensemble that has varying instrumentation and repertoire. In 2011, I founded the Sounds of Music House Concerts™, successfully presenting house concerts in Detroit's historic Boston-Edison neighborhood for the past ten years. In 2018, I was honored as a Kresge Artist Fellow. I still freelance and collaborate with an amazing diverse creative community, known and unknown, in Michigan and nationally. In all my musical endeavors, I try to make sure a variety of voices are heard, especially those that are typically underrepresented. It was because of my upbringing here in Detroit surrounded by different types of music and musicians that I was able to see possibilities beyond a world that might try to shut me out.
My advice to any musician who feels marginalized—don't be afraid to speak up and walk in your truth. Your creativity is powerful and however you choose to express that is important, even if others don't always "get you". Make your own opportunities if need be! Let's continue to work towards a world where appreciation of diversity not just a slogan, but a true phrase of action all year round. Thank you to SHAR for this opportunity!
---
---
Read our last blog article from Dr. Immanuel Abraham!
Read more articles from our Black History Month series.
Read more articles from our The Lives of Artists . . . In Their Own Words series.