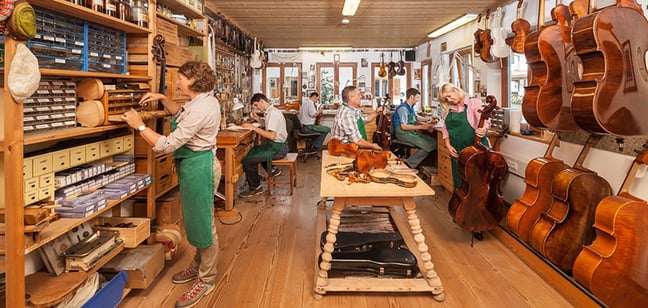 ". . . a master violin is an accumulation of many small steps, each carried out with painstaking care"
~ Rainer W. Leonhardt, Master Violin Maker, Mittenwald, Germany
If you read our recent Violin Making Traditions blogs, you will know that Mittenwald, Germany is one of the most famous epicenters of string instrument making in the world. Now, we are adding one more famous name from its rich history to our collection of violins, violas, and cellos, by offering the instruments by third generation Geigenbaumeister, Rainer W. Leonhardt.
Each of the models is crafted from the top-grade tonewoods, aged and selected in the Leonhardt workshop, and not only designed to best acheive the vision of the maker, but individually adjusted to optimize the characteristics of each particular piece of wood. This high level of attention to detail is rare in such affordably priced master instruments, but the quality and sound speak for themselves. To read more about each instrument by Rainer Leonhardt and available opportunities for trial or purchase, follow the link below.
Thank you for reading! For weekly or monthly informational blogs like this one direct to your email, as well as product reviews, string instrument news, and fun contests, and more, put your email in the "subscribe" box on this page! You can also find SHAR on facebook, instagram, and twitter!