I'm here today to shed some light on a common question: what's the difference between a fiddle and a violin?
Well, see for yourself: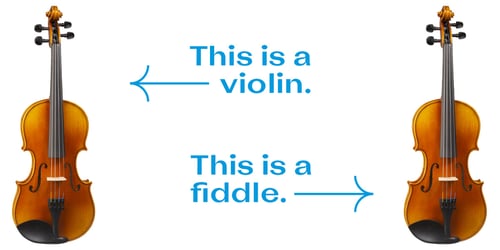 The quick and easy answer is that there isn't a difference! The term "fiddle" is just an informal synonym for "violin". Paganini played a fiddle; Stradivarius made fiddles; practicing your violin is just fiddling with your fiddle.
So why the confusion, then? Some people will make the distinction that fiddles play "fiddle music", and violins play classical (and maybe jazz). Since they're the same instrument and the terms are synonymous, though, that distinction is misleading.
However, context is important! While violins are indeed fiddles, when you hear someone talk about playing "fiddle music", they could be talking about any number of violin genres outside of traditional classical music: Americana, Cajun, Irish folk, etc. The term "fiddler" is sometimes used to refer to someone who plays in these genres (again, though, it's the same instrument, so violinists are fiddlers, too!).
These genres lean on techniques that aren't common in classical violin repertoire, and many musicians will modify their violins to make it easier to play these techniques. These mods are referred to as a fiddle setup.
Some common modifications:
Flattened bridges. Fiddle music features a lot of quick string crossings and chords, so some violinists will have their bridges flattened slightly to make those techniques easier.
Steel core strings. Steel strings, such as Helicore strings from D'Addario, are usually preferred. Their powerful, focused sound helps to give notes clarity during fast, syncopated tunes. Brighter synthetic core strings, like Vision strings from Thomastik, are also common.

Amplification.

Electric and acoustic-electric violins are ideal when you're playing a jig for a raucous dancing crowd. For acoustic players, pickups like the Realist Copperhead can be added to their violin for amplification as well.


In short: while it's good to have a practical understanding of what people consider "fiddle music" and the techniques/modifications common to that style, on an instrumental level, a fiddle and a violin are the same thing.