Cold Weather Instrument Care
As autumn gives way to winter, with dryer and colder air on the way, your stringed instrument may be dreading it even more than you are. Here at SHAR, we live by the old Norwegian adage (some say Finnish, others say German!): "There is no such thing as bad weather, only inadequate clothing". So, now that you've bundled up, it's time to think about your instrument!
Humidification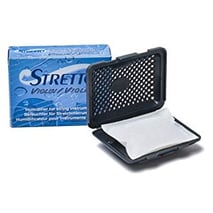 All luthiers will tell you that very dry air can wreak havoc on your violin, viola, cello or bass. Loosening pegs and slack strings, while annoying, are the most minor results of dry air. Opening seams are more serious. And cracks forming in the wood, especially the top, are a string player's nightmare. Fortunately, a little careful monitoring and maintenance will prevent all these problems, with the help of reliable, easy to use and inexpensive humidification products.
Your Case is Your Instrument's Best Friend
The best cases are well equipped to reduce the effect of severe weather and climate conditions on your instrument, and are your instrument's first line of defense. And compared to the value of your instrument, they are a bargain!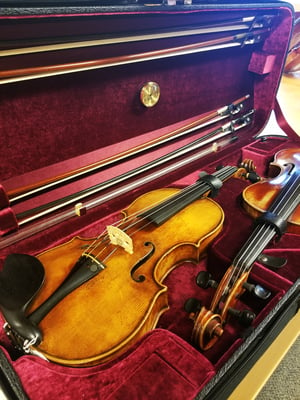 Cold air . . . warm air . . . cold air. . . warm air . . .
It's not that cold air is that damaging to stringed instruments; it's more a matter of constant and rapid temperature changes. Such changes cause wood to shift, which can lead to cracks along the grain lines. Luthiers will tell you that it is critical to mitigate these changes so that they occur less rapidly. Like a warm winter coat, the idea is to create an insulating barrier to slow the creeping in of cold air.
Sometimes, It's the Little Things That Make Life Better!
Here are our two favorite winter products that you can keep right inside your case. One of them helps you monitor humidity, and more. The other solves that annoying problem when someone opens the window in the middle of a cold winter's night rehearsal.
A Cello That Doesn't Mind the Cold?
A large instrument, such as a cello or double bass, is even more susceptible to dry air or rapid temperature changes than their smaller violin and viola cousins. The reason is that larger expanses of wood exaggerate the effect of movement. If you are on the market for a student cello or bass, consider a laminated instrument. A hybrid instrument, where the back and sides are laminated, with the top of solid carved wood, is a great solution, providing both the safety of reinforced wood with the tonal qualities of a traditional solid top.