SHAR is continuing to celebrate Women's History Month this week by honoring Dame Ethel Smyth, a glass-ceiling breaking composer and suffragette. Her determination and self-possession helped her achieve her goals in life despite the forces working against her.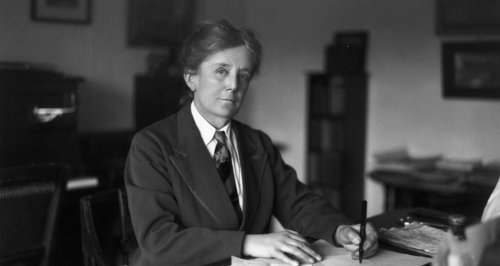 Without people who take action against injustice, we would never move forward as a society. While Fanny Mendelssohn did not have the resources or support to make her voice heard, Dame Ethel Smyth had an abundance of both. As a strong-willed, intelligent female composer in the polarizing age of the Women's Suffrage movement in England, Dame Smyth had societal norms challenging her every move. But she remained true to herself by rallying against female stereotypes, fighting for women's suffrage, and breaking a variety of societal and musical barriers.
In her youth, Dame Smyth hunted, hiked, climbed mountains, rode bicycles, played tennis, and did a variety of other "unladylike" activities. It is unsurprising that she was often described by family and peers as "defiant" and "fierce". As a teen, she began studying privately with composer and musician Alexander Ewing and was inspired by composers like Wagner and Berlioz. Her defiance and love of music were perhaps what led her to pursue a career in music. Her father, a major general in the Royal Artillery, did not approve of her choice to become a composer, but Dame Smyth was a woman who did as she pleased.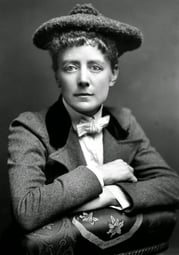 She began studying at Leipzig Conservatory under Carl Reinecke at nineteen. Though she met and developed friendships with many notable composers during her time at the school, including Clara Schumann, Brahms, Dvorak, and Tchaikovsky, Dame Smyth found the formal education lacking after the first year. Finding private training more fruitful, she left the conservatory and began studying with Heinrich von Herzogenberg, an Austrian composer who remained her tutor and friend for many years. In her studies, she grew to love organ music and began to write some of her own, calling it an "athletic exercise". Prior to this fascination with the organ, she was writing mostly chamber works and piano pieces. This "athletic exercise" resulted several organ fugues, chorales, and one of her most notable and massive compositions, Mass in D.
While some people achieve greatness by accident, Dame Ethel Smyth sought it out. She wore her feminist ideals on her sleeve and was very aware and vocal about the inequalities women in the classical music world experienced. She once wrote that she wanted women "to turn their minds to big and different jobs, not just to go on hugging the shore, afraid to put out to sea". She, of course, led by example. In 1903, Dame Smyth's one act opera, Der Wald, was performed at the Metropolitan Opera House in New York City, making Ethel the first woman to have her opera produced by the company.
Dame Smyth was reported to be very "businesslike" in her dealings with the Opera House. She crossed the English Channel one night, intent on speaking with the Metropolitan Opera manager, Maurice Grau, while he was visiting Paris. With newspaper clippings and box office statements from past performances of Der Wald in hand, she stated her case. The short opera received rave reviews from Europe, so adding it to a double bill was an easy decision to make for Grau. Audience reception on the night of the debut was wholly positive and was also considered a financial success. She reportedly received endless applause, a standing ovation, and "flowers by the cartload".
Not everyone was pleased to see a woman's opera performed by such a prestigious company. Ethel was strongly influenced by Wagner, and to many critics, her Wagner-inspired opera was "too beefy" for a woman to have written. "This little woman writes music with a masculine hand and has a sound and logical brain, such as is supposed to the especial gift of the rougher sex. There is not a weak or effeminate note in Der Wald, nor an unstable sentiment," wrote a reviewer in The Telegraph. Many condescending remarks were made in publications across the opera scene, condemning Ethel for her "utterly unfeminine" writing and "lack of sweetness and grace of phrase". It was written off as a "disappointing novelty", as if a woman writing anything robust and substantial was unsightly. Despite these comments, Dame Smyth carried on to write four more operas and countless choral works in her same "unfeminine" style.
In the early 1900s, Dame Smyth began to take an even stronger, more public stance in the brewing suffragist movement in England. She joined the Women's Social and Political Union, a suffrage organization in 1910. During this time, even though she took a bit of a break from composing to focus on the campaign, she wrote The March of the Women, which became the anthem for the women's suffrage movement throughout the United Kingdom.
Verse 2 of The March of the Women

Long, long—we in the past
Cowered in dread from the light of heaven,
Strong, strong—stand we at last,
Fearless in faith and with sight new given.
Strength with its beauty, Life with its duty,
(Hear the voice, oh hear and obey!)
These, these—beckon us on!
Open your eyes to the blaze of day.
During Dame Smyth's time as an active suffragette, she got into some trouble with the law. Though violence and damage of property should not be the answer, her organization's leaders called for fellow suffragettes to take to the streets and smash the windows of political figures who opposed women's right to vote. And Dame Smyth was one of many in the crowd of passionate women. She and one hundred other suffragettes were arrested after this riot. She spent two months in jail for her crime, but many suffragettes gathered outside the jailhouse singing The March of the Women to support her during this time.
There are many ways to speak out against oppression and stand tall in the face of adversity. Dame Ethel Smyth took nearly every path she could to make sure her voice was heard and her name was known, even with political and societal forces working against her. In 1922, she was made a Dame Commander of the Order of the British Empire in recognition for her work as a composer. She was the first woman to be awarded a Damehood for composition, and with her intense passion and commitment to music and equality, I'd say it was well deserved. Her political activities and dedication to her career in music continue to inspire women today. She was unapologetic in all that she did and helped forge a path for women to be heard and recognized as equals in the eyes of society, both in music and in life.
Make sure to subscribe to our blog and follow us on social media for more about Dame Ethel Smyth and other notable female composers throughout the month of March!