Ever wonder how we decide our sheet music difficulty ratings? Below you'll find a detailed (and hopefully sane) explanation of our difficulty ratings. Although there are overlaps with ASTA's ratings, we decided to come up with our own rating system since a good number of our sheet music titles are not rated by ASTA. Feel free to ask questions about our sheet music difficulty ratings in the comment section below!
Beginner (1-2)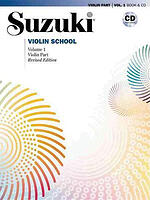 In general, beginner level repertoire remains in first position without rapid changes in finger placement. Rhythmic patterns are also basic and simple; bowings include detached strokes and simple slurs. Beginner music features easier key and time signatures, and tempi are slow to moderate. Likewise, accompaniments are simple and easy. The repertoire from this difficulty level generally corresponds with Essential Elements Books 1 and 2 as well as Suzuki Books 1, 2, and 3. Beginner level repertoire rated "1" is generally simpler technically and is appropriate for complete beginners, whereas repertoire rated "2" generally requires slightly higher technical skills, such as basic shifting, use of third position, slightly more complex rhythms, and different bowing patterns.
Intermediate (3-4)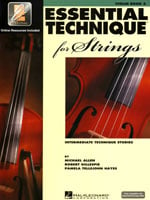 Intermediate level repertoire builds fluency in the first three positions and also includes exploration in the fourth and fifth positions (or thumb position for cello). The music from this difficulty level features varied bowing patterns and more advanced bow strokes such as spiccato and sautille. The rhythmic patterns in intermediate level works gain complexity with ties and syncopation, and key signatures are generally limited to four sharps and four flats. Tempi range from slow to fast, while accompaniments are increasingly complex. We consider intermediate level repertoire rated "3" similar in difficulty to Essential Technique for Strings, which is the third book in the Essential Elements series. It is also similar in difficulty to pieces in Suzuki books 4 and 5. That said, most pieces rated "3" usually do not exceed three sharps or two flats in key signature. Players will find that intermediate level repertoire rated "3" demands more advanced bow technique with more frequent string crossings, teaches bow control due to more frequent dynamic changes, and necessitates understanding of gradually more complex rhythms. In contrast, intermediate level repertoire rated "4" is similar in difficulty to Advanced Technique for Strings, the fourth book in the Essential Elements series. Likewise, repertoire of level "4" intermediate difficulty is similar to pieces in Suzuki books 6 through 8. Our intermediate level pieces with a "4" rating usually explore keys up to four sharps or flats and utilize more advanced bow strokes such as spiccato, sautille, or simple ricochet. The repertoire in this difficultly level may also feature brief forays into higher positions (for example, 6th and 7th positions), double-stops, and chords.
Advanced (5-6)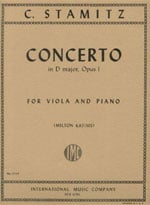 Advanced level repertoire makes use of all left- and right-hand techniques. Advanced music requires use of the entire fingerboard as well as complex bowing patterns with difficult string crossings. It also features more complex double-stops, chords, and harmonics. Additionally, pieces in this difficulty level include a wide variety of articulations and use extended techniques. Players will find key signatures up to all seven sharps or flats as well as atonal music. Advanced music may also feature the most complex rhythms as well as mixed meters, in addition to extensive dynamic contrast. Players may be expected to have a mature musical understanding and the ability to interpret and express. Advanced level repertoire rated "5" includes concertos and sonatas, such as Bach's solo works, Mozart's violin concertos, Stamitz's viola concerto, and Boccherini or Saint-Saens's cello concertos. Advanced repertoire rated "6" includes the most difficult repertoire and requires mastery of all techniques and the highest levels of musicianship. It includes works such as the Paganini caprices, Brahms's violin concerto, Hindemith's viola sonata, and Dvorak or Schumann's cello concertos.