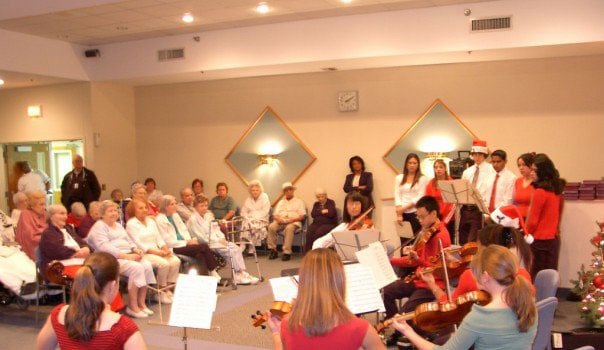 Is your string quartet booked for any holiday gigs? Do you have a group of advanced players in your orchestra that might want to showcase a quartet at the Christmas Concert? The string quartet is one of the most enduring and popular ensembles because of its limitless possibilities in expression, tone, and dynamics. However, there is so much sheet music for string quartet floating around out there, that it can be tough to find actual good arrangements - many are poorly notated or thoughtlessly adapted from other instrumentation. When arrangements are bad, there's is often nothing that can be done to make them pleasing. To make your search much easier, I'll suggest these five books containing arrangements of Holiday tunes that go far beyond your standard sing-along carol book, and are perfectly arranged for string quartet! These are all in the intermediate to advanced difficulty range, which allows for much more interesting music than basic arrangements.I hope one of these quartet books becomes your annual musical tradition!
Note: These arrangements are for intermediate to advanced players. If you are looking for Christmas music for beginners or early intermediate players, see the beginner level flexible ensembles featured in Part One of this blog series.
Carols of Christmas for String Quartet - arranged by Stuart Carlson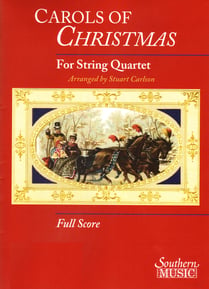 Difficulty: Advanced (Level 4-5)

There's something reminiscent of romantic string quartets by Schumann and Dvorak in these artistic arrangements of traditional Christmas carols. The arrangements, by local musicial Stuart Carlson, definitely do not fit into the standard verse-chorus-repeat category of carols. Augmented by mood-setting intros and expanded by key changes and lush unexpected harmonies and countermelodies, these are great for recital pieces or for playing at church. The book includes a full score as well as all of the individual parts. See these fantastic videos below that were recorded right in the Sheetmusic room of SHAR's Violin Shop!

Contents include: Silent Night, The First Noel, Carol of the Bells, O Come All Ye Faithful, Hark! The Herald Angels Sing, O Holy Night, and a medley entitled Deck the World with Joy and Bells.

Celebrate Christmas! for String Quartet - arranged by Nicholas Palmer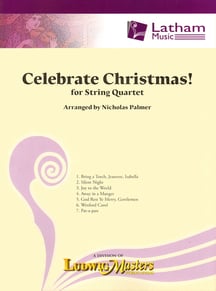 Difficulty: Advanced Intermediate (Level 3-5)
This collection of seven traditional christmas carols and English carols, envigorates the familiar melodies with exciting rhythms, dynamics, techniques, and harmonies. All of the parts are active, sharing the melody and adding countermelody to the ensemble, rather than just harmonic structure. Some rhythms, bowings, and upper positions may be too difficult for early intermediate players to learn on short-notice, but with some rehearsal, these are all approachable to even pre-concerto level players.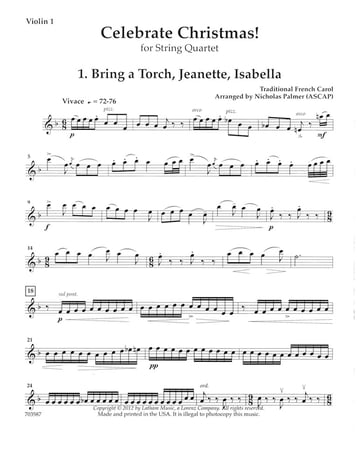 Includes the titles: Bring a Torch Jeanette Isabella, Silent Night, Joy to the World, Away in a Manger, God Rest Ye Merry Gentlemen, Wexford Carol, Pat-a-pan. This single item comes with four individual parts (violin 1, violin 2, viola, and cello) as well as a score for easy reference during rehearsal.
Christmas Pops: for String Quartet - arranged by Steve W. Mauldin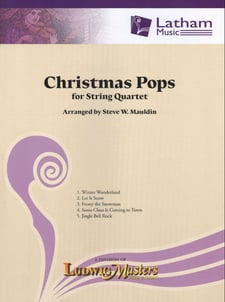 Difficulty: Advanced Intermediate (Level 3-5)
If you're a fan of the swinging Holiday hits of Bing Crosby and others, then you'll want to get your hands on this collection of Christmas Pops for String Quartet this season. These catchy tunes are a punchy contrast to the typically stoic and solemn carols, and will have everyone tapping their toes. While there is not much technically difficult about the key signatures, range, or number of notes, you will certainly have to be comfortable swinging notes to make these sound right!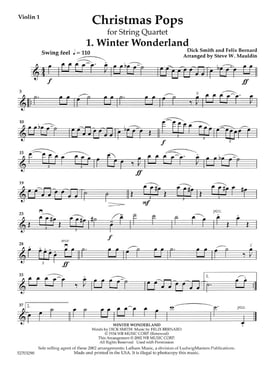 All five songs are notated as straight eighths which are to be swung. This makes them quite difficult for beginners and most intermediate players; even some very advanced players can be thrown by swung rhythms! However, once you feel the rhythm, these arrangements will really warm up any Christmas gathering!
Titles included are: Winter Wonderland, Let It Snow, Frosty the Snowman, Santa Claus Is Coming to Town, and Jingle Bell Rock. The single item comes with four individual parts (violin 1, violin 2, viola, and cello) as well as a score for easy reference during rehearsal!
Music for Four: Traditional Christmas Music - arranged by Daniel Kelley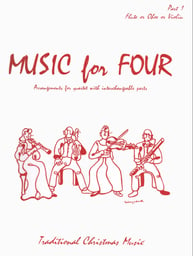 Difficulty: Advanced (Level 4-5)
Daniel Kelley's Last Resort Music Company has been publishing quality sheetmusic collections for all sorts of ensembles since 1996. Each part is sold as a high-quality spiral bound booklet, meaning it will hold up for years and many gigs! The Traditional Christmas Music for Four books include a whopping 25 titles, making them a great value. With a mixture of Christian hymns, secular tunes, and even various movements from Tchaikovsky's The Nutcracker, these books offer quantity and variety! They are arranged to be exciting and dynamic, yet easy to follow in ensemble, with clear instructions and cue notes. The rhythms and techniques used make them more interesting, but also more difficult than your average books of carols. Upper positions, trickier bowings, larger intervals, and more advanced rhythms make them a little more intimidating than the Intermediate Christmas Music for Four books that are also published by Last Resort Music, and include a totally separate list of songs that are in the Level 2-4 difficulty.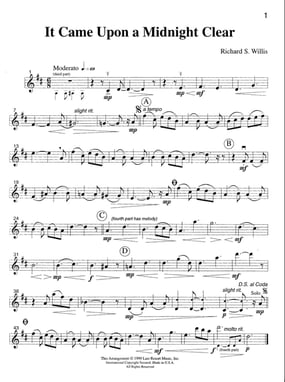 The "Music for Four" collections are all written as flexible ensembles, meaning the violin parts are also written in range for flute and oboe, and the Cello part is written in range for bassoon. There is also an optional Piano/Guitar part available. All parts are sold separately, so you will need to buy each of the violin 1, violin 2, viola, and cello parts to have a complete set of string quartet parts. Titles included are: Angels We Have Heard on High, Away in a Manger, Bring Your Torches Jeanette Isabella, Deck the Halls, God Rest Ye Merry Gentlemen, Good Christian Men Rejoice, Greensleeves, The Holly and the Ivy, I Saw Three Ships, It Came Upon A Midnight Clear, Jolly Old Saint Nicholas, The Nutcracker (Chinese Dance, Dance of the Reed Flutes, Dance of the Sugar Plum Fairy, March, Overture, Trepak, Waltz of the Flowers), O Come O Come Emmanuel, Pat-a-Pan, Silent Night, Sing We Now of Christmas (Noel Nouvelet), Wassail Song, We Three Kings of Orient Are, and We Wish You a Merry Christmas.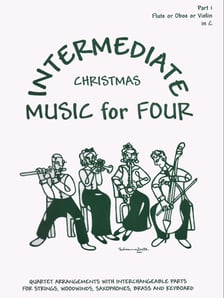 The slightly easier (Difficulty Level 2-4) Intermediate Christmas Music for Four Books, which also offer an optional Violin 3 book to substitute for the Viola part, include the titles: A La Nanita Nana, Angels from the Realm of Glory, The Boar's Head Carol, Christ Was Born On Christmas Day, The Christ-Child is Born (Der Heiland ist Geboren), Christmas Concerto Grosso by Corelli (four movements and pastorale), Christmas Day in the Morning, Coventry Carol, The First Noel, For Unto Us A Child Is Born, Fum Fum Fum, Gesu Bambino, Good King Wenceslas, Hanukkah Medley (Hannukah, S'Vivon, My Dreidel, Rock of Ages), Hark The Herald Angels Sing, He Is Born The Divine Christ Child (Il est ne Le Divin Enfant), I Heard The Bells On Christmas Day, I Wonder as I Wander, It's Christmas Time Again, Jingle Bells, Joy To The World, O Christmas Tree (O Tannenbaum), O Come All Ye Faithful, O Holy Night, O Little Town of Bethlehem, Pastoral Symphony ("Pifa" from The Messiah), Sleigh Ride (from German Dance by Mozart), The Song of the Birds, The Twelve Days of Christmas, Up On The Housetop, and Wexford Carol.
Christmas Album: for String Quartet - arranged by Vernon Taranto, Jr.
Difficulty: Advanced Intermediate (Level 3-5)
If you're looking for slightly more obscure Christmas tunes that are outside of the typical Jingle and Joy genre, but that are also arranged as self-sufficient works that will appeal to the average listener and musical connoisseur alike, then the Christmas Album for String Quartet by Vernon Taranto, Jr. would be just what you are looking for. These arrangements aren't technically difficult, but utilize time changes, key changes, and complex harmonies to weave familiar tunes and lesser known carols into beautiful works. Subtle effects, well-thought dynamic and expression markings, and beautifully crafted countermelodies and harmonies make these arrangements a great way to add pensive calm to your holiday program or recital.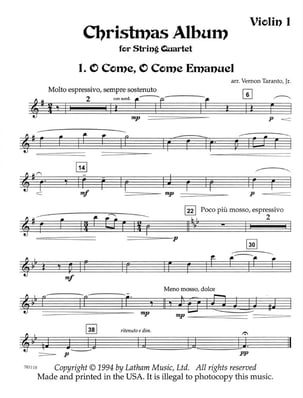 This item includes four separate parts (violin 1, violin 2, viola, and cello) as well as a score for easy reference during rehearsal. The six included pieces are: O Come O Come Emanuel, Two Burgundian Carol Tunes, The First Noel, Es ist ein Ros' entsprungen, Fantasie Joyeuse, and God Rest Ye Merry Gentlemen.
Thank you for reading! Watch for the next installment of this Christmas Sheet Music blog series. I will be featuring top picks for various instrumentation and difficulty levels. If you would like to browse all of our Christmas and Holiday sheet music, click the button below. As always, feel free to comment below, and subscribe to be notified when we release new blogs and announcements!