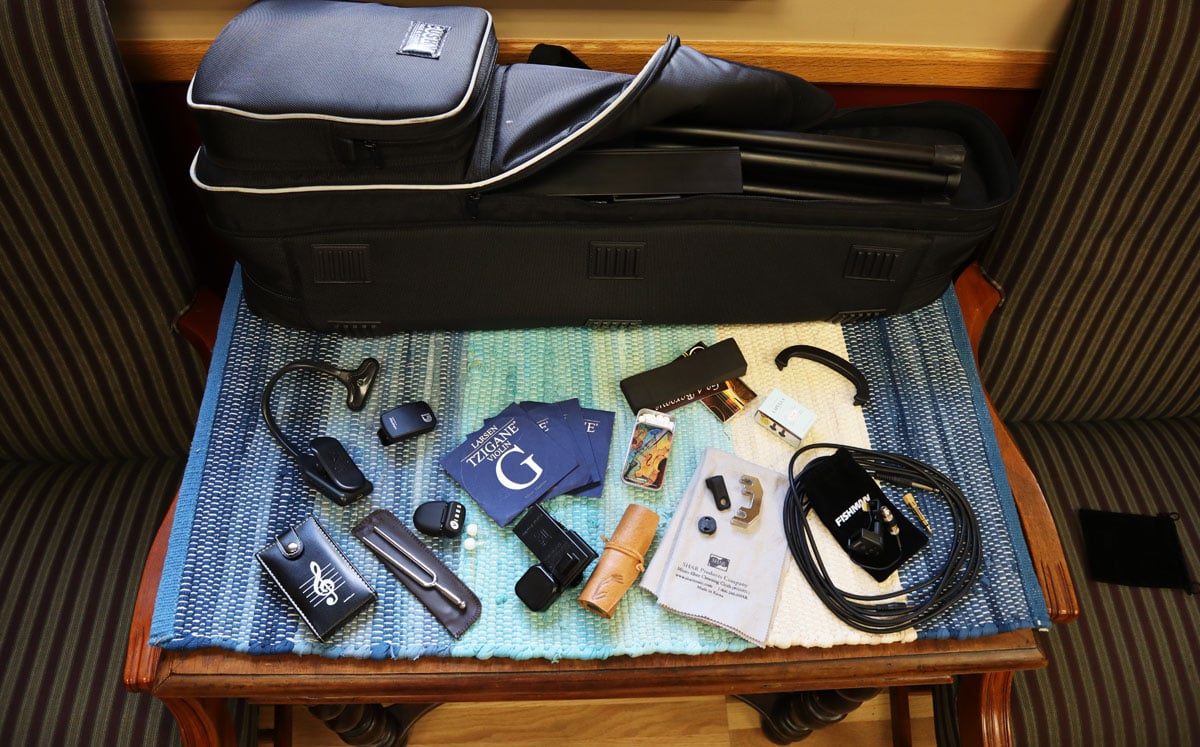 Five years ago SHAR asked people to send in their #caseconfessions photos, showing everything in your case except the instrument and bow - old rosin and cleaning cloths, tuners, random toys, photos, and whatever else you need with you and your instrument to survive! You can see some of those photos in that blog from 2013! Now we are kicking off #caseconfessions again, but this time on Instagram! So, take this opportunity to vacuum out that rosin dust, finally remove that old photo of your ex, and show us the deepest darkest secrets from inside of your case! Just post to Instagram (or Facebook or Twitter if you don't have it) the contents of your case, use the #caseconfessions hashtag and tag us!
In my #caseconfessions photo above, you will see everything I need to get through weddings and events with my string quartet. Some of my favorites are new products at SHAR - the Wind Wynder to keep my music open to the page I am playing, Vibes Hi-Fidelity Earplugs for when things get on the loud side but I still need to hear the music, and that nice little cello tin of mints which will eventually hold my very small accessories when I am done sharing them with the rest of the quartet! Of course, other essentials are my Xeros Shoulder Cushion, D'Addario Humiditrak, C-Clip Protector, NuFlex LED Mighty Bright, mutes, Lapella peg compound, tuning fork, Fishman Pickup which I cleverly zip-tied to a D'Addarrio NS Micro Tuner for easy on/off, business cards, fingernail clippers (in the treble clef pouch) and that wonderfully crisp and photogenic Leatherwood Rosin! [Not included: picture of bae and the kid.] Also, note that Peak SMS-50 music stand that is in the outer pocket of my Cushy... #storagecapacityftw
So, we look forward to seeing your posts on Instagram! Don't forget to tag @sharviolinshop and use the #caseconfessions hashtag! (@SHAR_music on Twitter and @sharmusic on Facebook).