On a Friday morning at the end of June, everyone at SHAR was saddened to hear that our master bow restorationist David Crowder had passed away after a lengthy battle with emphysema. Aaron Johnson, the Repair Shop Coordinator, shares his memories of David in this brief blog, remembering especially David's intelligence, humor, and eclectic interests. We'll miss you, David!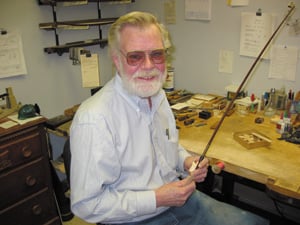 The end of June was a surreal time for us in the Repair Shop. Our master bow restorationist, David Crowder, passed away after a lengthy battle with emphysema. David was 75. While it may not have come as a surprise to someone objectively looking at his health condition, it still managed to catch us off guard.

Before his career in bow making began, he was a code breaker in the US Navy, and then a college professor. As I got to know him over the past couple of years, he would occasionally share one of a number of crazy stories from his past life. Over time, I learned that even though David had a rather gruff exterior, he was an incredibly interesting man who held himself to a very high standard of quality in his work. In addition to bow restoration, David also had a great love of languages, logical deduction puzzles and, oddly enough, video games. One of the biggest surprises I've had during my time at SHAR was when David visited me on a Saturday and we proceeded to have a lengthy discussion of Zelda, different gaming platforms, and Call of Duty. I drove home and had a genuine "You will not believe what happened today" story for my wife.

David joined our staff in 1996 after working as an independent bow maker in Pittsburgh and Nashville. For 17 years he worked servicing SHAR's customer, consignment and high end bow work. His attention to detail and excellence in his craft will be missed. I, however, will miss his stories even more.