Think back to your high school days. You may have played an instrument, and you have been quite good at it. But did you ever get the chance to tour China with thirteen violinists, two guitarists, a cellist, and a bass player? And this was after you released your first album? Allow me to introduce you to Revolution Strings, an alternative strings group culled from Abilene High School and Cooper High School in Abilene, Texas. Although each member has a strong classical background, these string players aren't afraid to dabble in jazz, country, Celtic and more. Revolution Strings has just embarked on their tour of China and they've kindly agreed to blog about their experience for the SHAR Music Blog. Justin Radcliffe, Theatre Director for Cooper High School, guest blogs for Revolution Strings.

Day Nine
Shanghai, China is as iconic a place as China has to offer. This city is home to twenty-five million people, with an expanded population of thirty-five million when the outlying area is included. Another two-and-a-half million migrant workers live in the city at any given time. History made Shanghai the prototype city for China's expansion into western trade, and it seems like just about everything in and around Shanghai has experienced growth. On Friday, The League of Astonishing Strings pulled into town and in true tour fashion saw as much of Shanghai as could be fit into a day.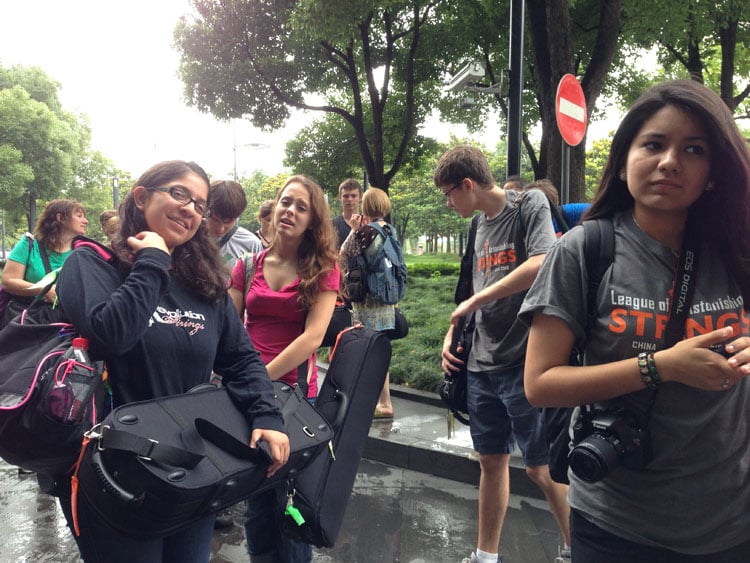 The Old City is a part of Shanghai that was rebuilt in the style of ancient Chinese architecture. Though these beautiful buildings now house shops full of knock-off goods such as Rolex, Coach and Nike, they also provide local merchants the opportunity to sell items like Chinese script calligraphy and hand-carved figurines. A couple of hours in the neighborhood and one can truly feel the heritage of a beautiful culture emanating from the these traditional buildings.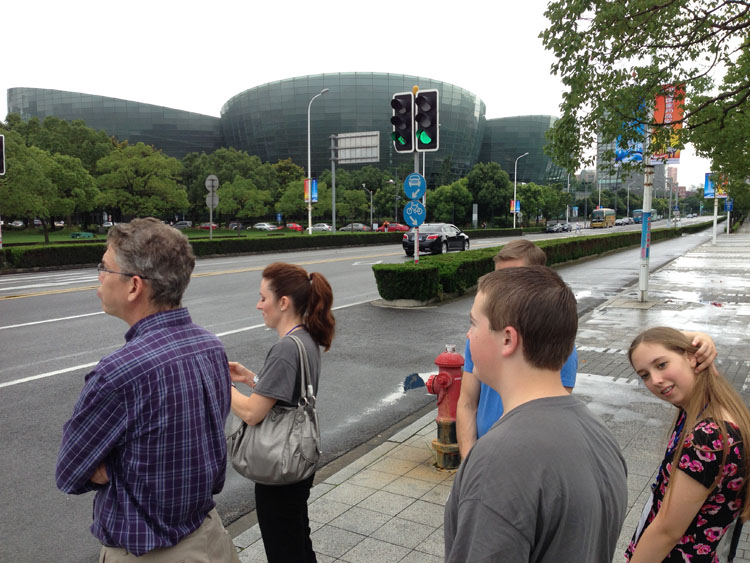 Then there's the other side of Shanghai: The Bund and Nanjing Road. Here, we saw a futuristic, dream-up city, especially at night. The skyline is a constant light show of Jetson-age skyscrapers, and The Bund is a tourist-filled overlook where, from across the water, you can see the truly awesome skyline. Nanjing road brings to mind the Las Vegas strip, with its neon signs, enormous LED screens and shop after expensive shop. Revolution members breezed through the streets with student performers from three other performing groups from the States, making memories and enjoying the sites.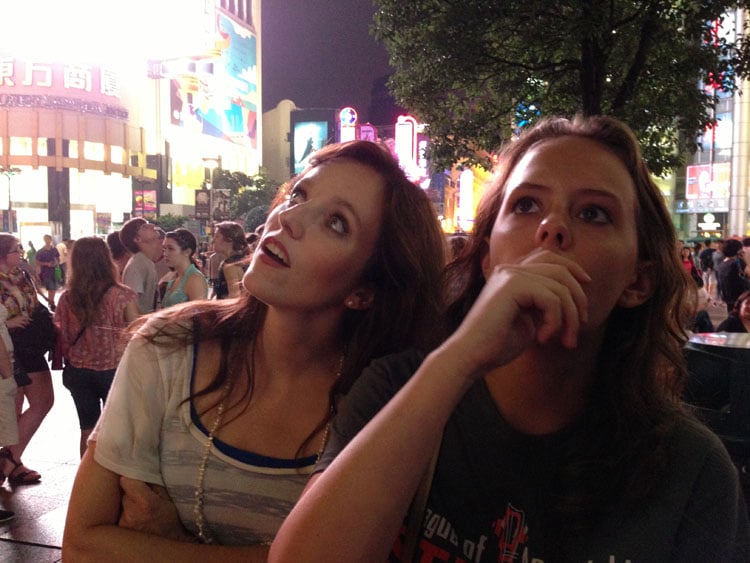 The day ended with a special dinner treat of traditional Chinese Hot Pot. Attributed to Ghengis Khan, this dining style has taken on a relaxed, social pace, quite unlike its military origins! Similar to fondue, you cook your own food in a boiling pot of soup. Sharing a hot pot, the students celebrated an excellent tour and anticipated a final performance on Saturday.


Day Ten
The League of Astonishing Strings tour of China drew to a close on Saturday after a sold-out Shanghai show. The audience couldn't get enough of these talented Abilene students!

Revolution Strings put on their best show of the tour, and the crowd adored the performance. The Shanghai Oriental Art Center has three performance theaters, and the sight of a capacity crowd in one of them cheering on our Abilene students was inspiring. Intent on finishing on a high note, Revolution held nothing back and wrapped up their China tour in style.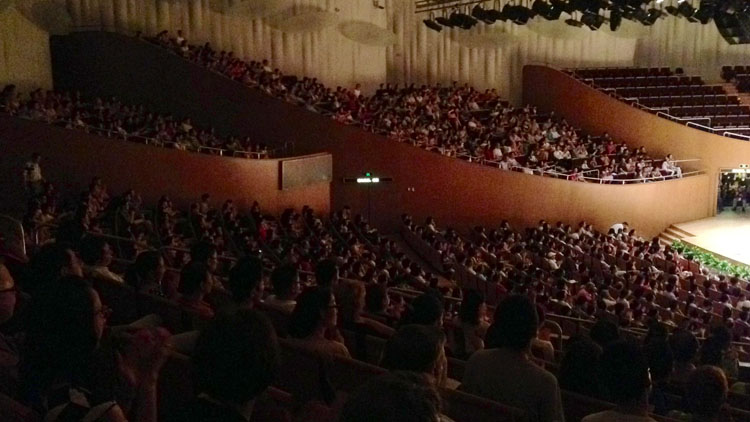 After the performance, Revolution students greeted audience members in the foyer. Hundreds of Chinese concert-goers cheered for our students as they entered the foyer. Parents thrust their children into photographs with these high school orchestra students and several parents and grandparents even scrambled to get a photograph with them. This was undoubtedly an unforgettable opportunity for Revolution performers, as well as life-changing encouragement in their choice to be musicians. One Chinese father communicated that most Chinese children are forced to study music to better their chances for higher education. In The League of Astonishing Strings, Chinese students saw the joy music can bring into one's own life.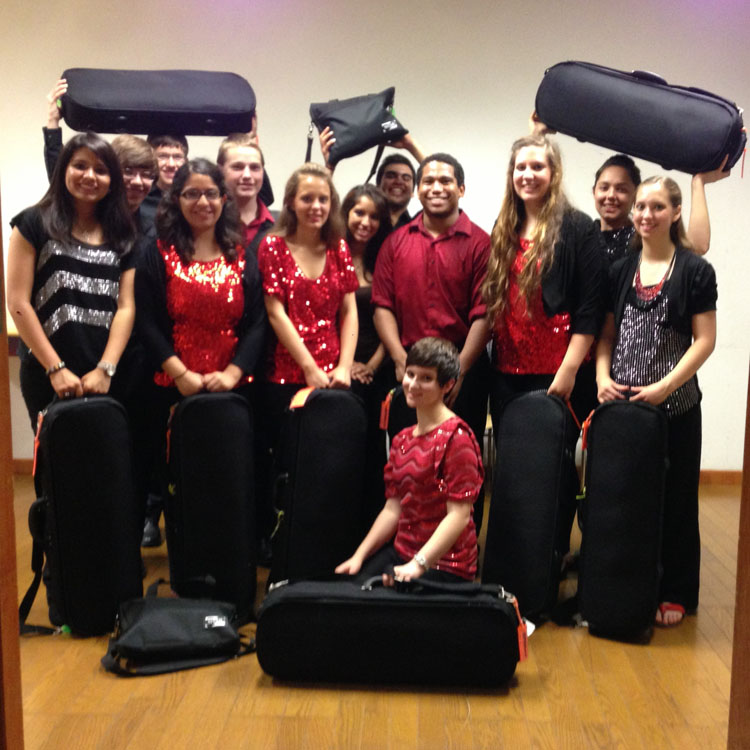 On Sunday, Revolution left their Shanghai hotel at 8am for Shanghai's Pudong Airport. The following 24 hours of travel brought them safely back home to Abilene and a warm welcome from friends and family. Junior violinist Abby Fortson said it best: "I am just so deeply full of gratitude that I was a part of this wonderful group of people and this incredible experience."


Revolution Strings

Directors: Darcy Radcliffe and Dave Keown

The China Troupe
Violins: Candi Davidson, Jesenia Navejas, Alex Martinez, Nathaniel Pigott, Keila Salinas, Abby Fortson, Kenneth Menard, Adine DeLeon, Julia Taylor and Kiley Harris,
Viola: Logan McFall
Cello: Kenny Waldrop
Bass: Brendan Acosta
Drums: Joe Regalado