Think back to your high school days. You may have played an instrument, and you have been quite good at it. But did you ever get the chance to tour China with thirteen violinists, two guitarists, a cellist, and a bass player? And this was after you released your first album? Allow me to introduce you to Revolution Strings, an alternative strings group culled from Abilene High School and Cooper High School in Abilene, Texas. Although each member has a strong classical background, these string players aren't afraid to dabble in jazz, country, Celtic and more. Revolution Strings has just embarked on their tour of China and they've kindly agreed to blog about their experience for the SHAR Music Blog. Justin Radcliffe, Theatre Director for Cooper High School, guest blogs for Revolution Strings.

DAY FOUR
Revolution started another day aboard a bullet train in China, arriving in a hotel to quickly drop their belongings and head out to a new kind of venue. Ferris Wheel Park stands as a Chinese tip-of-the-hat to Disneyland on a much smaller scale. (Ferris Wheel Park is located in Suzhou, in a southern province of China.)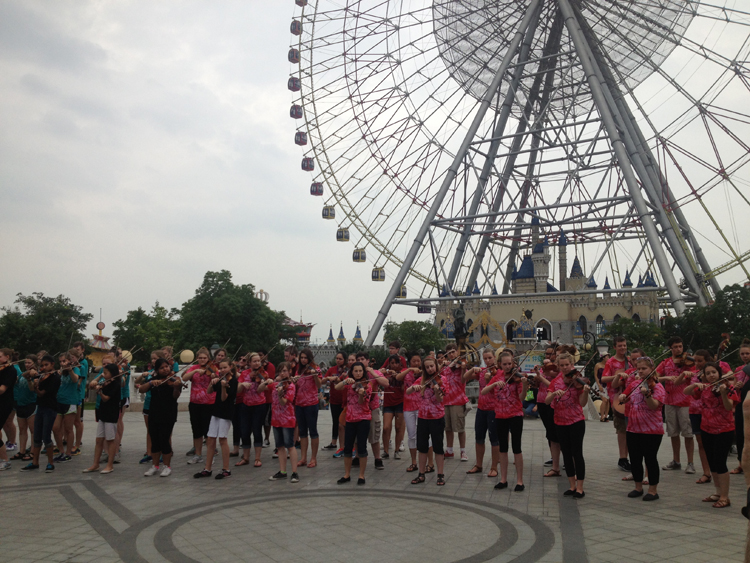 After a sweltering afternoon, the performers waited as storm clouds built over the park. Once two of the four groups had performed, the clouds broke open and torrents of rain precluded the final act which was to be Revolution. But even as the group missed a performance opportunity, spirits remained high. After all of the travel and a demanding schedule of rehearsals and performances, students were given an unexpected respite with the evening off to recuperate for the tasks ahead.

DAY FIVE
Revolution welcomed our fifth day in China; it brought the first day off for the tour, which came just in time as the routine of the road and the demands of a professional performance tour had exhausted the League of Astonishing Strings performers. The League was begun by John Crozman and Dean Marshall, both directors of the Canadian based string ensemble Barrage. In addition to Revolution, this tour includes The Tremper Golden Strings of Kenosha, Wisconsin; Allegro of Chicago, Illinois, and The Wire Choir from Chippewa Falls, Wisconsin. Students in these groups range in age from ten to twenty-one years old.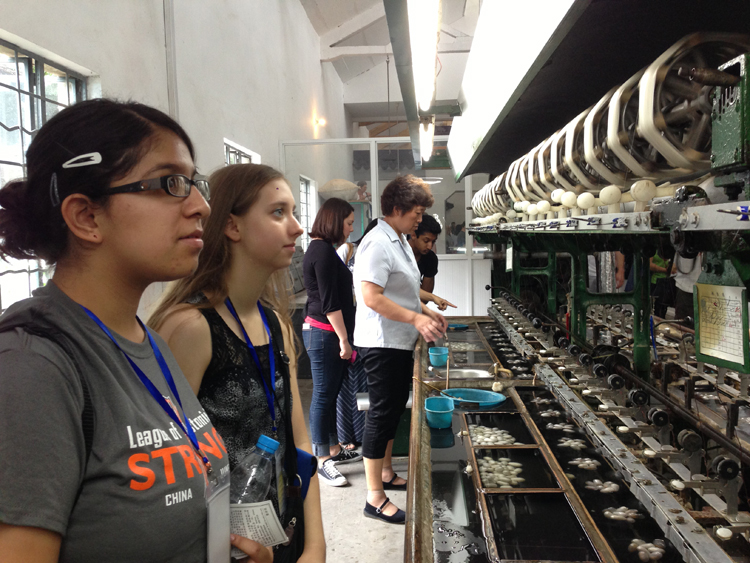 For a day of recreation the entire league was taken to the Suzhou No. 1 Silk Factory to see how silk is made. Students were given a full tour of one of China's most iconic industries and saw the process from the silk worm egg all the way to fine Chinese silk garments and artwork.

Suzhou, a city of seven million people, is considered one of China's most beautiful cities. It's known especially for its ancient canal system. An evening cruise along the canal showcased the city's ancient architecture, and Revolution members were treated to a performance of traditional Chinese music along the way.