Do mental and physical illness help us make better art?



Monday, May 27th was the anniversary of Niccolo Paganini's death. Paganini, of course, was the early 19th century violin virtuoso, and his life now seems like a rock cliché: drugs (he took opium and mercury for syphilis), sex (well, he did contract syphilis), and brilliant musicianship (without a doubt, Paganini was one of the great violin virtuosos). Two days later on Wednesday, May 29th, Igor Stravinsky's The Rite of Spring celebrated its 100 year anniversary. Vaslav Nijinskychoreographed The Rite of Spring, and the combination of his forward-thinking, modern choreography and Stravinsky's experiments in tonality and dissonance caused the audience to riot at the premiere.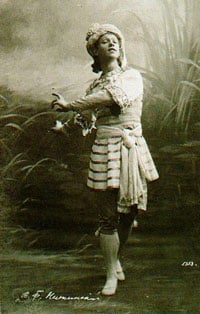 Both these anniversaries got me thinking about the intersections between great art and illness. Paganini suffered from a rare disorder called Marfan's syndrome and Nijinsky, following the 1916 Ballets Russes tour of America, was diagnosed with schizophrenia and spent the rest of his life in and out of psychiatric hospitals. (Side note: other famous, alleged sufferers of Marfan's syndrome include Sergei Rachmaninoff, Robert Johnson, and Bradford Cox.) Both Paganini and Nijinsky were, undoubtedly, troubled but brilliant performers.

Moreover, what's striking to me about the proximity of these anniversies is the different types of illness each artist suffered from. Paganini's illness is a genetic disorder that affects, among other things, the skeletal system; people with this genetic disorder typically have a thin, tall frame and longer-than-average fingers (which wasn't necessarily a bad thing for Rachmaninoff, Johnson, and Paganini). In short, it's a physical illness. Nijinksy, conversely, struggled for many years with a mental illness that many have encountered through film and the news, or even through friends and family.

Although I try not to trust Hollywood too much, it's pretty much expected that any depiction of a major artists will include a requisite depiction of illness. A few biopics come to mind:Sylvia Plath in Plath (depression), Jackson Pollock in Pollock (alcoholism), Frida Kahlo in Frida (injury), Ludwig van Beethoven in Immortal Beloved (bipolar and more), the list goes on and on. This correlation between art and illness is one many have long suspected, but last year the Karolinska Institutet in Sweden completed a 40-year-long study of 1.2 million patients and their relatives. Their study found that mental illnesses were more common among artists and scientists than among the general population. OK, so Hollywood isn't totally lying about art and illness. However, what interested me the most about the study was a statement by Simon Kyaga, a doctoral student at the institute: "If one takes the view that certain phenomena associated with the patient's illness are beneficial, it opens the way for a new approach to treatment. In that case, the doctor and patient must come to an agreement on what is to be treated, and at what cost." Basically, what's the cost of treating a condition that enhances one's creativity?

Of course, much of what I'm writing here is speculation. (In fact, some researchers took issue with the Karolinska Institutet finding.) I know that all different types of folks become artists, and the only real thing that unifies them is, well, the fact that they make art. But I can't help but wonder about the conditions that catalyze art. Isn't art, in almost any genre or discipline you can think of, "a certain slant of light," an askance view of reality, or another reality the artist has created? I think of Paganini and Nijinksy and how illness, mental or physical, gives the artist distance from the reality most other people experience. Its their distance -- imaginative, prophetic, medical, or some combination of those -- that allows artists to create the alternate worlds that confront (and change) us.

In my head now, I hear the beginning of Beethoven's fifth symphony.