In today's blog, SHAR Apprentice, violinist, and fashionista Jospehine Llorente confronts one of the timeless questions: is all that glitters cheaply made? Can't we have both quality craftsmanship and our brightly-lit, irresponsible, neon-colored fantasies? In doing so, Josephine comes to the conclustion that being tough on a hot green VSO (Violin Shaped Object) doesn't mean a girl can't have fun.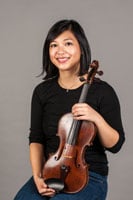 As a former school teacher and current SHAR Apprentice, I have encountered my fair share of VSOs. The worst part about them is that they get kids super excited about playing (that is, until they actually try to play on their neon green VSO). While my extreme aversion to ridiculously colored violins is a subjective opinion, I think it's safe to say that string teachers and players aren't too fond of sticking pegs, painted purfling, terribly fitted bridges, and a sound that leaves you wondering if someone's cat is dying.


As someone who desperately wants a hot pink Daisy Rock Guitar (pictured right), I completelyget why people find VSOs so appealing. Not only are VSOs way more fun-looking than the traditional wood violin, they are cheap (in every sense of the word). In the battleground of online shopping, price is everything. There are numerous websites and apps that help you find the lowest price, because, let's face it, people want a good deal. I would be lying if I said I didn't succumb to these ploys. (Although I would love a Dyson, a quick peek at my checking account convinced me to buy a thirty dollar, barely-functioning, Vacuum Shaped Object.)

Last month, I was making my regular visits of various fashion blogs when I saw actress/it-girl Chloe Sevigny in a vintage Karl Lagerfeld dress. I loved the dress: it's a high-neck number, loose-fitting, with a gold (and glittering!) violin-shaped panel that connects the skirt to the cap sleeves. Then it hit me. OMG. SHE'S WEARING A VSO. And as I was fawning over Chloe in the $4000 dollar dress, to my surprise, I realized that I really loved this VSO. I thought my feet were firmly planted in the anti-VSO camp? How could I just abandon ship and go against everything I've learned as a teacher, player, and SHAR employee?! I would have to decide: either my love of the Karl Lagerfeld vintage dress or my lifelong commitment to fighting VSOs would win out.

Did it have to be this way, though? I gave myself some time to think about it. And, surprisingly enough (or not suprisingly), I found that I could both love the Lagerfeld dress and continue to despise VSOs. Although Largerfeld's dress has the markings of your typical VSO (non-functional pegs and absurdly colored), I knew it there was more to it than what I was initially seeing. I came to understand that the violin dress is much more like a fine violin than a VSO. Like a Bazin bow (or a Dyson vacuum!) a Lagerfeld dress was created by a true master of his craft. He famously stated, "Things have to be beautifully made, even if they are full of fun, fantasy, and futility." He also said, "It's all about taste. If YOU are cheap, nothing helps." A bit harsh, but Uncle Karl hits the nail on the head: you get what you pay for. And in this case it's an impeccably made violin dress.