In today's blog, we share a few customer photos from our #caseconfessions series. We've got some great stuff here: a garden kneeling pad, old boxers, Phantom of the Opera, and a symphony name tag. Send your case content photos to jamese@sharmusic.com to join in. And check back soon for more case contents photos!
Cellist and a Mother (Elizabeth from VA):
Garden kneeler pad - some chairs are just a little too short or slope back!

Got the Underwood mic for a college Crumb performance, it lingers in hopes of one more use.

I keep my string envelopes, put the old ones in for spares and note the date the new ones went on so I know how old they are.

Photo of my daughter, red envelopes from past Lunar New Years' gifts, a couple programs from recent concerts, and a photocopy of the entry about my cello's luthier from Henley's Universal Dictionary of Violin & Bow Makers.

The GigLight has spare set of batteries in the bag as well.

I keep a variety of endpin stops handy, including this Vivacello as well as homemade and Xeros straps.

Retired cotton boxers make excellent rosin rags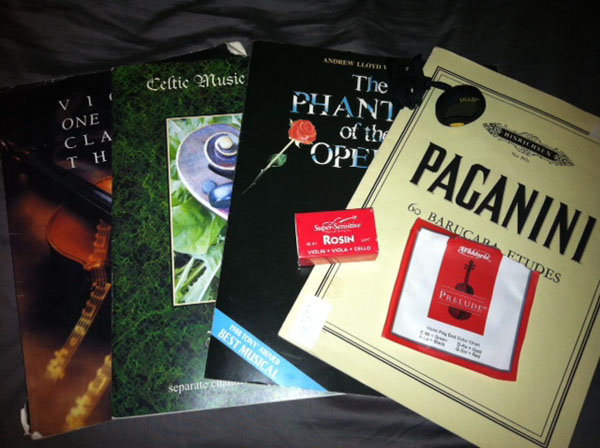 Music Lover (Vicki B): I don't have too much in my case, mainly rosin, extra strings and music I'm currently working on. Oh and my tuner.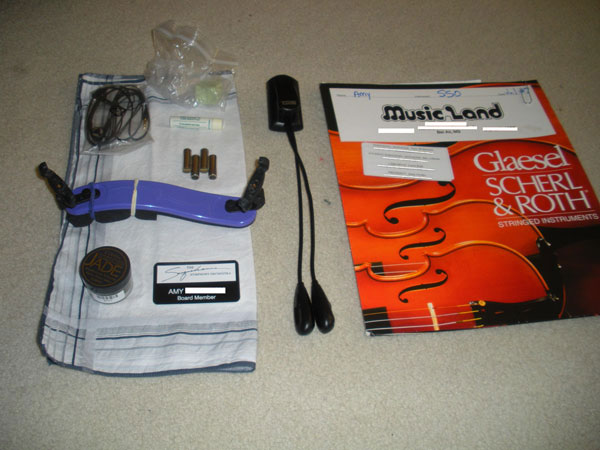 The Prepared Violinist (Amy from MD): I have all of the essentials for my electric and acoustic violins as well as my symphony music and name tag.