If you just bought an instrument for the first time, or if you're looking to upgrade your current case, check out our purchasing guide below. It takes you through the major features you should consider such as shape, exterior and interior materials, and construction. As always, feel free to contact our knowledgeable customer service team at 1.800.248.7427 if you have any questions.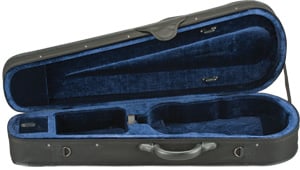 One of the most important accessories you can purchase for a stringed instrument is a case. Many student or intermediate violins, violas, cellos, and basses can be purchased as part of an outfit that includes a case that is usually consistent with the quality of the instrument; these cases generally offer very adequate protection and durability at an economical price. If, however, you want to replace or upgrade the case you already have, or you need a case for a new instrument, there are a few things you should consider.

Shape
Perhaps the first factor to consider is the case shape that'll work best for you. Cases come in a few varieties: oblong, shaped, and dart-style. Shaped or dart cases are usually very lightweight; these are often the cases that beginners and students choose. They're usually available in fractional sizes and are easy on the wallet.

Oblong cases, sometimes called rectangular cases, afford more room for accessories and are usually preferred by intermediate and advanced players. Although shaped cases tend to be lighter and easier to carry, you do have more room for accessories with an oblong case. And if you're really looking for a roomy and light oblong case, we do list the weight of most of our cases. Maybe that extra pound is worth the space!

Exterior Materials and Features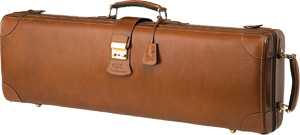 The great majority of today's modern cases are covered with a heavy-duty nylon canvas material. This lightweight material is scratch and tear resistant and provides decent protection against the elements. In addition, SHAR also carries a wide range of cases made with other other exterior materials: Cordura, suede fabric, leather, 3-ply composite, Conatex, polyamid fabric, fiberglass, thermoplastic, pebble grain vinyl, pebble grain mat-finish resin, and reinforced ABS. Each of these materials has its own unique qualities and characteristics that should be considered when making your case selection.
Shaped cases usually include an exterior accessory pocket and sometimes backpack straps. Oblong cases quite often will have a full length music pocket which may include an accessory organizer, a subway strap end handle (for vertical carrying) and an adjustable shoulder strap.

Closure or latch mechanisms vary depending on the case, but it should be noted that oblong cases often have dual zippers and weather flaps to protect the zippers from rain and snow.

An important note about cello cases – some cello cases come with built-in wheels and you should decide whether this is an important feature for you: they can be handy in airports. Some cello cases include detachable backstraps, which is another clever way to lug around your instrument. If you're not looking for the heavy-duty protection most cases offer, SHAR also sells padded cello bags. These are similar to bass bags but include backstraps.



Construction
The type (or types) of material used in the skeletal, or hidden, construction of the case directly affects the weight of the case as well as the durability and protection the case provides. SHAR offers a variety of cases, and while some use more traditional construction, others use advanced materials that are both lightweight and strong.

Commonly used shell materials include foam, styrofoam, cellular foam, waterproof polymid foam, plywood, styrofoam reinforced plywood, laminated wood, injected/molded foam, foam/plywood combination, and in some cello cases an AIRTEX cellular skeleton.

Interior Materials and Features
Instrument case interiors can range from simple and functional to sumptuous and luxurious. Whatever your selection may be, it's important that your instrument fit securely in the case. This is generally not a problem since most instruments and cases are standard sizes; however, if your violin, viola, cello or base has atypical dimensions, it's probably a good idea to talk about your case options with a SHAR representative.

Most violin, viola, and cello cases carried by SHAR have Velcro neck restraints; a properly secured neck strap will protect the neck of the instrument and reduce movement during transit.

A French fit or semi-French fit case has an interior instrument compartment that follows the closely follows the contours of your instrument for a tight fit. Most cases, however, have a universally designed "instrument well" that very adequately secures the instrument.

Violin and viola cases are often described as being suspension or non-suspension cases. Suspension cushioned cases have a raised shelf (or shelves) that suspends the back of the instrument approximately an inch over the bottom of the case. This can provide added protection and is often recommended for violins and violas with delicate varnish. SHAR does carry a line of non-suspension cases that feature an injected foam cushion molded to the shape of the instrument. These cases have a snug fit that holds the instrument securely in place and also helps protect it from temperature changes. Case lining and instrument blanket materials include silk-plush, cotton velvet, suede and brush nylon-tricot.

Additional case features may include between two and four bow spinners (or holders), accessory compartments, hygrometers for humidity level monitoring, string storage tubes, and vapor bottles for increasing case humidity.

Please call our expert customer representatives at 1.800.248.7427 if you have any questions!