Pretty much every musician has a music stand, but not every musician has an instrument stand. Have you thought about the benefits to owing a violin stand or a cello stand? Here are four things to think about!

1. Motivation to Practice. Having the instrument out on an instrument stand can be a great way to motivate yourself (or kids, especially!) to practice. It can be irritating to have to open the case and get everything set up correctly, but when the instrument is immediately accessible it is also that much more motivating to play it.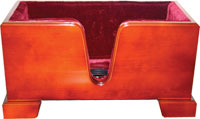 2. Time Saver. If you have to squeeze in practice time between the million other things inyour day then taking your instrument out and packing it up again can waste valuable practice time! With the instrument safely out of its case, you can move away from and return to your instrument to practice without fumbling with shoulder rests or endpins for those valuable minutes.

3. Useful at Gigs. Bringing a violin stand or a cello stand to your gig with you can prove veryuseful. A violin stand is a must-have if you switch between instruments at gigs. Or, if you are playing only the one instrument, it can be a much more secure way to hold the instrument during breaks than simply perching your violin on your chair.



4. A Way to Display Your Instrument. When used at home, the cello stand can be a beautiful way to safely display your treasure. It thereby enhances the ambience of the room much more than leaving it in the case would!

If you're looking for a violin stand, we have several options: