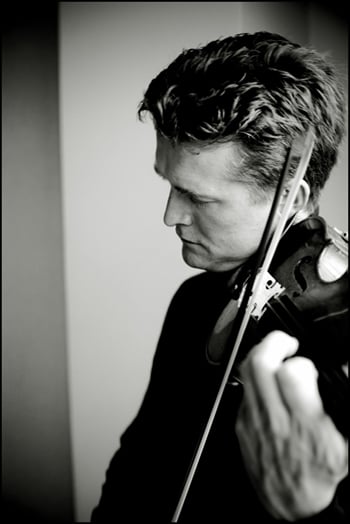 I'm not sure how many of you all out there read Jeremy Eichler's profile in The New Yorker on the German violinist Christian Tetzloff. If you have, good on you. If you haven't, you should pick up a copy soon. Most likely the article – and Tetzlaff's approach to music – will challenge your notion of how a violin should sound. However, it's an exciting and important challenge, no matter what you decide about Tetzlaff. Tetzlaff is an well-respected soloist, but he's not a soloist who's found success and recognition by being flamboyant, a crowd-pleaser, or a crossover star. Rather, his success comes from his ability to play "an unusally wide range of tones, from the refined to wild" (Eichler). To put not too fine a point on it, Tetzlaff even once told a a group of students, "Beauty is the enemy of expression!"

Even though many fellow musicians admire Tetzlaff, critics have occassionally been impatient with his playing. This is, of course, because Tetzlaff is upsetting the conventions of the instrument. If Tetzlaff wants to include harsher sounds in his playing, it comes with a price: beauty, and perhaps the ire of listeners who expect the Romantic composers to be played a certain way:

Most important, he [Tetzlaff] refuses to embrace what might be called the School of the Big Tone: the broad, velvety sound, sustained with uniformly wide vibrato, that many listeners in the age of Izhak Perlman have come to think is how a violin should sound. Tetzlaff's palette extends to harsh or crushed tones, even to sounds that he has purposefully leached of color. And older French musician of my aquaitance dislikes Tetzlaff's playing precisely because such ugliness is allowed in the door.

Rather than exhaust Eichler's article, I want to end to send you toward it with a hint of its praise for Tetzlaff. As Eichler demonstrates, audiences do respond to Tetzlaff. Eichler ends the essay with a description of Tetzlaff playing a Bach concert in a medium-sized church (and only two-thirds full) in Dresden. Eichler expresses a quiet but intense admiration for Tetzlaff's playing, and he senses that most of the concertgoers feel the same way as him:

A marathon Bach recital could easily try the endurance of people seated in hard pews, but the concertgoers in Dresden sat in rapt silence. I attributed this to a distinctive aspect of Tetzlaff's charisma. Onstage, many violin soloists adopt a confident swagger, but in Dresden Tetzlaff, as whenever he plays Bach, seemed to expose layer after layer of vulnerability, creating an atmosphere of naked confession.

I'm squirming a little bit in my seat as I write this, but I can't imagine a better concert. Beauty is only one register of expression, and it's a shame that artists often stay there too long. I can imagine other responses to Tetzlaff though. What do you all think? How central is beauty to your playing? How important is a wide range of expression?