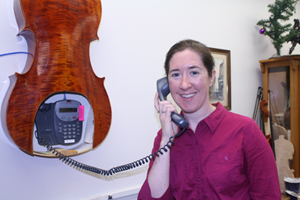 Paula Leshkevich has been a member of SHAR's Educational Sales Department for over four years. Having taught in both private and public schools, she understands many of the challenges facing instrumental music teachers today and works to help teachers spend more time teaching and less time with common frustrations. In her free time, Paula enjoys writing, travelling, and kayaking.This is her first blog entry for the SHAR site.

The first strains of "Twinkle". A prize-winning bow grip. Ear-to-ear smiles on the first note. The anticipation of a concert. A new class of beginners picking up string instruments for the very first time.

As a new school year approaches, teachers have so many exciting moments to look forward to. Enthusiasm for helping students unlock their musical potential is strong and anticipation of the coming class sessions is mounting. The promise of a fresh start with a new school year is one of the joys that both teachers and students look forward to across the country.

Students file into the room. The bell rings. Bows are tightened. Music is put out on stands. Pencils are ready. Students hold their instruments patiently as you go around the room checking for tuning accuracy. Molly's pegs keep slipping. Zach's fine tuner snapped off. Sarah's bridge is crooked. David's strings are too high to press down.

Teachers often tell us that much of their teaching time is taken up fixing problems of V.S.O.s (Violin Shaped Objects). Unfortunately, the problems that come up with inferior instruments or problematic set-ups frustrate not only the teacher, but the students who deserve high-quality, functioning instruments to properly learn the basics of string playing. Many teachers can attest that students who experience frequent or serious instruments problems are far less likely to continue in orchestra.

We invite you to share your experiences with V.S.O.s in the classroom.